Fintech Insights
APIs offer new solutions for a bank's corporate customers
Eric Guion | Product Management, FIS
February 08, 2021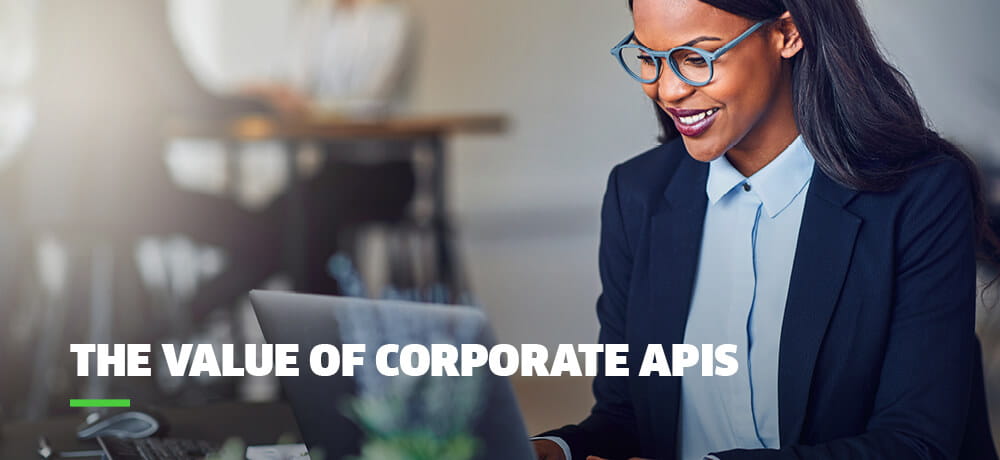 The evolving banking landscape requires flexibility and innovation to meet customer needs. Financial institutions can offer application program interfaces (APIs) to valuable and profitable corporate customers to help cement those relationships with individualized products and data offerings.
The need for commercial banking innovation
There seems to be an obvious demand in the commercial market for new products and innovation. In recent research Fraedon found that 95% of commercial clients who bank digitally in their personal lives now expect to bank digitally for business as well. Bankers need to address this expectation of their corporate clients and APIs present a fast on-ramp to success.
A seamless approach is key. Business banking customers benefit from their banking providers ability to supply aggregated account views and real-time transactional information similar to their personal applications functionality. In addition, they may need additional treasury management services to manage cash flow and optimize working capital.
APIs can help cement corporate relationships
Specific APIs designed to help financial institutions forge closer relationships with business customers offer open, next generation banking. These corporate-oriented APIs can enable banks to provide balance and transaction data specific to an individual commercial customer. This capability enhances the bank's customers' unique experience with their financial institution allowing these businesses to easily integrate financial data into their internal systems.
New entrants into financial services are challenging traditional banks to provide innovative banking products at a rapid pace. Corporate APIs address the needs of business customers who may be looking at using nonbank providers to serve their financial needs. Corporate APIs should provide a range of banking capabilities including:
Balance inquiry
Transaction history
Funds transfer
APIs drive innovation
APIs help accelerate financial services innovation provided by banks to their business customers. Creative leveraging of the information within corporate APIs can create new solutions that help address areas of business concerns such as:
Collection services, such as ACH debits and real-time request for payment
Payment options that include payroll payments, employee reimbursement, child support payments, tax payments, and domestic and international wires
Cash and liquidity management services like mobile remote deposit with multi-check capture, scheduled and/or recurring transfers, real-time payments for businesses and detailed remittance information on incoming transactions for streamlined cash allocation
Types of bank customers that could benefit from Corporate APIs
Many types of corporate customers are seeking broader and deeper access to their banking information on a more complete basis. Potential candidates for Corporate APIs include:
Property management firms
Airline and equipment leasing companies
Nationally organized non-profit organizations
Benefits of Corporate APIs
Open API technology with its open and more streamlined approach to integration can address any series of business challenges. Corporate APIs allow your bank to:
Create new sources of fee income and revenue from corporate and business customers
Strengthen and tighten relationships with commercial customers
Foster creativity and innovation that help differentiate you from the competition
Offer APIs confident in the security and proper entitlements that a technology partner can provide
Security and data integrity foundational for API success
Security and data integrity need to be a major component of the solution provided by your API technology partner and the API should be available via an API portal that offers the following attributes.

APIs offer an ability to provide new solutions to a bank's critical customer segment. Financial institutions must partner with providers of open banking technology to ensure a profitable future.
Let's Talk
Together, we can work to solve your business goals. Please provide your email address below and a representative will reach out to you soon.