Fintech Insights
Loyalty programs resonate differently across generations and geographies
February 14, 2022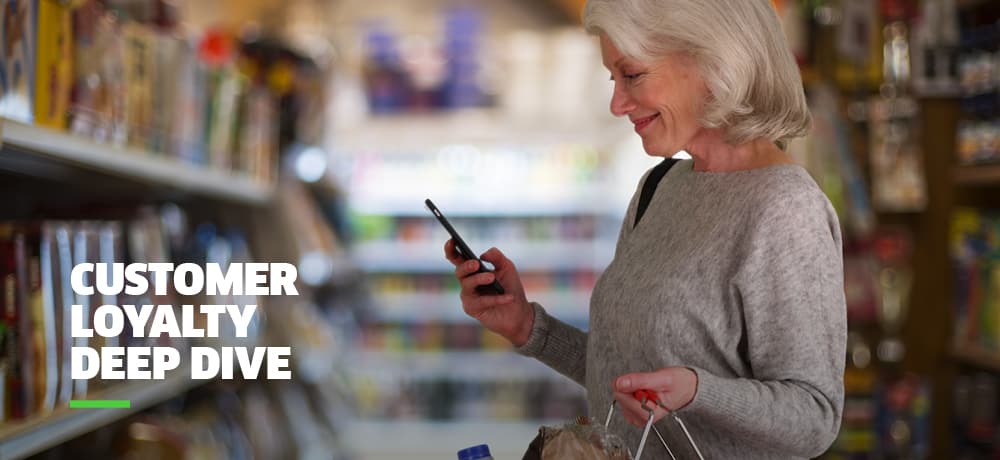 Customers join loyalty programs to save money. And businesses offer these programs to acquire and retain customers. However, with five very different generations comprising the spending market, it can be difficult to design and manage a customer loyalty program with a clear value-add that resonates with everyone. Here's a deep dive into generational loyalty: how different generations are motivated, what they want and how you can connect with them.
We surveyed consumers in five countries: the US, the UK, Singapore, Brazil and Australia. Our research revealed a universal preference for non-expiring points and rewards that are earned automatically. Less critical was the ability to track rewards, access member-only discounts and redeem points at multiple businesses. We also discovered important nuances across generations, categories and geographies.
More than half of consumers rate points that don't expire and earning rewards automatically as the most important loyalty rewards program features.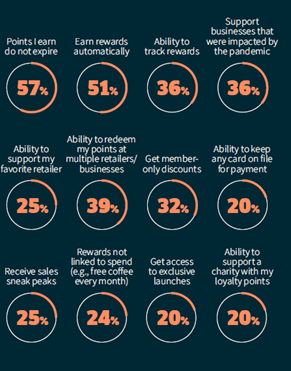 Generational preferences for loyalty features
Of all the generations, Millennials view loyalty programs the most favorably. Both Millennials and Gen Y want to be able to support charities with their loyalty points. Millennials in particular are seeking meaningful rewards. Gen X, Millennials and Gen Y all want to receive rewards that are not linked to spend.
On the other end of the spectrum, Boomers+ are the least loyal of all the generations. They are also the most demanding about loyalty program features. Personalization is very important. Boomers+ want reward points that do not expire, are earned automatically and can be redeemed at multiple retailers.
Preferences in loyalty rewards programs by category
In addition to the five generations, we looked at loyalty across eight spending categories. With more people cooking during COVID-induced lockdowns and shortages, it's no surprise that earning points when grocery shopping is the most important type of loyalty/reward program to consumers across all five countries.
Other categories that rated high were health and well-being (57%), travel/holidays/experiences (56%) and eating out/drinks (54%). Consumers in all five countries showed little interest in gambling loyalty programs, except Gen X in the US–38% ranked loyalty programs as important for this sector.
Loyalty preferences by geography
Aside from the aforementioned preference for points that don't expire, and rewards earned automatically, we discovered some significant differences in how consumers in different countries view loyalty programs. While almost half the consumers in Brazil and Singapore want flexibility in redeeming points, only 28% of US and UK consumers think it's important.
Member-only discounts and sales sneak peaks are important to nearly one in two consumers in Brazil, while these features rank much lower in all the other countries. Access to exclusive launches was one of the least important features to consumers across all countries except Brazil, where 34% rated it most important.
The role of payment technology
It's clear from our research that one-size-fits-all loyalty rewards programs won't do the trick with today's consumers. Customization is important to reach consumers across all generations and geographies. Simplicity is also important; consumers want to be able to redeem their points for specific products, services and features–on-the-spot.
Payment technology is key to facilitating these types of experiences and can ease the complexity involved. Loyalty programs that incorporate real-time rewards allow you to cater to your core audience, improve customer engagement and ultimately boost revenue.
Buy Now Pay Later is another desirable option for consumers and many are likely to use it across categories, regardless of country. Industry data shows that BNPL services can help merchants increase conversion rates 20-30%.
As you consider how to best enhance your customer loyalty program, be sure not to overlook the differences among generations, categories and geographies. To learn more, download our Generation Pay report.

Let's Talk
Together, we can work to solve your business goals. Please provide your email address below and a representative will reach out to you soon.