Fintech Insights
With Proper Planning It's Possible to Monetize Your Modernization Investment

Dondi Black, VP of Payment Strategy, FIS
March 04, 2019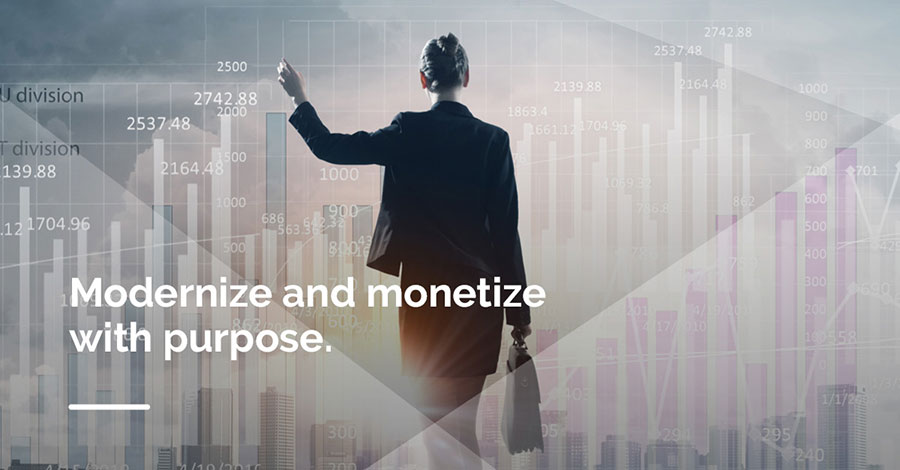 Among the many discussions about how to modernize and transform companies in response to disruptive forces, Dell EMC CTO John Roese states that the IT industry faces a critical transitional phase:
"Whatever you think of the scalabilities of the current generation of infrastructure and how difficult they were, add about three zeros to every number you can imagine. That is what we are going to experience going forward."
In other words, "We ain't seen nothing yet."
The answer lies in
Financial institutions determining where to invest need to answer two key questions:
Where do you begin – the core, compliance, payments or some other place – when you cannot do it all?
How can you monetize the investment needed to modernize and transform your business? If not directly monetizable, how can you leverage your investment?
Rapid market changes call for revisiting your strategy
To optimize payback on investment, companies should first revisit their strategy. Start by answering a basic question: Who are your target customer segments – the customers upon whom you will focus resources to attract and retain – that will drive future revenue? Are they customers with more advanced financial needs or are they members of an emerging segment with less complex needs? Also, consider the changing expectations of consumers especially when it comes to speed and convenience of delivery.
Define the core product strategy
Defining the core product strategy involves determining what product gaps must be filled to transition from the current to desired state. Financial institutions will engage in a balancing act between offering products that delight Baby Boomers and members of Gen X but deliver to the expectations of millennials and Gen Z members who are just beginning their financial journeys.
The good news is that the difference between what different generations want continues to narrow, according to a recent study by Euromonitor. Baby boomers, especially the "mass affluent", are not anti-tech.
Be purposeful to monetize your investments
"Budget constraints will translate into adopting new technologies that are purposeful, need fulfilling and problem solving as funds for running after shiny objects dry up."
Jim Johnson, Head of FI Payments, FIS
Purposeful investments include those that are:
Both transformational and in sync with strategic goals – expanding the customer base, deepening relationships with customers, or making the business more efficient
Problem solving – new problems, and old problems that can be solved more efficiently
Capable of generating new revenue streams from innovative solutions and new bundles of services such as products that may have been standalone but are freshly updated and launched
"Age agnostic" – creating value for all segments by increasing engagement among the largest revenue-producing customer base yet providing opportunities to attract and cultivate loyalty from emerging segments facing future significant life events
Finally, consider the impact of investment upon:
Operating expenses. Often, modernization results in reducing risk and reducing expenses associated with streamlining back-end support processes.
Less tangible benefits such as improving the customer experience, which can result in higher retention, expanded cross sell and upsell, and fewer complaints to resolve
Jumpstart your day in a matter of seconds with quick snapshots of industry trends and leading perspectives delivered straight to you. Sign up for RISE here.
Tags: Investments, Payments, Technology
Let's Talk
Together, we can work to solve your business goals. Please provide your email address below and a representative will reach out to you soon.