Banking Leader
Tired of Shiny Objects Losing their Luster? Try Following the TPC Framework
Jaspreet Kondal | Group Executive, FIS & Anant Keskar | Digital Transformation Practice Leader, FIS
September 05, 2019
Bankers continue their pursuit of lower efficiency ratios as a long-standing measure of success. To that end, they chase new technologies promising greater operational efficiencies, but execution often misses the mark. Too easily, institutions fall into the trap of a never-ending loop of disappointing process reengineering initiatives. It's no secret that supporting customer retention and deepening relationships through customer intimacy is a foundation for growth. How do we get there? How do we reduce the cost of failure and benefit from the possibilities that new technologies can provide?
Three common reasons for failure
The No. 1 reason for failure is the lack of a clear line of sight into business operations at an enterprise level. As a result, companies cannot accurately calculate the costs of their various activities. How much does it cost to change a customer's address, for example? How many applications are involved in the change? What is the cost of the resources used to make the change? It's not easy to achieve this level of detail but if companies can identify where the costs reside, they can create better road maps for improvement initiatives.
The second problem is the irresistible, never-ending loop of reengineering. First, there was outsourcing, then offshoring and now it's artificial intelligence (AI). A common scenario goes like this: A company makes an investment and realizes some gains, spurring more investment. Eventually, more resources are required to handle the growth, which gradually moves the company towards diminishing returns. Finally, the company decides that the initiative isn't producing enough return on investment and moves on to newer technology only to repeat the loop.
The third reason for failure is the gap between expectations and what is delivered. It can be a gap between customers and organizations, organizations and regulators, organizations and employees, the human workforce and the digital workforce, and so forth. For example, customers applying for a mortgage hate the hassle of gathering paperwork to prove what the bank already should know about them – they expect a Rocket Mortgage experience. They wonder, "I've been doing business with you for decades, why don't you know me by now?"
Employing a TPC framework boosts chances of success
From the customer's perspective, they want their institutions to know them, enable them, and empower them. Institutions can deliver these benefits through three sequential steps: total process characterization, total process control and total process continuum.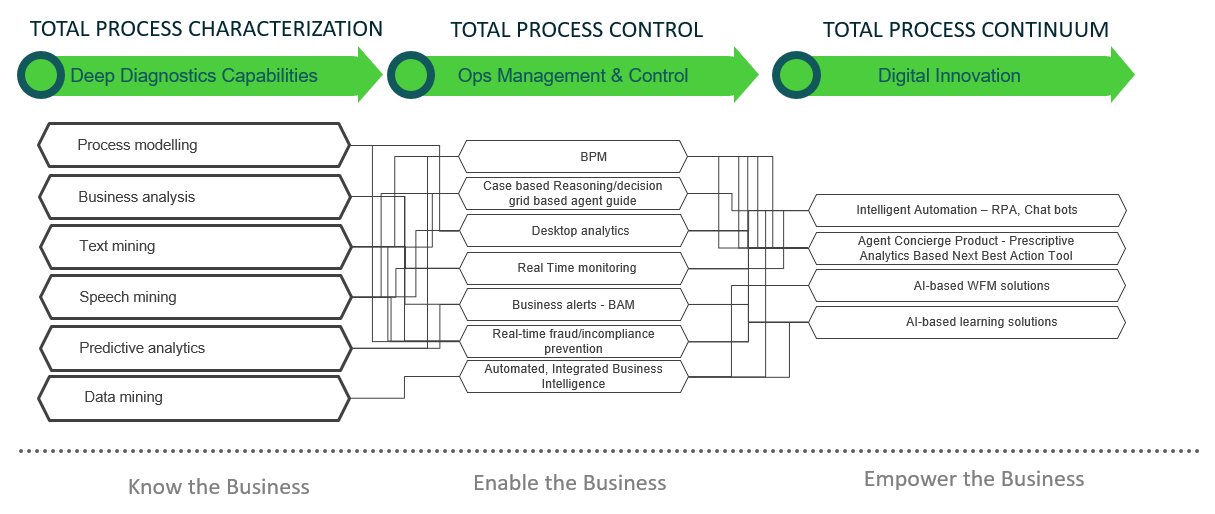 Step 1: Total process characterization involves conducting deep diagnostics – analytics, speech mining, AI, for example – that provide the institution with important information about its customers, including their behaviors and preferences. This knowledge allows an institution to facilitate its customers' journeys and communicate only relevant messages via relevant channels.
Step 2: Total process control provides companies with ways to improve specific processes to enable customers to enjoy better experiences. For example, it makes self-service tasks simple and easy. It doesn't put customers into an endless IDR loop to land nowhere near a live agent who can help them. It reminds customers their bills are due instead of surprising them with a late payment fee. It makes it easy for customers to resolve issues.
Step 3: Total process continuum empowers customers through intelligent automation applications such as learning solutions and conversational banking. It can help customers move with ease when switching channels. It can help customers make smarter spending and savings choices. It can provide more personalized service.
What we have learned from the TPC framework
The TPC framework represents an effective way to integrate technology into the execution of strategy and the tactics supporting it. Deep diagnostics that answer the questions of what we should change, to what we should change, and how we should change are critical to maximizing technology investment. Sequencing is key to success. Institutions must start with total process characterization, move through total process control and then to continuum. If you want to optimize technology, you must first know your customers' behaviors and preferences.
Let's Talk
Together, we can work to solve your business goals. Please provide your email address below and a representative will reach out to you soon.