Fintech Insights
Four companies have set the scene for your future
David Woodroffe | VP, Product Management, Risk, Credit and Lending, FIS
March 09, 2020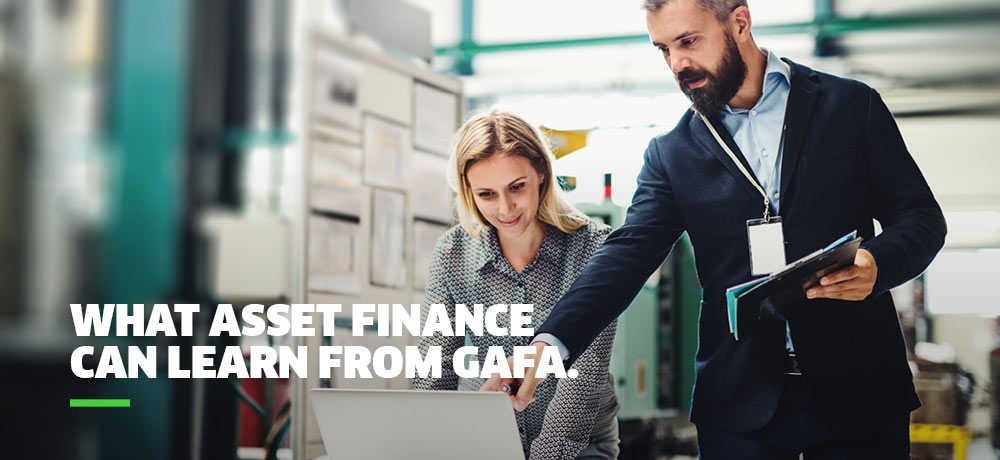 Google, Apple, Facebook and Amazon, or GAFA for short, have redefined what we expect of technology and want for our businesses. There's even a name for their influence on our lives – GAFAnomics.
Individually, the GAFA companies have their own unique objectives:
Google aims to organize the world's data and make it universally accessible and useful.
Apple looks to offer the best possible user experience through innovation in hardware, software and services.
Facebook has a social mission to make the world more open and connected.
And as master of logistics, Amazon wants to be your only place to go to shop online.
But what they all have in common is an obsessive commitment to their customers. Can your firm say the same? Are your goals so clearly stated?
GAFAnomics has affected the asset finance industry – AFonomics, if you will – in two main ways.
First, most obviously, there has been a rise in digitalization.
In other words, more asset finance providers are taking advantage of digital data, connectivity and AI to develop new ways of doing business, thereby generating value and engaging customers and partners.
Second, firms are finding new value in servitization. Beyond financing products, they are increasingly providing supporting services such as repairs, condition monitoring, field services, helpdesk support and more, all for a bundled charge.
More advanced services manage assets similar to a fleet management, offered as pay per use or availability contracts.
The holy grail is to meet customers' requirements with a combination of multiple products and services, delivered efficiently and affordably as an integrated solution.
To deliver on the full promise of servitization, firms must embrace digitalization.
Find out more in our eBook of insights from our webinar, Supporting a Digital Ecosystem for Asset Finance, and in our other commentary on the asset finance market.
Let's Talk
Together, we can work to solve your business goals. Please provide your email address below and a representative will reach out to you soon.