Fintech Insights
The best digital strategy? Digitalize everything!
Tony Warren | EVP head of Strategy and Solutions Management, FIS
April 12, 2021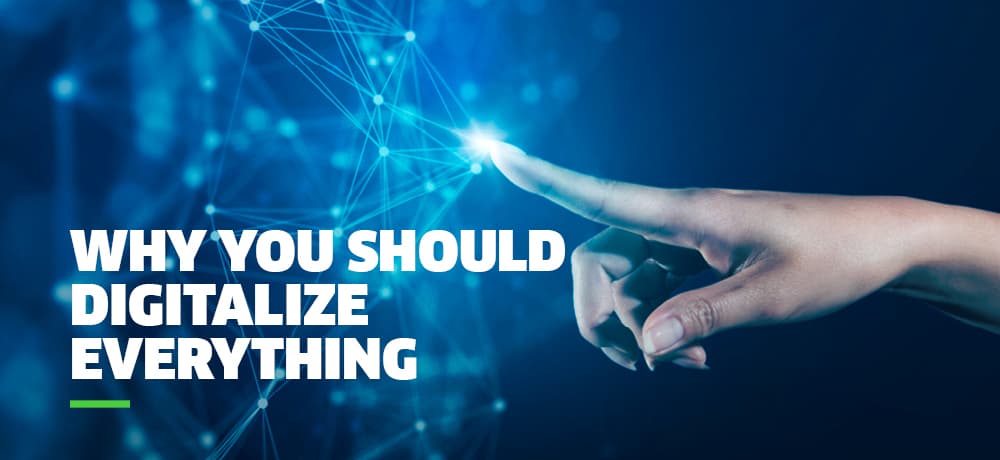 As I mentioned in one of my earlier blogs, the pace of change hasn't slowed – if anything, it's speeding up. But what if you could eliminate the pressure points across those transactions connecting the way the world invests? And, instead, create a smooth flow of digitalized data across every aspect of your capital markets operation – as well as with your vendors, partners, and customers?
The challenge, I believe, has a direct correlation to the mass adoption of the internet and, subsequently, smart phones. From that point on, it became inevitable that the old world of batch processes, green screens and paper statements would give way as customers began to expect that the rapidly evolving experiences, they enjoyed in their private lives were reflected in their professional interactions. These sophisticated customers now assume that all information will be available anytime, anywhere and on any device.
And that mindset is also bleeding into the perspective of regulators and internal stakeholders, who expect more granular, more accurate and more up-to-date data for both reporting and risk management.
At the same time, long-term cost pressures are highlighting the smallest process inefficiencies – which not only incur costs but block the flow of data to those end consumers and systems. Even as investors become more optimistic, market volatility and economic uncertainty are still adding to that pressure on both executives and their infrastructures and operations.
But the Internet was just the spark of a new golden age of innovation. Another critical development has been digital technology such as open APIs and microsystems. These synthesize the data once locked into platforms and systems, making it easily shareable and consumable by the end consumer, whether that's a person or another system. Thus emerges a frictionless environment –eliminating those bits of obstruction that have managed to remain despite decades of efficiency sweeps.
And there are more benefits to a "digitalize everything" strategy. Not only does it enable a superior customer experience at rock-bottom costs – it allows you to identify, access and actually use the data you need to grow sustainably in a volatile global market.
Did you know, that over the next three years humanity will have created more new data than in all of human history combined?1
It's no wonder that all too often firms continue to be bedeviled by the eternal problem of data management: too much data to ever use, multiple vendor relationships driving up cost, poor or no integration across the enterprise, inconsistent quality, hard to access data… I could go on and on. Just one of these is enough to hinder your ability to find and act on opportunities – much less innovate to get a bigger jump on the competition.
There are also some cultural and technological implications of digitalizing everything that you need to consider. It takes full commitment and buy-in from all levels to change an organization's culture and structure. This includes constantly challenging long-held assumptions about the best way to deliver both solutions and data to customers. Historically, companies in the capital markets industry have been somewhat siloed and departmentalized with specialized technologies procured to suit that specific structure. Over the past year, however, progress is being made as companies have had to adapt their organizations to become more end-to-end, naturally supporting a more digitalized architecture.
So how do you put a "digitalize everything" strategy into practice?
Evaluate your current state – what are the departments and how efficient is the data flow between them
Outline the ideal data ecosystem – what should your data infrastructure look like and which suppliers should you partner with
Embrace on-demand access to data –data suppliers are becoming more flexible with on-demand data access; take full advantage of this and maximize the latest data offerings
If you do digital right, you open the gateway to an evolved infrastructure that enables you to extend your capabilities faster – as well as the ability to leverage AI to derive exponential value from your data. If you continually improve the end customer experience, you'll differentiate yourself and build sustainable growth, no matter what the future brings.
What's your digital strategy?
1Signals, Visual Capitalist, "Charting the new direction of the global economy", Nov. 2020
Let's Talk
Together, we can work to solve your business goals. Please provide your email address below and a representative will reach out to you soon.