Press Release
Chinese consumers stand ahead in drone use
Worldpay unveils Drone Pay proof-of-concept to combat parcel fraud
July 25, 2018
BEIJING, July 25th, 2018 – Today, Worldpay Inc., a leading payment provider, announced that a research over 20,000 consumers across 10 markets has been undertaken to investigate the use of drone technology to help combat the growing issue of parcel fraud. Worldpay has unveiled a prototype design that could help pave the way for drone delivery around the world.
Worldpay's Drone Pay proof-of-concept uses EMV contactless* payment card technology to verify the identity of the recipient, ensuring a parcel is delivered to the correct address. This technology is embedded into a drone landing pad, which is issued to the customer in the form of a doormat. When the drone lands to drop off the package, the card details embedded into the doormat are read automatically. If the card details embedded into the pad match those of the correct recipient, the parcel is released.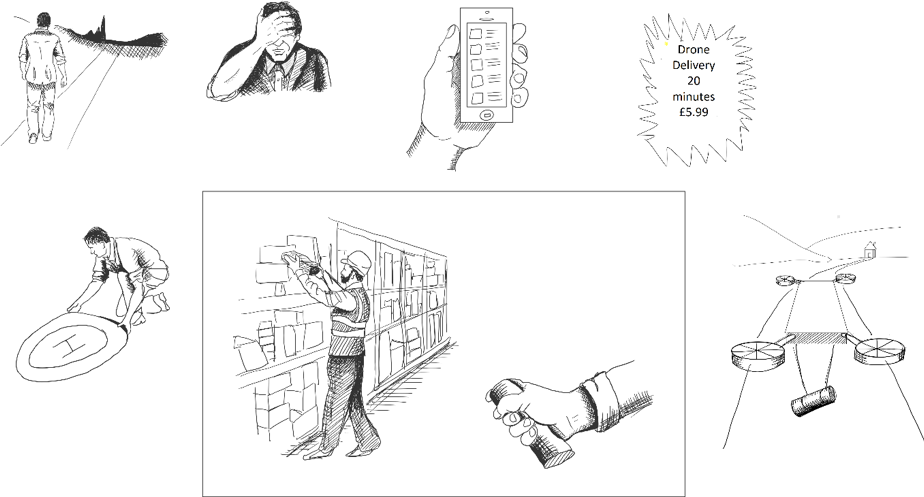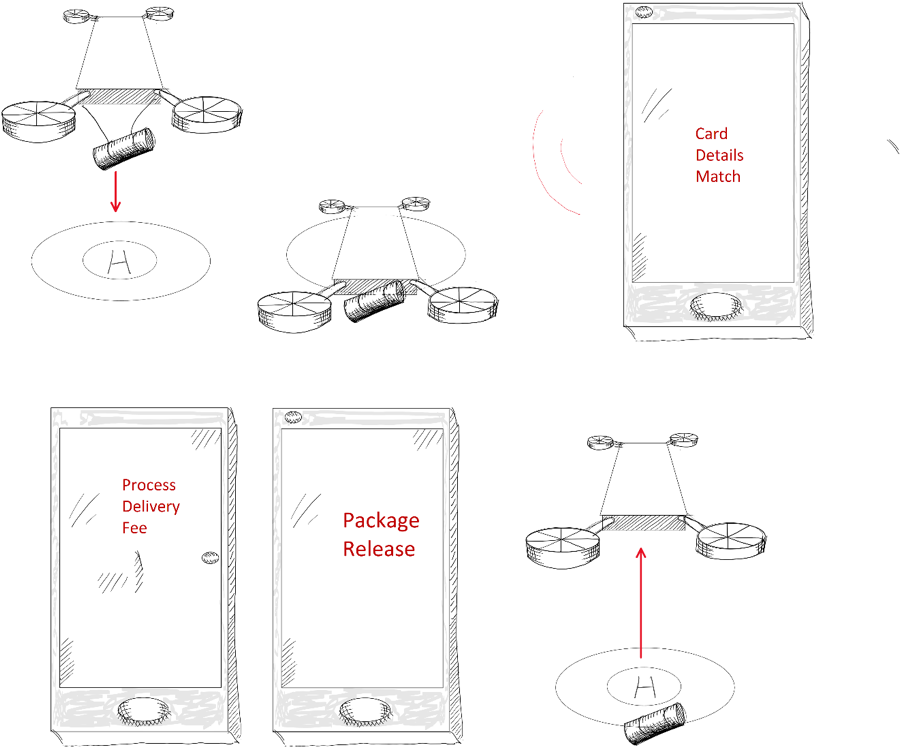 The omnipresence of online shopping has made China a busy and prosperous market for parcel delivery. Based on the considerable volume and value of the delivery service in China1, the market is seeing strong momentum for further growth at a rapid rate in the years to come. Meanwhile, the top eCommerce giants such as JD.com, Alibaba and Suning are actively engaged in the commercial experimentation on unmanned vehicles2 to help speed delivery and cut operational costs. For example, Ele.me, the Alibaba-owned meal delivery service, received approval from the Chinese government to be able to use drones for food delivery along predetermined routes3. However, a natural consequence of such rapid growth has been the rise of parcel fraud. Missing items was one of the most common problems with online shopping deliveries.4
Worldpay's prototype demonstrates how drone technology could help retailers provide a better last-mile experience by offering a more reliable proof of delivery. Worldpay's research suggests that the Chinese consumers are having a positive attitude towards drone use and are ready for drone delivery to become a reality.
According to research, 70% Chinese consumers would embrace delivery by drone, while only 11% are hanging back. Appetite for having a drone collect unwanted items is also strong, with 66% of Chinese shoppers willing to try the technology for returns. This suggests that the ease and convenience that sky-bound services could offer could outweigh the concerns surrounding autonomous aerial vehicles. Moreover, 58% of Chinese consumers stated that they trusted robots/drones somewhat or a lot, and 33% feel enthusiastic about using drones in future.
Actually, the proof of Chinese consumers' positive attitude towards drone does not stand alone. In a survey conducted by Worldpay in August 2017 about consumer's readiness to embrace connected devices, 60% of Chinese consumers are ready to embrace the Internet of Things technology and would be comfortable if a device in their home ordered a product on their behalf without asking. Notably, 61% of Chinese consumers would be happy for a virtual assistant to arrange their diary. More than 69% think it would be convenient for virtual assistants to take care of the entire shopping experience on their behalf.
For consumers, drone delivery could offer far greater convenience when shopping online. Shoppers can choose to have a package delivered or collected at a location convenient to them, and also have the opportunity to check the item before accepting it. There is also the option for payment on delivery, rather than at the time the order is made, which means more flexibility and added peace of mind for shoppers.
For merchants, Worldpay's Drone Pay proof of concept could help combat parcel fraud, which costs companies unnecessary time, money and lost custom every day. As delivery complaints arise from the growing number of stolen packages, undelivered items and fake delivery cards. Strong proof of delivery is therefore increasingly important for retailers wanting to provide an excellent shopping and 'last-mile' delivery experience to customers.
Phil Pomford, General Manager for Asia Pacific, Global Enterprise eCommerce at Worldpay, said: "There is undoubtedly a huge potential market for drone delivery when it becomes a reality. Along with cost cutting benefits, drones could also be the answer to reducing congestion and pollution, and enabling faster delivery times. Nevertheless, there are still several logistical hurdles that need to be addressed before drones become mainstay. The weight of the package and flying distance both remain potential barriers to adoption, in addition to ensuring that parcels are delivered to the correct customer.
This is where payment technology will play an important role. By verifying the identity of the recipient before releasing the parcel, our proof of concept is an example of how technology can address the common problems associated with home delivery. The volume of parcels in transit will only increase, as shopping online becomes the norm among the Chinese consumers. Merchants should therefore explore new ways of innovating their supply chain capabilities, to keep pace with demand."
* EMV stands for Europay, MasterCard and Visa, and is a global standard for credit and debit cards that uses computer chips to authenticate (and secure) chip-card transactions.
About the data
The research was compiled in partnership with Opinium and interviewed over 20,102 consumers about their opinion on the Internet of Things and drones. Research was conducted in 10 markets – Australia, Brazil, China, Germany, the Netherlands, Spain, Sweden, Singapore, the UK and USA. In China, the study interviewed 2,033 consumers.
About Drone Pay
Drone Pay is a prototype technology developed by Worldpay's innovation team to understand how payment technology can be used to create more secure delivery and fulfilment for online retailers, whilst also adding an additional layer of buy authentication. The proof of concept uses EMV contactless payment card technology to authenticate the identity of the recipient. The technology is drone agnostic, and simply clips onto the drone model. The original drone remains unaltered.
About Worldpay
Worldpay, Inc. (NYSE: WP; LSE: WPY) is a leading payments technology company with unique capability to power global integrated omni-commerce. With industry-leading scale and an unmatched integrated technology platform, Worldpay offers clients a comprehensive suite of products and services globally, delivered through a single provider.
Worldpay processes over 40 billion transactions annually through more than 300 payment types across 146 countries and 126 currencies. The company's growth strategy includes expanding into high-growth markets, verticals and customer segments, including global eCommerce, Integrated Payments and B2B.
Worldpay, Inc. was formed in 2018 through the combination of the No. 1 merchant acquirers in the U.S. and the U.K. Worldpay, Inc. trades on the New York Stock Exchange as "WP" and the London Stock Exchange as "WPY."
Visit us at www.worldpay.com.
For More Information
Emily Lahey, +44 (0) 203 664 5663 Worldpay, Inc. Emily.Lahey@worldpay.com
Robert Guan, +86 (10) 8569 9894 GolinMagic China Rguan@golinmagic.com
1According to 100ec.cn, in China, the total amount of deliveries for 2017 has reached 40.06 billion, with a value of RMB 495.71 billion yuan. Data from China Express Association also show that, from January 1 to April 30 in 2018, the delivery services in China have generated 13.67 billion orders, with a value of RMB 173.86 billion yuan
2Jiemian.com, 2018/07/09, 无人配送站点,丰巢、菜鸟和京东模式集齐啦; Ynet.com, 2018/07/05, 苏宁物流与百度apollo战略合作,目标普及末端配送无人化
3Sina.com.cn, 2018/05/29, 饿了么获批首条无人机配送航线
4Ec.com.cn, 2018/06/29, 国家邮政局关于2018年5月邮政业消费者申诉情况的通告
Let's Talk
Together, we can work to solve your business goals. Please provide your email address below and a representative will reach out to you soon.