Payment
insights that
drive growth
When it comes to global payments, there's no standard consumer or one-size-fits-all solution. Each market's payment landscape is unique, and so are its participants. How do you decide what's relevant to your business?
The Global Payments Report helps you make sense of it all. Now in its eighth year, it gives you actionable insights and relevant facts across 40 markets to help grow your business.
Download now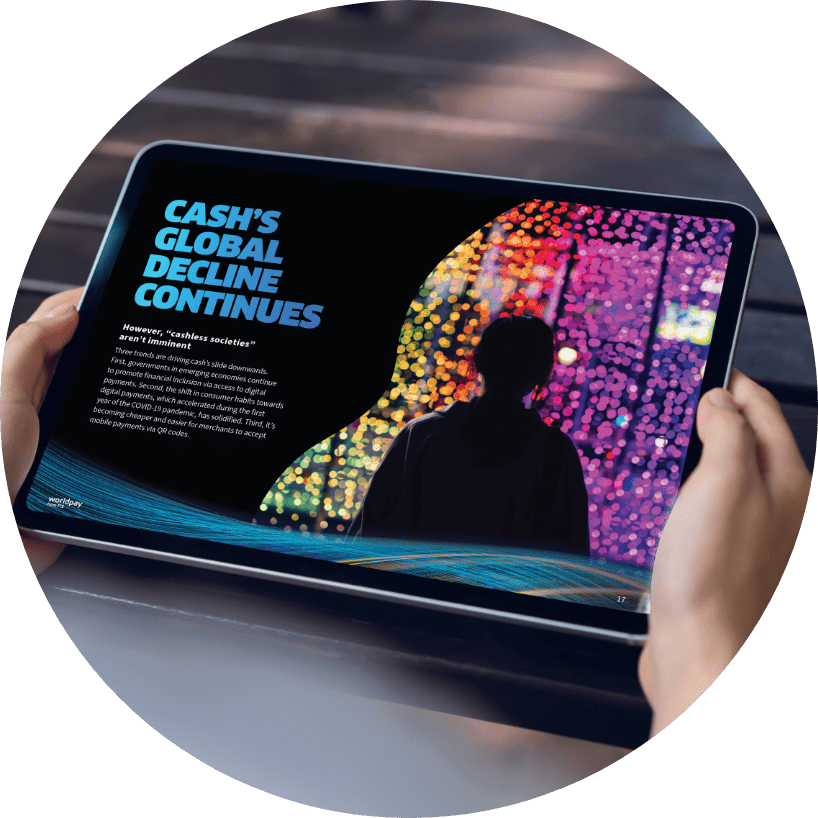 Keeping up with
your customers
From new real-time schemes to alternative payment methods, the world of payments is changing fast. How do you keep up with the latest trends where you do business? What do you need to know to successfully move into a new market? Explore our interactive map to see how consumers prefer to pay.
DISCOVER THE MOST POPULAR PAYMENT METHODS AROUND THE WORLD
Select your region
Select your market
Select your market
Select your market
Select your market
Select your market
How do you decide
what's relevant to
your business?
The Global Payments Report 2023 helps you make sense of payment complexity. We've been tracking consumer behavior at the checkout for the past eight years. So, with our expert insights at global, regional and market levels, you'll come away with a better understanding of the technologies, methods and consumer preferences that are reshaping payments.
Explore our in-depth research into key global payment trends
Account-to-account (A2A) payments are taking off, driven by real-time payment systems
A2A is disrupting payment value chains by winning over merchants with lower costs and immediate availability of funds
Consumer use of credit cards remains strong
Credit card transaction values continue to increase, largely due to the resurgence of discretionary spending and global travel post-pandemic
Digital wallet growth accelerates
Fintechs, banks, neobanks, super apps, Big Tech and device manufacturers are vigorously competing for this fast-growing payment segment
Cash's decline continues, though "cashless societies" aren't imminent
Digital payment methods continue to displace cash, yet the essential role of cash in most economies establishes a firm floor
Buy now, pay later (BNPL) enters the next phase of its evolution
The BNPL space is maturing across a more diverse range of providers, verticals, repayment plans and regulatory schemes
Cryptocurrencies are still in their infancy for person-to-business (P2B) payments
However, more merchants are discovering the benefits of accepting cryptocurrencies as payment for goods and services
Preview a
market
Our in-depth guides give you an up-close look at 40 markets for a truly local perspective. Explore this sample to see a few of our valuable insights.
View now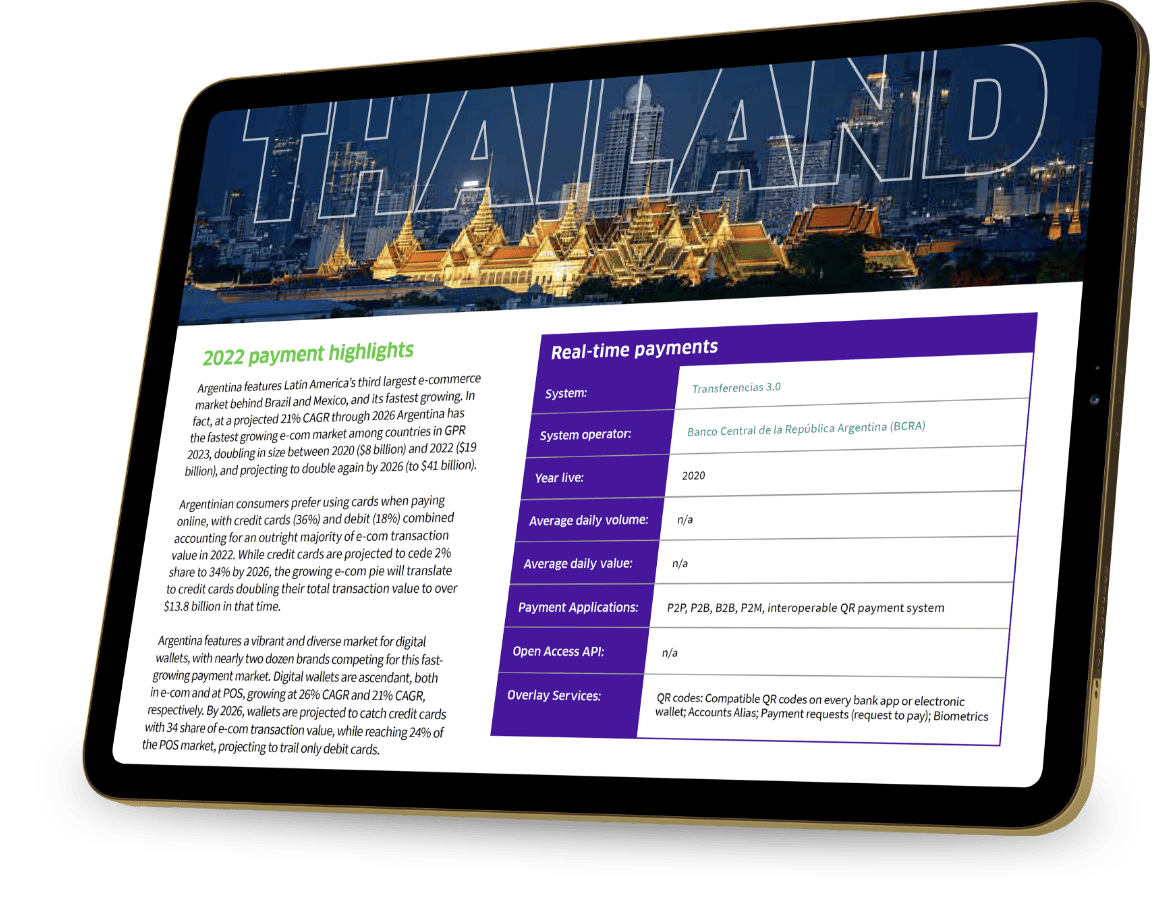 Download the report
We've got a world of payments insights prepared and waiting for you. It's all just one step away. Enter your information below to get the full report today. 
©2023 FIS®, Worldpay®, and any associated brand names/logos are the trademarks of FIS and/or its affiliates. All other brands, logos and trademarks are the property of their respective owners.
This content is for information purposes only. We have taken care in the preparation of this information but will not be responsible for any loss or damage including loss of profits, indirect, special or consequential loss arising as a result of any information in this document or reliance on it. The content of this material may not be reproduced without citing "Worldpay from FIS®, The Global Payments Report, 2023."
This material may include information on third parties and their services. The reference to these third parties is for information purposes only and does not constitute an endorsement or recommendation of the third party or their service.
Thailand
2022 payment highlights
Thailand continues to see high rates of cash use, though that rate continues to decline steadily. Cash accounted for 56% of POS transaction value in 2022, the highest in APAC among the markets covered in GPR 2023. Though it's still the majority payment method, cash fell from its 63% share in 2021.
Payment cards have never caught on in any significant way among Thailand's consumers, though they do continue to occupy an important, if niche, market. In 2022, credit cards accounted for 13% of e-com and 11% of POS transaction value, while debit cards represented 8% of e-com and 7% of POS spend.
Account-to-account (A2A) payments are increasingly an anchor in Thailand's consumer payments market. A2A payments are made primarily via PromptPay, a real-time system that facilitates payments directly from bank accounts via a variety of apps. PromptPay has propelled A2A payments to become Thailand's leading payment method online, accounting for 42% of e-com transaction value in 2022, up from 38% in 2021.
Digital wallets continue to gain in popularity both online and in-store. In 2022, wallets accounted for 25% of e-com and 23% of POS transaction value. TrueMoney Wallet is the leading wallet in Thailand, with a majority (56%) of our 2022 survey respondents in Thailand indicating it was their preferred wallet. Other important wallets in Thailand include Rabbit LINE Pay, mPAY and ShopeePay.
Real-time payments spotlight
Thailand has among the world's largest and most successful real-time payment networks in PromptPay. Launched in 2017 as a project of National ITMX and the Thai Bankers' Association, PromptPay allows real-time funds transfer between accountholders based on AnyID, a multi-proxy platform that supports bank account numbers, biller ID, digital wallet ID, mobile phone numbers, national ID or Tax ID. PromptPay is available at ATMs, bank branches, call centers, digital wallets, internet banking sites and mobile banking apps.
In September 2022 alone, PromptPay processed 1.4 billion transactions totaling more than 3.6 trillion Baht, or approximately $11.6 billion. PromptPay supports a broad range of payment use cases and overlay services: e-commerce payments, request to pay, standardized QR code for payments by mobile phone at merchant locations, payee confirmation, corporate payments and income tax refunds.
In April 2021, the Monetary Authority of Singapore (MAS) and Bank of Thailand (BoT) announced that they had successfully linked PromptPay with Singapore's PayNow. Though among the first real-time payment systems to establish cross-border interoperability, it's certain not to be the last. The BoT is exploring additional cross-border interoperability between PromptPay and Malaysia's DuitNow and India's UPI real-time payment systems.
2022 e-com payment methods
Estimated share of transaction value*
Thailand
*Totals may not equal 100% due to rounding.
2022 POS payment methods
Estimated share of transaction value*
E-com as % of all commerce
2022
2026
Mobile as % of all e-com
Popular alternative payment methods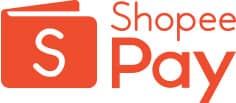 2021 card brand breakdowns
(e-com and POS)
2%
6%
25%
67%
POS market size projections
(US$ Billions)
E-com market size projections
(US$ Billions)