Fintech Insights
Are consumers ready to face biometrics in payments?
May 04, 2020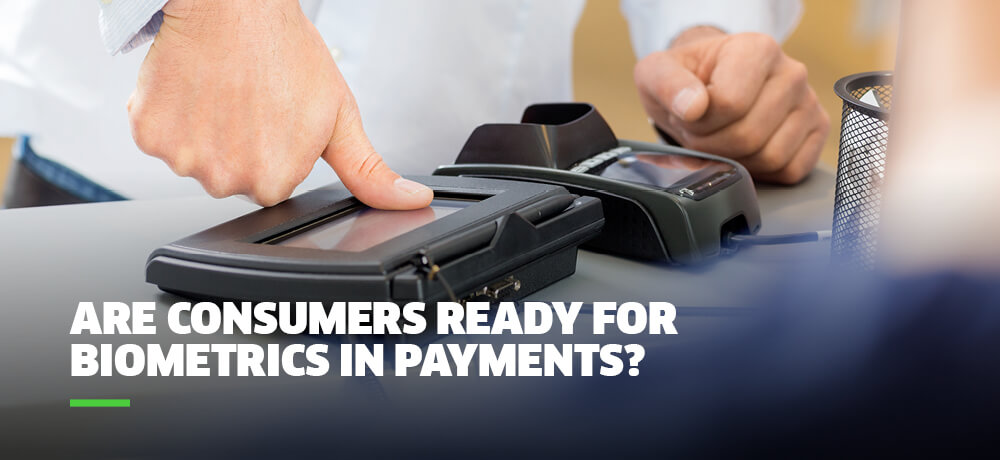 Proving who you are is essential to the safety of mobile and online commerce. Through biometrics, attributes of identity that can't be hacked, like your unique fingerprint or your voice, allow shoppers to simply provide payment authentication in a single step. There's no need to remember a complex password when you can just look at your phone screen or speak a command.
Worldwide, biometric authentication is poised to take hold in payments. New data from Juniper Research projects biometrics to secure $2.5 trillion in mobile payments by 2024, a nearly ten-fold increase over today's transaction volume. New payment security protocols like 3D Secure 2.0 will help drive merchant acceptance of biometrics at the point of sale so adoption seems almost guaranteed.
But are consumers ready and willing to share their most personal characteristics in exchange for a more frictionless payment process? Or will privacy concerns give consumers pause?
Trading privacy for convenience
In August 2019, Worldpay commissioned Dynata to survey a representative sample of over 2,500 consumers across the US and analyze their purchasing behavior across different buying channels.
When asked how appealing it would be if they could ditch their credit and debit cards and make all their payments via biometrics, 46% of respondents said it would be very or somewhat appealing. The results varied across generational lines, with 62% of Generation Z in favor of biometrics versus only 31% of Baby Boomers.
Of those respondents who disliked the idea of biometric authentication, 60% said it was an invasion of privacy, 59% said "it just doesn't feel right", and 54% expressed identity theft concerns.
Comfort with specific methods of authentication ranged widely. Half of respondents felt comfortable with fingerprint scans, while only 19% were open to handprint or hand geometry, and just 17% were comfortable with voice recognition. Notably, 29% of those surveyed were not comfortable using any biometric method.
Fingerprint scanning is now ubiquitous as proof of identity on mobile devices, which explains why it's gained the most acceptance among biometric payment methods. Biometrics using methods other than a fingerprint, such as iris scans, voice authentication, and vein readers, are less well understood and so inspire less confidence among US consumers as a payment method—at least for now.
Use cases grow worldwide
Although still considered unproven in the US, precedent exists internationally for the widespread adoption and acceptance of biometrics. The Indian government's Aadhaar project is the world's largest biometric identification system, now covering 1.25 billion people, or 99% of India's population. The system is used as means for citizens to collect social welfare payments and provides each registrant with a 12-digit unique identification number linked to their biometric data, including a photograph, ten fingerprints, and two iris scans. Advocates for the project note India has registered the biometrics of virtually the entire country in under a decade, helping to reduce fraud and corruption, foster financial inclusion, and improve efficiency in providing governmental services to rural and high-poverty areas. In 2019, Aadhaar was also approved for use in know your customer (KYC) applications for banks and fintechs.
Biometrics are also being widely used for border control and identification purposes, most notably in the US Department of Homeland Security's IDENT biometric system (which processed over 100 million visitors to the US in 2017 alone), and the European Union's new Entry/Exit System (EES), scheduled for implementation in 2020.
Biometrics are the future of commerce
Much like mobile and social payments, it won't be long before biometrics become the new normal. Retailers should look to incorporate biometric authentication into their point of sale processes as a way to streamline and reduce friction in payments.
As consumers grow more comfortable with a variety of biometric authentication methods, beginning with fingerprint and face recognition, but potentially including newer methods such as voice recognition, handprints, vein readers and even heartbeat authentication, merchants will be well-positioned to improve customer experiences, reduce fraud, and capitalize on operational efficiencies.
Download the 2020 US Consumer Behavior Report to learn more about what consumers think about mobile payments, social shopping, and what our payment preferences mean for the future.
Let's Talk
Together, we can work to solve your business goals. Please provide your email address below and a representative will reach out to you soon.