Article
Cards vs Phones vs Cash: Who's winning where?
April 27, 2020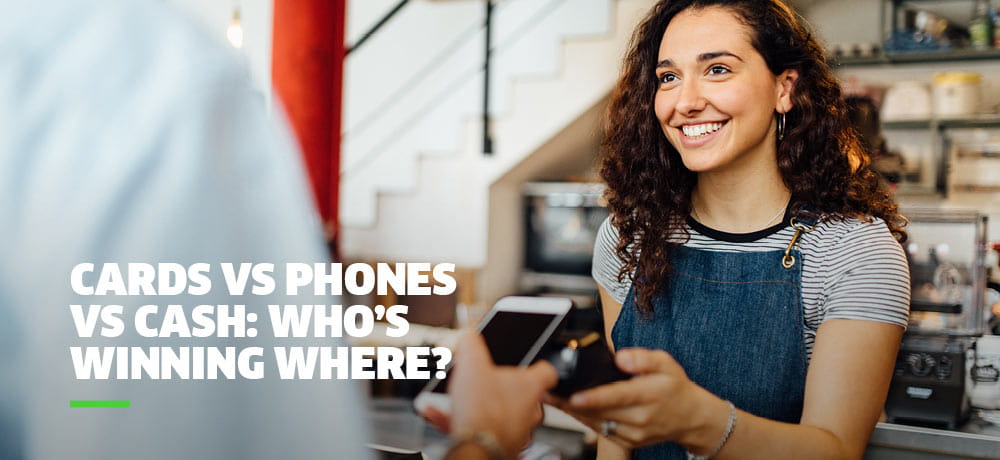 It's clear the mobile payment revolution is in full swing. According to Pew Research, 81% of US adults now own a smartphone. And 56% of respondents to Worldpay's consumer behavior survey believe that smartphones will replace debit and credit cards as their primary payment method in five years. The figure is even higher for younger generations; 75% of Gen Z and 70% of Millennials agree with this statement.
Who's winning and where?
Worldpay commissioned Dynata for an August 2019 survey of over 2,500 consumers across the US, analyzing their purchasing behavior across different buying channels. We uncovered how consumers want to use their mobile phone for shopping and where they prefer to use their mobile wallet. We also found out what they really think about biometrics and how concerned they are about fraud. And lastly, we explored what they think about the technological changes affecting how we pay, from self-service kiosks to automatic payments.
Our survey found that credit and debit cards remain king—at least for now. When buying online, almost 80% of US consumers indicated that they preferred using a debit or credit card. The remaining 20% (25% of Millennials) prefer to use a digital wallet like Amazon Pay, Apple Pay, or PayPal.
Across generational segments, respondents cited speed (57%), safety (54%), and convenience (50%) as the primary reasons for using a digital wallet online. Interestingly, speed was the overwhelming factor for Millennials and Gen Z at 62%, while for 61% of Boomers safety was their primary reason for using a digital wallet.
Among those respondents that have not yet made an online purchase with a mobile phone, perceptions of friction dominated. Half cited the screen as being too small, 49% said it is too hard to input details to complete a purchase, and 37% found it hard to correct typos.
Mobile moves in-store
Point of sale payment methods have evolved rapidly in recent years. We've seen slow dial-up terminals, navigated the challenges of learning how to use chip card readers, and now have access to contactless payments using our mobile phone with just a tap.
Stark generational differences arise in respondent's willingness to use a mobile device at the physical point of sale. Fully 75% of Gen Z respondents have used a smartphone to make a payment in-store, compared with just 25% of Boomers.
The next phase of the evolution to the use of smartphone-based mobile wallets for payment in-store is well underway. US consumers have lagged in their adoption of mobile payments relative to their peers in Europe and Asia, but that's changing.
Among respondents to our survey who have not yet used mobile payments in-store, the reasons varied. Forty-four percent said they don't trust mobile as a payment method, while 36% said it was easier to use a contactless card. Nearly a third (32%) admitted they did not know how to use mobile payments, reflecting a potential opportunity for retailers to educate their customers on how to use this newer method of payment.
Is cash dead?
Not at all. While credit and debit cards still prevail online and instore, there are plenty of consumers who still like having the option of cash. In fact, 26% of consumers visit the ATM weekly to get cash. However, consumers are using less cash than they did a year ago.
Generally, consumers are split on their preference for cash going away altogether. But those who could do without cash now are only ok with it if digital payments are accepted everywhere.
Support a multi-pronged payments strategy
For now, credit and debit cards still lead the majority of consumers' payment preferences. But no single payment method, whether EMV chip, contactless card, or mobile/digital wallet, has yet risen to the top of consumers' preferences across all generations. Retailers should offer their customers a variety of trusted and tested payment methods across all in-store and online channels.
Brands should begin by developing a clear understanding of how their customers like to buy, while ensuring they provide quick, secure, and convenient checkout experiences. Serving the needs of today's consumers requires a comprehensive strategy that supports both new and traditional payment methods whether in-store, online, or on-the-go.
Download the 2020 US Consumer Behavior Report to learn more about what consumers think about mobile payments, biometrics, and what our payment preferences mean for the future.
Let's Talk
Together, we can work to solve your business goals. Please provide your email address below and a representative will reach out to you soon.