Fintech Insights
Digital payments accelerate in times of uncertainty
Maria Prados | VP, Global Retail & B2B, Worldpay from FIS
November 23, 2020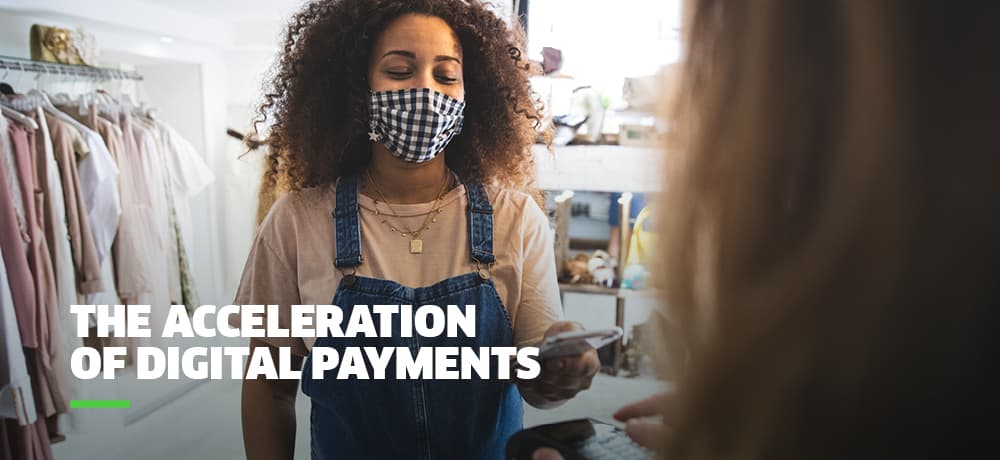 COVID-19 is transforming life as we know it, disrupting almost every aspect of our lives. Long-standing patterns of commerce established over decades were upended virtually overnight. Lockdowns and social distancing requirements in many cases left digital commerce as the only commerce available.
Many of the most important retail trends coming out of COVID-19 were already well in motion. Traditional retailers faced historic challenges adjusting to a world transformed by digital technologies long before 2020.
Today we are witnessing an acceleration in digital transformation trends, especially around payments. Offering safe, fast, flexible and easy payment experiences was already fast changing from a "nice to have" into a "must have."
COVID-19 accelerates the urgency to bring digital payment transformation to the top of the merchant agenda, including digital wallets, alternative payments like Buy Now, Pay Later and contactless payments.
Digital wallets, beyond the tipping point
Digital wallet acceptance is increasingly important for merchants in a COVID-19 environment. Digital wallets like Amazon Pay, Apple Pay and Google Pay help with customer acquisition, customer retention and conversion uplift.
Digital wallets ease consumer pain points, help optimize checkout experiences, address low conversion rates, and protect data and consumer privacy through strong authentication. COVID-19 is accelerating the shift from cards to digital wallets both online and in-store. Merchants are meeting the demand with a surge in digital wallet adoption.
Digital wallet transactions offer Strong Customer Authentication which typically means higher acceptance rates from card issuers than other payment methods.
Contactless without limits
"Contactless" is taking on a whole new meaning. Before COVID-19, a contactless payment meant tapping your smartphone or contactless card on an NFC terminal in-store. Virtually overnight, the notion of "contactless" transformed among consumers.
Contactless payments have come to mean any remote payment that doesn't involve contact with people, like making a payment via their mobile phone, smartwatch or voice-enabled digital assistant.
COVID-19 means safety-conscious consumers are seeking touch-free payment experiences. In-store, contactless is simply the fastest, easiest and safest way to pay. Transactions that took place in cash before COVID-19 are now increasingly transacted digitally. According to Mastercard, contactless transactions grew 40% globally from Q1 2019 to Q1 2020 and now represent 80% of transactions under $25 globally.
COVID-19 also sparked a huge increase in BOPOS (Buy Online, Pickup Outside of Store) activity. Though it wasn't always easy, especially at first, merchants have been able to operationalize digital ordering with curbside pickup at scale. The next step is being creative around this method of serving customers like being able to process returns curbside.
Accelerating alternatives: Buy Now, Pay Later
COVID-19 has driven interest in installment payments. Buy Now, Pay Later (BNPL) payments like Klarna are gaining traction during COVID-19. Installment solutions offer consumers a simple, stress-free application process, and they want payment flexibility wherever they show. They want clear and simple repayments on their terms and without interest. Buy now, pay later payment options offer consumers flexible payment options when they want them.
Merchants want loyalty, cash flow and larger baskets. It's more important than ever that merchants deliver seamless experiences in-store and online. Installment arrangements could allow consumers to get what they want, when they want it, while merchants get paid in full and build loyalty with their customers.
Digital payments and the new normal
Changes in spending behaviors sparked by COVID-19 are likely to persist well beyond the current moment as consumers seek out and stick with the businesses best-prepared for the digital-first future.
An informal Worldpay from FIS survey of 100 top U.S. merchants reveals four key concerns in the wake of COVID-19.
Finding operational efficiencies and ways to reduce costs, especially among small business, restaurants and other in-store merchants forced to close during lockdown.
Changing buying habits and in-store experiences were cited as important, primarily among essential services that remained open during lockdowns, like grocery and drug stores etc.
Supporting new payment preferences like contactless payments.
Acquiring and retaining customers through customer loyalty.
For merchants, payment optimization across digital channels remains essential. Looking beyond the current moment, the key is using digital payment optimization to acquire and retain new customers, providing those new customers with exceptional experiences that maximize their lifetime value.
Meeting the consumer where they are, letting them use whatever device they wish to use, letting them pay however they want. These expectations are no longer futuristic or aspirational – they're a baseline for the new normal.
Let's Talk
Together, we can work to solve your business goals. Please provide your email address below and a representative will reach out to you soon.