Article
Generation Pay: Generation Z payment trends
January 19, 2021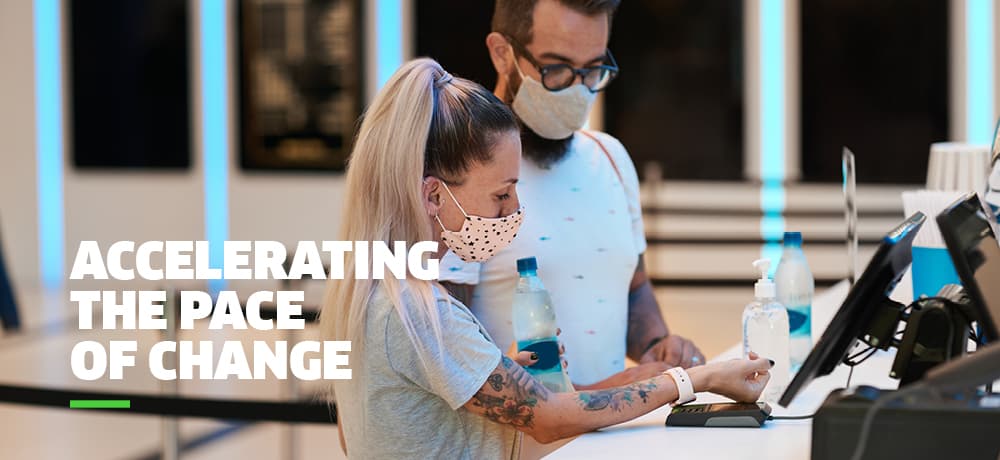 As the generation born in 1995 and later, Gen Z is perhaps best known as the first "native digital" generation. The only reality this generation has ever known is today's digital-first world where mobile communication, social networks and always-on internet are the norm.
Though members of Gen Z around the world share common traits, they're far from monolithic. Generation Z payment trends don't always fit in neat or predictable categories. From the ways they pay to their attitudes about loyalty programs, Gen Z offers more than its fair share of surprises.
A new Worldpay from FIS® study, Generation Pay, explores generational payment trends around the globe.
Gen Z still carries the torch for cash
In a surprise to many, the generation that's holding on to cash isn't Boomers or Beyond – it's Gen Z. Gen Z prefers cash when it comes to paying for everything from groceries and in-store retail purchases, to personal services like hairdressers and salons, and attending concerts and sporting events.
More than a third (35%) of global Gen Z respondents in our survey use cash as their first option for groceries. Globally, Gen Z prefers using cash for groceries more than any other generation and at nearly double the rate of credit cards. In countries around the world, Gen Z's preference for cash at the grocery store is even higher, 44% in Germany, 57% in Japan and 68% in Colombia.
Cash isn't nearly the dominant payment method it was even as recently as five years ago. Yet even in the age of COVID-19, cash remains an essential component in the lives of most global consumers. For merchants this means accepting cash will remain an essential part of the mix for years to come, even (and especially) with Gen Z.
Gen Z's subscription surprises
You'd expect that the generation of digital natives would gravitate to digital subscriptions. That's true overall, with more than 4 in 5 (84%) of Gen Z respondents subscribing to at least one type of digital content. Though like so many aspects of Gen Z behavior, surprises abound in digital content subscriptions.
Some Gen Z behaviors hold true to expectations. Members of Gen Z are the most likely among all generations to subscribe to digital music services, with over half (53%) of those surveyed having at least one digital music subscription. Gen Z are also the most likely generation among respondents in our survey to subscribe to an online gaming service, with 39% reporting having at least one such subscription.
Other behaviors show Gen Z forging a more unpredictable path. Among all generations, Gen Z is by far the least likely to subscribe to a digital newspaper. Only 9% of Gen Z respondents hold a digital newspaper subscription, compared to 14% of Millennials and 22% of the Beyond (74+) generation. On the other hand, Gen Z (15%) trail only Millennials (18%) in having a digital subscription for books.
Merchants trying to reach audiences via digital subscriptions therefore find both good news and challenges with Gen Z, and indeed with all generations. While opportunities thrive throughout the world, converting those opportunities requires offering great content, exceptional customer experiences and diverse payment options. Succeeding with digital content subscriptions also requires having an open mind to addressing surprising behaviors from consumers that don't always match with generational stereotypes.
A surprising openness to commitment
When it comes to loyalty, Gen Z exhibits both predictable behaviors as well as some that are surprising. Younger consumers are often considered more unpredictable about their purchases. Indeed, Gen Z is less inclined to enroll in loyalty programs than their cohorts in other generational groups. Only 38% of Gen Z respondents in our survey indicated they are signed up with at least one loyalty program, compared with 50% among all respondents and a high of 56% among Millennials.
Yet Gen Z respondents in our survey revealed several surprises. They're more likely than average to agree that being part of a loyalty program encourages them to spend more with a retailer (68% of Gen Z respondents agree or strongly agree). Gen Z turns out to be slightly more persuadable with loyalty than either Boomers or Beyond generations, with 69% of respondents agreeing that they're more likely to spend via a retailer with whom they have a loyalty program over one they do not.
More than any other generation, Gen Z consumers think that earning rewards can sometimes be more hassle than it's worth. Nearly half (44%) of Gen Z respondents who signed up for a new loyalty program in the last 12 months expressed such concerns. More than any other generation, 59% of Gen Z looks for merchants to track their rewards for them or offer a loyalty app experience, rather than having to track it themselves.
Merchants who seek to gain the long-term loyalty of Gen Z consumers will often find a willing audience. However, that loyalty won't come easy. Merchants need to offer the right products and services at the right price and the right time. Earning Gen Z's loyalty requires those traditional pillars, plus more: more exclusive offers, more targeted deals, effortless tracking and seamless redemption of rewards.
There's much more to learn about the purchasing power of Generation Z and how they prefer to pay while they shop online and in-store, book travel, grocery shop and run errands. learn more about Gen Z financial habits and the rest of the generational cohorts, visit Generation Pay. Come explore generational payment trends through unique stories around the globe and gain the insights you need to create smarter consumer experiences.
Let's Talk
Together, we can work to solve your business goals. Please provide your email address below and a representative will reach out to you soon.