Article
Let's make it personal: Four ways a single customer view can benefit you and your customers
Holly Worst | Director of Retail, Worldpay from FIS
August 31, 2020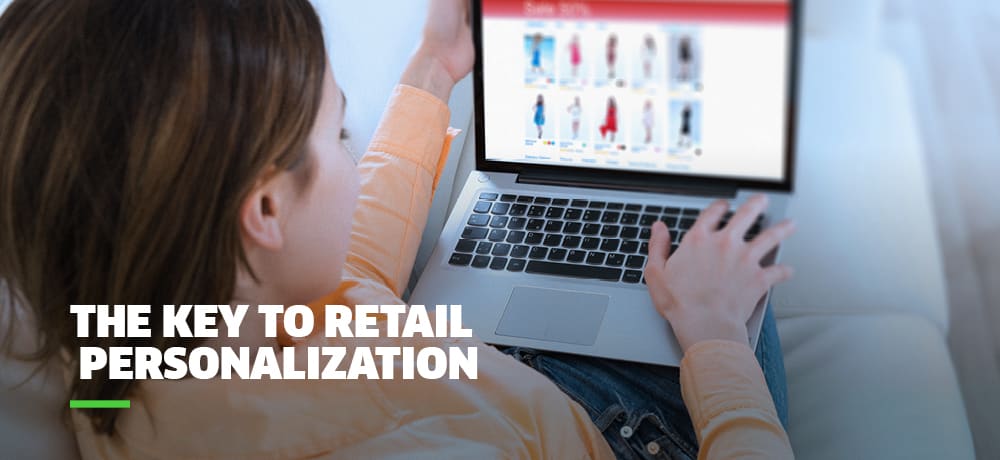 Customers today expect you to know them. They want their favorite brands to deliver an experience that shows it's truly making the effort to understand them – whichever channel they're using.
If not, they'll start to get frustrated. 71 percent of consumers express some level of frustration when their shopping experience is impersonal.1
Customers will only settle for the personalized experience they expect from brands. But personalization relies on access to the right data – and that requires a solution that offers a single view of your customers, across countries and channels.
Capture the full picture
Isn't it frustrating when you receive a mass marketing email that's clearly not relevant to you? You bought something just the other week from this brand, and have been shopping with them for years – surely they understand you a bit better than that?
If they don't want to make the effort to make you feel valued, why would you want to continue spending with them?
Retailers, if you want to avoid customers saying this about your brand, you may benefit from a single customer view.
A single customer view shows you the behavior and buying habits of a customer, including information such as how much they're spending across channels, how often they buy and what they like and value – even down to their preferred color.
This lets staff give recommendations in-store and enables you to send tailored communications at the time when you know they'll be most effective.
Joining up the customer touchpoints with a single customer view as part of an omnichannel strategy offers plenty of benefits, for you and your customers. We explore four of them here.
1. Encourage greater spend
Today's discerning customers have high demands of brands, and 72 percent of them say they only engage with personalized messaging.2
With a single customer view, you can gain richer information and insights about the customer which can complement your own data. This gives you a clear, accurate picture of customers to determine what individuals value and prefer. This then empowers employees to interact in ways that can encourage more spend and greater loyalty.
Worldpay from FIS can help with this. Our omnichannel solution connects and consolidates every payment, so you get a single, 360-degree view of the customer and their data in one report. This gives you everything you need to shape their journey and deliver engaging, personalized experiences.
For example, you'll be able to:
Identify high-value customers and treat them accordingly
View past purchases and make recommendations based on related items
Understand frequently bought colors or styles to suggest alternatives
This sort of personalization can lead to sales. For customers in Germany and France, messages about products that match their personal taste was the second most common factor for acting on personalized communication, only behind offers that save money.3
2. Gain favor among customers
Not every brand is delivering an omnichannel experience, and a highly personalized omnichannel shopping experience can give you a competitive edge.
If you can give consumers a connected, personalized journey, they'll be more likely to choose to shop with you. Four in five customers are more likely to make a purchase when brands offer personalized experiences.4
And it's not just about increasing customer spend, but also retaining these customers. A third of customers who ended their relationship with a company did so because the experience wasn't personalized enough.5
This helps your brand to stand out as a customer-first company.
3. Show you understand
As a retailer, if you can't see a single, connected view of a customer and their interactions with your brand, it makes it difficult to deliver the right messages at the right times – and customers will vote with their wallets.
Highly personal experiences make your customers feel special. They show that you care and understand them. Marketers overwhelmingly agree that personalization can advance customer relationships, with 92 percent saying customers expect a personalized experience – up from 82 percent in 2019.6
If you're a retailer with disparate systems, we can help. Worldpay can provide leverage for merchants that can't invest and can help them understand the customer, improve profit, increase sales and grow.
4. Deliver relevant messages
A single view of your customer allows you to time your messages to suit their requirements, for example, sending a coupon around their birthday, rather than a blanket mass marketing message.
For almost half of shoppers in France, most of the messages they receive feel like they aren't created with them in mind.3 This opens new opportunities for your brand to stand out and encourage interaction and customer recommendations.
We know it can be complicated …
Connecting disparate systems can be a complex, costly processes – but failing to find solutions can mean missing out on opportunities to show your customers you care.
An omnichannel experience is necessary to connect with consumers that have become used to shopping and consuming content in a fast, joined up marketplace – not having to look too far to find what they want. It also gives you the ability to gain an accurate, up-to-date view of your customers to tailor communications and experience.
Many brands are still in the early stages of their omnichannel journey, but turning to solutions that unify payment data can enrich the relationship between retailer and customer.
… but we're here to help you turn customer transactions into smarter connected experiences
When all your commerce systems communicate with each other, customers feel the benefit. Worldpay from FIS has the most comprehensive omnichannel experience, helping you to better recognize and understand your customers.
With a true omnichannel payments platform from the global experts, you can deliver one engaging and personalized customer journey – connected across all channels. And with a single view of each customer, you can shape their journey and deliver exceptional customer experiences.
See how we can support your omnichannel payments journey. Visit us here.
Sources
1 Segment
2 Smarter HQ
3 Periscope in Tamebay
4 Epsilon
5 PwC
6 Evergage

Let's Talk
Together, we can work to solve your business goals. Please provide your email address below and a representative will reach out to you soon.