Article
Modern payment technology is more important than you may think
Matt Alden, Product Manager
December 28, 2020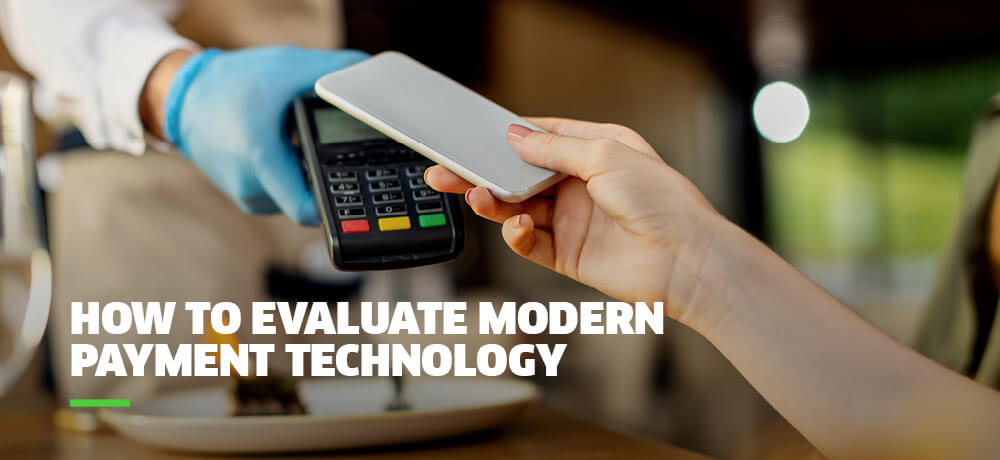 To get the economy rolling again amid the COVID-19 pandemic, businesses large and small have had to adopt new procedures that changed daily operations significantly. More than 80 percent are accelerating automation processes in response to the pandemic, and digital payment technologies that power contactless and online checkout have been key to recovery.
Modern technology that powers digital payments is now a must-have for weathering the changes, but merchants face many choices. From cost to security, there are multiple factors to consider when investing in payment technology. Let's discuss how you can strike the right balance in a payment solution for your business.
Functionality and features
The first step when considering a point-of-sale device is to understand the differences between a traditional payment terminal and a POS system. Traditional terminals offer the basic features to conduct a transaction and typically have one task: to accept or decline card payments. Newer POS systems like increasingly popular smart terminals are far more sophisticated, offering all-in-one functionality that extends beyond accepting payments.
How your business operates is one of the most defining factors in choosing a point-of-sale device. Whether customers are paying online and picking up in-store, placing orders online and paying curbside, or ordering from one store location and paying at another, there are numerous possibilities depending on the type of business. Whatever it looks like, the payment device must accommodate your business' operational flow.
The solution's user interface is another very important consideration. An interface that is easy to learn allows staff to get up and running quickly in less time. Another consideration is the number of steps customers and staff need to take to complete a transaction. Fewer steps to payment and checkout reduce confusion and shorten checkout lines.
Other important features include the ability to run customized transaction reports for more accurate accounting and access to customer and technical support. All of these factors help automate and streamline the process for both the business and its customers.
Security considerations
Security is critical to every payment device and the most important component to evaluate is the system's middleware or gateway. This is what connects the device to the payment processor and merchant account provider. Not every payment solution uses a gateway or middleware, but if it does, it's critical to ensure this component is PCI compliant to protect your business.
The ability to assign user permissions is a security benefit offered by the more modern terminals and POS devices. This feature allows merchants to grant access only to designated staff for specified tasks such as applying discounts and approving refunds.
System updates are often overlooked but crucial for securing any technology device. These include security updates like new forms of encryption and updated security certificates. Many businesses forget that most older payments devices aren't equipped to update themselves. Most modern POS systems are configured to receive security updates automatically, taking away some of the burden of manual tracking and updates.
Important technological aspects
When considering potential payment solutions, I recommend evaluating the responsiveness of the system's hardware and software. Since modern payment systems are more complex than traditional terminals, it can take longer for the device to complete a transaction in some instances.
I also recommend that businesses evaluate their technology infrastructure to be certain it can support a modern POS system employing multiple devices. The internal network should be up to current specs and the internet service should be reliable and fast. I've seen instances where a business signed up for a basic level of internet service that became overloaded when supporting half a dozen payment devices.
What to invest in
Costs can be an obstacle for small to medium-sized businesses looking for a new payment system but there are things worth paying more money for. POS systems that have an established brand presence in the industry tend to require more capital investment up front but typically offer more features and greater durability.
Flexibility is also important. Investing in a POS system that offers multiple options for payment processors and add-on features helps extend the solution's longevity as business needs change.
We're also seeing a general trend in the industry toward smart devices that can be tailored as the business grows. With an app-based platform, these smart devices allow merchants to pick and choose the features they want to design a solution that's exactly right for them.
The future favors modern technology
One of the biggest benefits of modern payment technology is the ability to offer a variety of value-added applications in one device. From employee shift notifications to loyalty and gift card programs, smart terminals and modern POS solutions empower businesses to tailor their solution according to needs and budget.
In addition to offering greater security with cloud-based storage and functionality, the newer devices are also engineered to last longer. Modern devices are easier to update, giving businesses the flexibility they need to make changes as their business needs change.
Whatever type of payment solution your business is looking for, Worldpay from FIS® experts are trained to discuss the modern options available for your business.
Let's Talk
Together, we can work to solve your business goals. Please provide your email address below and a representative will reach out to you soon.