Article
SoftPOS: The evolution of point of sale payment acceptance
Kush Shah | Worldpay from FIS Product Manager
March 22, 2021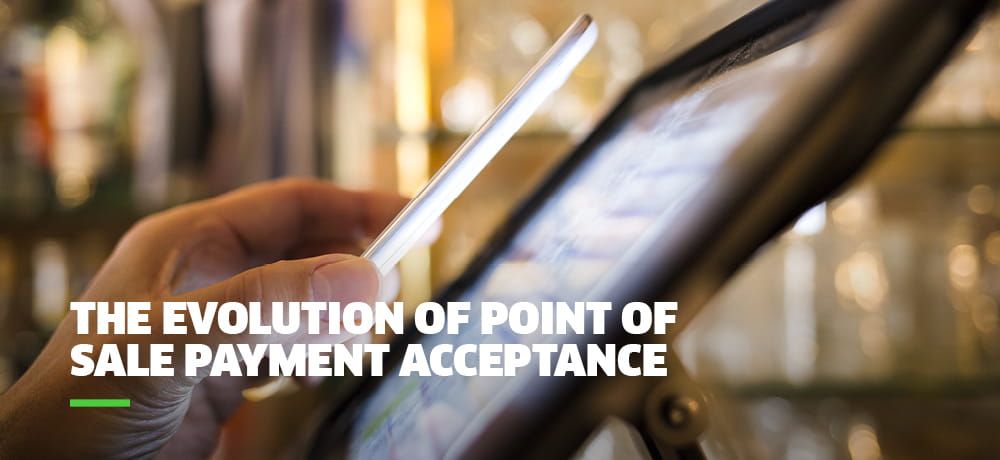 Successful businesses need to offer the right product or service at the right place and the right time. Those components remain essential today, but that's not enough. A customer's experience throughout their buying journey is as important as "right product, right price, right time."
Payment experiences are especially important. Friction in the payment processes creates frustration, reduces trust, and can result in customer attrition. In a recent PWC survey, one in three consumers indicated they would walk away from a brand they love after even one bad experience.
Consumers increasingly expect simple and efficient checkout experiences. They expect mobile and contactless payments that cater to their desire for convenience and security. SoftPOS technology helps enterprise retail businesses meet and exceed these expectations.
What is mobile point of sale (mPOS)?
Mobile point of sale (mPOS) software replicates the functions of traditional electronic point of sale (ePOS), the key difference being that the payment journey is facilitated through software on a mobile device and a mobile terminal. The solution allows merchants to accept payments virtually anywhere with only a smartphone/tablet and a mobile terminal, no additional hardware needed. Just like traditional POS software, mPOS allows merchants to accept credit and debit card payments, contactless cards, and digital and mobile wallets like Alipay, Google Pay and Apple Pay.
mPOS enables frictionless checkout by converting customer checkout into a connected experience and consequently a more personal one. Retailers of any size and nature can turn their shop floors into a unique experience with the ability to interact with their customers anywhere in their stores. mPOS software serves the same functions of a traditional cash register, with software vendors providing enhanced functionality through integrations to modern digital business tools like inventory management, loyalty and sales insights.
Early mobile payment devices started as proprietary cordless versions of desktop payment terminals and were powered through ePOS. They are now typically powered by mPOS software on a smartphone or tablet. Using retail POS software on the same devices we all use every day offers familiarity that makes customer checkout experiences easier for everyone.
Introducing SoftPOS – the next wave of mobile and software POS
SoftPOS is the latest innovation in POS technology, an application that merchants can download on mobile devices to turn any NFC-enabled Android mobile device into a payment acceptance device. SoftPOS offers a fully software-based alternative to traditional payment terminals. The application allows retailers to accept contactless payments on their mobile devices and facilitates the capture of financial PINs and additional authentication where required, without the need for any additional hardware.
Though available for several years to small and mid-sized businesses, SoftPOS has gained interest from enterprise retailers and hardware manufacturers, triggering collaborative development to serve the needs of retailers operating at scale.
The benefits of SoftPOS for retail point of sale
SoftPOS offers a wealth of benefits for merchants, from enhanced customer experiences and operational cost savings, to the ability to expand the retail footprint beyond traditional boundaries.
Mobile POS and SoftPOS expands flexibility in-store. It offers improved in-store shopper experience via queue-busting and frictionless checkouts, removing the bottleneck of only having a fixed number of checkout areas.
Expand the footprint of your stores by using SoftPOS for events, festivals and pop-up stalls. SoftPOS expands your business and creates flexibility for sidewalk or parking lot sales, as has been common in the age of COVID-19.
The SoftPOS solution saves money. SoftPOS requires just a single hardware/device required to install the mobile POS application and to accept payments. Merchants can introduce a BYOD model or can use enterprise mobile devices for payments at POS as well.
A flexible, easy to carry device for employees. Easy to roll out – scalability is easy and quick. Simple interfaces on commonly used devices means little to no training for staff is required to get up and running.
Value-added services are easily integrated. A POS rooted in software rather than hardware is infinitely easier to upgrade than systems tied to specific hardware, helping to make mobile POS systems better able to adapt to the accelerating pace of technological change.
More information on SoftPOS and our next generation mobile POS solution is available by speaking with your FIS relationship manager or connecting with one of our enterprise payments experts.
Let's Talk
Together, we can work to solve your business goals. Please provide your email address below and a representative will reach out to you soon.