Article
What to expect from Latin America's booming eCommerce market
July 24, 2020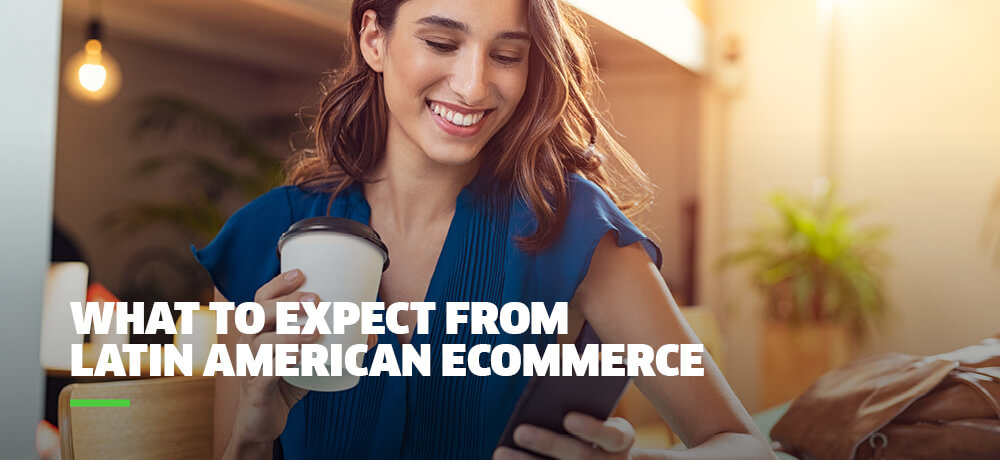 Businesses across the world are rethinking their strategies after COVID-19 turned their operations upside down and few markets look as promising as Latin America when it comes to eCommerce. The region has a huge population that is highly connected and embraces technology, especially if it can be applied using their favorite gadgets: their smartphones. Global merchants looking to expand their horizons in this new post-pandemic era should pay attention to Latin America's huge potential.
With more than 210 million consumers, Brazil is the largest market in the region and the 2020 Global Payments Report by Worldpay from FIS indicates that the country's eCommerce rate is set to grow 53 percent by 2023. Mexico comes next as the second most vibrant market and the sector is projected to expand 57 percent over the same period. However, the most impressive numbers come from Argentina, where eCommerce is set to increase 104 percent over the next three years.
And the best is yet to come for merchants targeting the region. The need to social distance during the coronavirus pandemic brought thousands of new customers to online shops and should speed up this incredible market development.
Opportunities are endless in Latin America, but the region has complex regulations, notably concerning payments, that vary from country to country. Merchants headquartered abroad need to work with a processing partner that deeply understands the market. Let's take Brazil as an example. Boleto Bancário is a PostPay payment method unique to the country that accounts for 16 percent of the region's eCommerce transactions. Companies looking to attract local customers cannot fail to offer this payment option.
Even though Latin America is a complex market, there are four online payment trends that are common to the region:
Cash still matters a lot
Even if the use of cash is consistently declining in most regions, this payment method is still quite relevant in Latin America, even within eCommerce. The persistence of cash reflects a large unbanked or underbanked population, high banking fees for consumers, and persistent concerns about fraud. PostPay services, like Brazil's Boleto Bancário, allow consumers to make purchases electronically while ultimately completing the transaction with cash – at ATMs, convenience stores and bank branches. According to the Global Payments Report, PostPay and Cash on Delivery make up more than 13 percent of eCommerce payments in Latin America and are set to remain relevant over the next three years.
Credit cards are going strong
While the use of a physical credit card is projected to decline globally, it should maintain strength in Latin America's eCommerce market until 2023. Credit cards are most popular for Argentinians, Brazilians and Mexicans buying online, according to our Global Payments Report. In Brazil, credit cards alone are responsible for 57 percent of online payments most likely due to the possibility of dividing payments in instalments, which is particularly popular in Brazil.
Digital and mobile wallets are gaining ground
The 2020 Global Payments Report projects digital and mobile wallets to grow from 14 percent to 18 percent of Latin American eCommerce spend through 2023, expanded by the rising populations of smartphone users. Digital wallets are expanding faster in Argentina than in any other market in the region – now catching 20 percent of online transactions. Mercado Pago is a strong local digital wallet that should definitely be on any merchant's payments portfolio for the region since it is also available in Brazil and Mexico. Digital wallets are also set to rise from the region's large mCommerce share – almost 50 percent of online purchases are done via smartphones in Mexico.
Fintechs are the future
As we look to the future, we expect to see a competitive landscape of fintech offerings seeking to reach the region's large unbanked and underbanked populations, primarily through their mobile devices. Progress in this area will be driven in part by regulatory initiatives and continued build out of infrastructure to support new digital services like digital or mobile wallets and branchless banks. Brazil is about to launch its own instant payments system, called PIX, which will be a valuable option not only for peer-to-peer transactions but also for paying for online orders. The country is also working on regulating Open Banking which is set to make the FinTech market burst with new services, capabilities and companies.
Some of Latin America's consumer payment methods are changing in line with broad global trends, like the move toward digital wallets, yet the region also presents movements of its own. Knowing how to navigate the different markets of the region is key to thriving in this area that is booming with opportunities.
Let's Talk
Together, we can work to solve your business goals. Feel free to call +1 877.776.3706 now or provide your email address below and a representative will reach out to you soon.