RISE WITH FIS
Five reasons insurance companies should embrace digital payments now
Martin Sarjeant | SVP Product Management, Insurance, FIS and Thomas Jerolitsch | VP, Product Management, FIS
January 11, 2021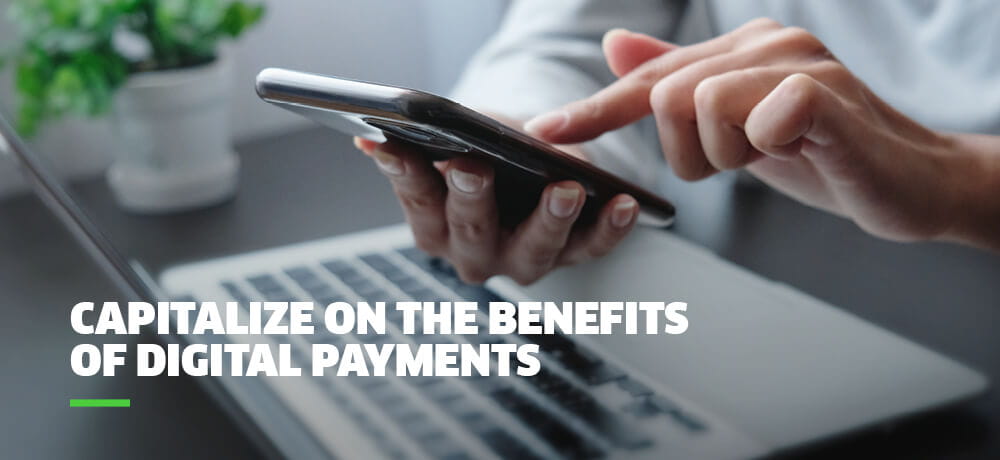 Prior to COVID-19, digital payments were already beginning to take hold in many parts of the world. But the global pandemic accelerated the digitalisation of the entire payments space. Consumer preference for contactless transactions rose, impacting all industries including insurance in very specific ways. With consumers increasingly ordering online, paying with digital wallets and using mobile apps to manage their financial accounts, it seems antiquated for insurers to still be cutting and mailing checks to their policyholders.
It's time for insurance companies to start capitalizing on the numerous benefits digital payments offer. Here, we've outlined five reasons why insurers should implement a digital payments strategy sooner rather than later.
No. 1. Improve the customer experience.
We've seen the pandemic prompt insurers to explore alternative ways of supporting their policyholders such as offering advice on car maintenance, home schooling, mental health and other topics. But the claims and payment process remain the biggest single touch point for insurers – their reputations rest on it. With the potential for delayed payments, checks are simply inconvenient for policyholders. In contrast, digital payments enable claim payments to be received within minutes after approval through real-time payments channels, offering a better experience that helps drive customer engagement.
No. 2. Mitigate fraud and utilize AI technology.
While insurers have made great strides in the claims process, digitalizing payments offers even more opportunity to enhance security and compliance. Digital payments and underlying payment systems help reduce the potential for human errors and fraud associated with policy claims disbursed via checks. Additionally, advanced technology like AI fraud detection, AI claims assessment and insurance workflow automation systems help insurers improve the customer experience. For example, SwissRe's On Time Guarantee Flight insurance disburses payments direct to the policyholder's account within minutes of flight delays.
No. 3. Improve operational efficiencies and resilience.
For some insurers, printing checks during the pandemic has proven to not only be inefficient but also a liability. We've even heard reports of insurance company employees taking check printing and document scanning equipment home to process claims during lockdown periods. Using antiquated systems is a security risk and costly for insurers. By digitizing payments, replacing legacy infrastructure and updating workflows, insurers are in a better position to improve operational efficiencies and be resilient during large and unexpected shifts in the marketplace.
No. 4. Stay competitive.
Competition is changing for traditional insurance firms now dealing with the disruption brought on by emerging InsurTech. Companies like Zhong An, Tencent (WeSure), Ant Financial, Amazon and Lemonade are leveraging technology innovations that help them disburse claims directly into policyholders' bank accounts. This type of instant gratification is elevating consumers' expectations of efficiency and timeliness from their insurance providers. By leveraging digital payments, insurers can better meet their policyholders' demand for a fast and frictionless claims process.
No. 5. Go green.
Although this is the last point, it is not of the least significance. How many trees are felled each year to create checks and the envelopes they go into? How much CO2 emissions are being generated from transporting checks to policyholders around the country? In addition to improving the customer experience, boosting operational efficiencies and enhancing security, digitizing payments is a tangible step insurance companies can take to make a positive impact on the environment. As we embark on a new year, one resolution insurance providers would do well to follow through with is going green. And embracing digital payments is a fantastic way to get started.
Let's Talk
Together, we can work to solve your business goals. Please provide your email address below and a representative will reach out to you soon.