Payments Leader
Artificial Intelligence & the Fight Against Card Fraud
June 13, 2019
Dondi Black, Vice President of Payment Strategy
"Given the acceleration in attacks on card data in the last decade, harnessing machine learning to detect compromised account information and prevent fraud before it occurs is critical." Eric Kraus
Despite the decline in the number of U.S. consumers affected by card fraud in 2018, the number of breaches affecting the banking/credit/financial industry remained essentially the same – at 135 – between 2017 and 2018, according to a recent ID Theft Center report. What's changing is that fraudsters are targeting more online sites and smaller merchants without up-to-date security controls, which, in turn, negatively affects the institutions – often community banks and credit unions – that serve them or their customers.
The Fine Line Between Alerting and Alarming Consumers
Card issuers walk a fine line between alerting and alarming consumers who could become victims of cardholder fraud because of breaches.

Only about five percent of cards involved in a breach will be used for fraudulent transactions, but determining which five percent can be time-consuming. Issuers must conduct an analysis of what cards are most likely to be affected before they blindly reissue them, or worse, fail to reissue cards to consumers who are highly likely to experience fraud.
Why not reissue to all affected by a breach? It's inconvenient for consumers and it's costly for issuers, especially for small financial institutions paying as much as $11 per card, according to American Banker. On the other hand, consumers lose trust in institutions when they experience a fraudulent transaction.
Machine Learning: More Accuracy and Less Negative Impact on the Customer Experience
Machine learning has been making it easier for financial institutions to detect card fraud in real time, stop it when the fraudster attempts to make a transaction and reduce the number of false positives – when good cards are declined – thereby improving the customer experience.
Now machine learning can be applied to substantially decrease the time that it takes between networks alerting issuers about what cards have been involved in breaches and to automate labor-intensive processes around reissuance. With early detection tools, based on machine learning, issuers are provided with a quantified level of risk of future fraud involving specific cards months ahead of traditional alerts. Financial institutions can then make strategic decisions about what cards to block and reissue. Continuous updating of the algorithms that quantify risk levels provide financial institutions the power to stay on top of their card portfolios
By simplifying, streamlining and automating the process of fraud detection, institutions reduce the impact of fraud on customers and continue to build their trust.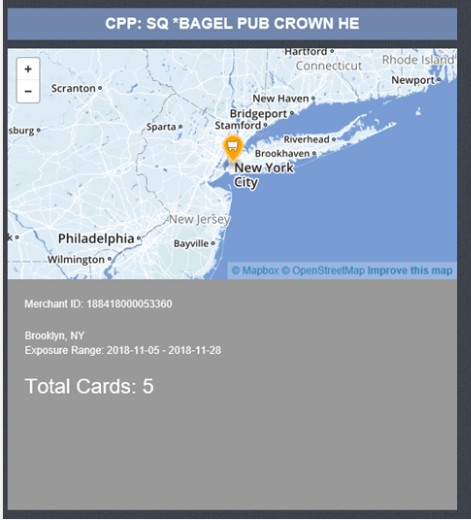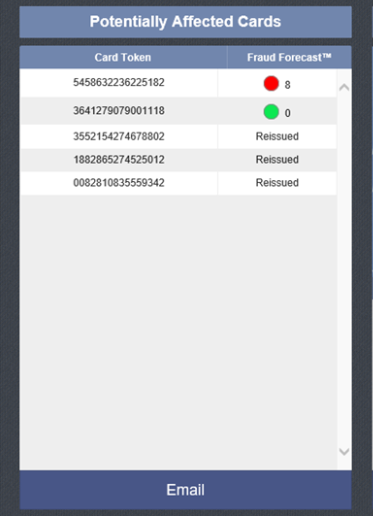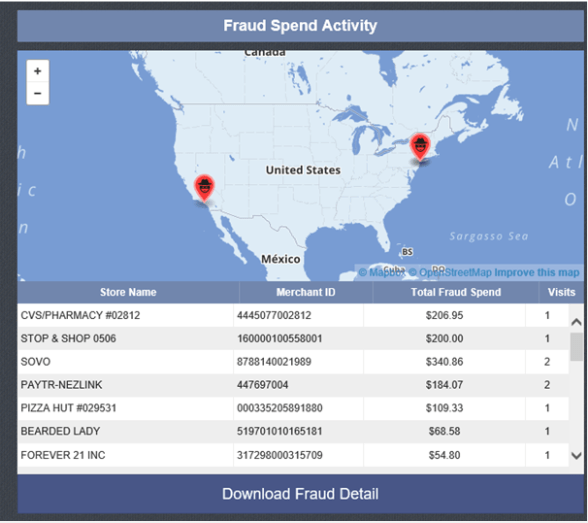 Source: FIS SecurLOCK Detect
A powerful early detection tool – SecurLOCK Detect – has been recently introduced that not only identifies the credit, debit and prepaid cards in specific institutions' portfolios at risk and which ones surpass the threshold for reissuance, but also shows where – the common point of purchase – the fraud is occurring. Why is this important? Suppose you're located in a trade area where fraud is occurring at mom and pop stores – affecting your portfolio but not the wider ecosystem. Instead of going through a laborious process of figuring out where the fraud is occurring, technology can put the information at your fingertips. As fraud heads towards smaller merchants, pinpointing specific locations is critical. Tools like SecurLOCK Detect reduce losses by about 15 percent.
Let's Talk
Together, we can work to solve your business goals. Please provide your email address below and a representative will reach out to you soon.