Global eCommerce

TRAVEL & AIRLINES: YOUR COVID-19 QUESTIONS ANSWERED
COVID-19: Travel companies dealing with the operational impact and preparing to ramp up travel bookings
When local governments shut down travel due to COVID-19, the massive number of flight cancellations triggered the urgent need for a strong focus on re-bookings, refunds (via call center, website and social media), loyalty, business continuity and in some cases survival. The money flow reversed, bookings abruptly stopped, and payments already received by the airlines for future departures had to be refunded, as mandated by local legislation. This impacted cashflow, caused a spike in customer queries and created a backlog of staffing issues and processing delays.
The impact of COVID-19 on future travel is mainly related to flight cancellations between the time of booking and departure, due to government regulations that prohibit travel e.g. due to closed borders. In most jurisdictions, under local or EU law, passengers are entitled to a full cash refund in case of the above-mentioned flight cancellations. Due to the unprecedented global impact of the pandemic, airlines are faced with the situation that they are inundated with refund requests causing both operational delays and cash flow issues.
As part of a recent survey of 33,000 people*, we asked travelers about the compensation they had received for disrupted travels plans during this period of uncertainty. The below results show that 24% of those travelers affected, received a full compensation. Airlines have made an impressive effort to support their passengers with a full refund despite limited availability of staff and cashflow difficulties. While it's been a challenging time, they have remained flexible and our results show that they have supported passengers who asked for a refund in many cases. 18% of passengers were able to re-book their flights for free – this option allowed passengers the chance to rearrange travel plans without the airline having to process refunds, thereby supporting the airlines cashflow and the passengers needs.
We also found that 7% of travelers were given travel vouchers – this keeps cashflow steady without pressure on the customer to re-book immediately. Issuing vouchers is seen by the card schemes as an acceptable, albeit optional, alternative for refunds ("unless properly disclosed in the terms and conditions of purchase"). Please note that the cardholder will keep the right to chargeback the original transaction in case the airline is not being able to render the service purchased with the voucher (e.g. as a result of a bankruptcy). Visa currently allows the cardholder to chargeback the original transaction during the validity period of the voucher, but limits that period to 540 days.
Our survey* highlighted that 4% of passengers received a partial refund, a further 4% of respondents received no compensation and 11% of people cancelled their trip before official guidance was in place and therefore weren't entitled to compensation. It's these customers whose brand loyalty will have been badly affected, and for airlines that have had to take a hardline approach, winning these customers back may take a long time, if it's in fact possible at all. We would inevitably expect a large amount of chargeback disputes to come from this group of passengers.
This pandemic was both unprecedented, and highly disruptive to the travel industry. It appears as though airlines have responded with a customer-centric approach within the realms of what was operationally possible. They have been stretched, tested and forced to deal with requests in the best way they could but the real test will be in coming months as lockdown rules begin to relax. How will airlines ramp up sales? Will customers be willing to travel? Will airlines need to take a country-by-country reactive approach if the pandemic continues to affect the industry?
*Source – Worldpay from FIS, Power your Payments, 2020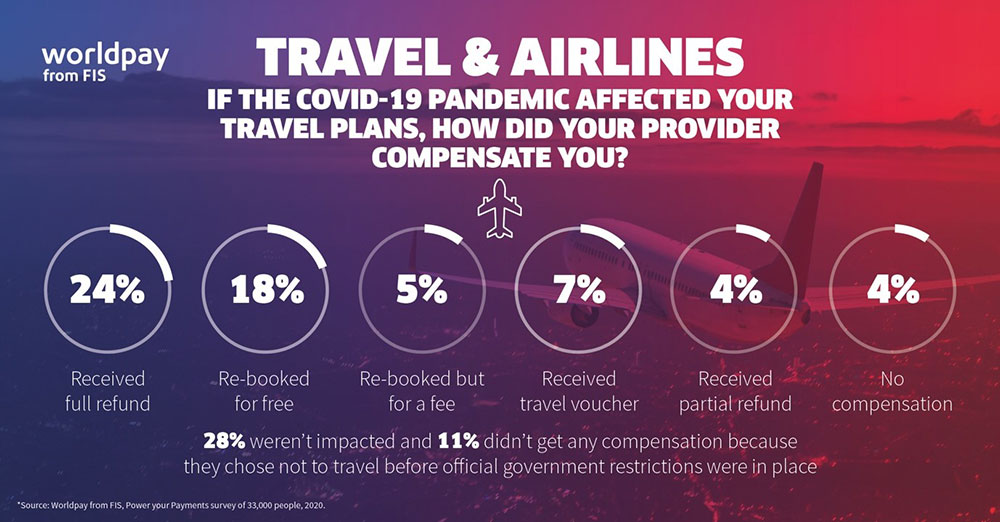 MERCHANT SERVICES SCAM ALERT
We have received reports of businesses being contacted by callers claiming to be representatives of a merchant services provider. These callers are telling merchants that their current provider is shutting down due to the COVID-19 situation. They proceed to tell the merchant they need to switch processors to continue accepting electronic payments.
If your business is targeted, please know that this is part of a scam and not legitimate. Worldpay will continue to be your trusted partner and support your payment processing needs.