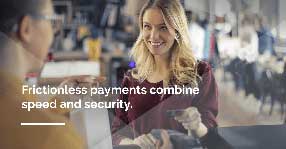 Contactless payments were meant to be the second phase of the ongoing migration to EMV-chip cards in the United States, but the move to mass EMV adoption has been challenging for both financial institutions and merchants. In fact, some merchants have intentionally opted to bypass the EMV-chip and PIN model altogether, opting to wait for contactless payments.
Despite the lagging adoption, Bastian Knoppers, FIS senior vice president, CardPro, says several critical factors will align this year, and lay the groundwork for the mass adoption of frictionless card payments in the United States beginning in 2019. Among them:
Major top tier banks have announced contactless launches in 2018, and nearly a quarter of existing POS terminals in the United States are fully EMV and contactless capable. Expect fast food restaurants and transit systems to be likely first movers into contactless payments, due to the speed and convenience it offers to these specific business models.
Underlying technology for contactless and dual-interface card adoption accommodates mobile payments. From the cardholder's point of view, the payment experiences are complementary. The increase in mobile payments popularity will fuel contactless card migration.
Adoption trends in Europe and other parts of the world where EMV migration is near completion and at least three to seven years ahead of that in the United States indicate that contactless card payments serve as the second phase of EMV.
Lack of ubiquity has hindered both contactless payments and mobile wallets from reaching critical mass in the United States, but contactless payments will finally gain in popularity as financial institutions, merchants and consumers realize the value they offer.
Tags: Digital Innovation, Payments
Hablemos
Juntos, podemos trabajar para resolver sus objetivos comerciales. Proporcione su dirección de correo electrónico a continuación y un representante se comunicará con usted pronto.