Artículo
The changing payment landscape in Latin America
Juan Pablo D'Antiochia | SVP and general manager, Latin America – Merchant Solutions
May 17, 2021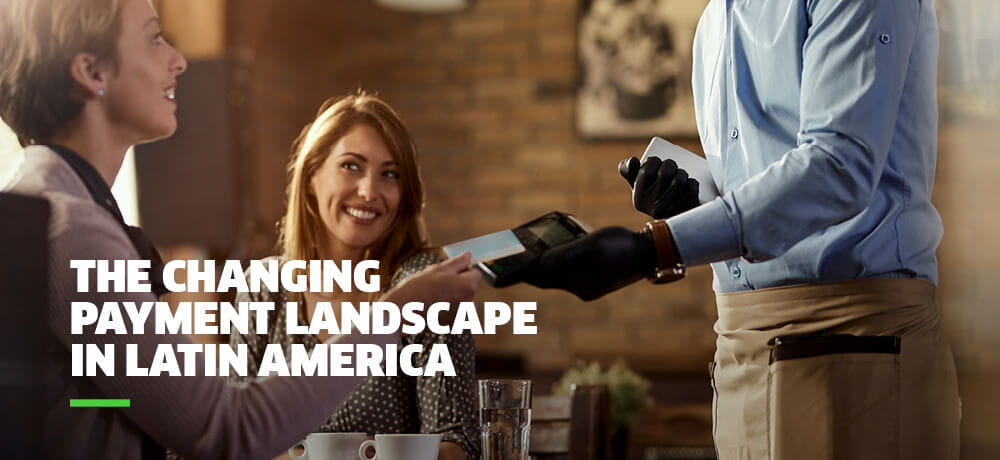 When COVID-19 emerged, millions of consumers and the businesses that serve them needed to quickly adopt new ways to pay. Digital alternatives like mobile wallets and bank transfers quickly became vital options as the drawbacks of cash were exposed. In a region historically dominated by cash, it was no small undertaking.
As the payments landscape continues to evolve at a rapid pace, it's critical for merchants to understand the technologies and payments that most closely meet the needs of their current and potential customers. The changing role of cash and the emergence of alternatives like mobile and digital wallets is essential to understanding the regional landscape.
Yet that's only part of a nuanced regional payments story. An evolving acquiring landscape, the importance of installments and the influence of regulators all influence and shape the market of Latin America.
The complexities of cash in LATAM
Consumer preferences typically drive change in payment methods, but 2020 was anything but typical. Cash was declining before the pandemic, and the pandemic accelerated that decline.
COVID-19 drove consumers to non-cash payment options including credit cards, debit cards and, increasingly, digital and mobile wallets. The result saw cash use in LATAM drop dramatically, by more than 34% in 2020 over 2019.
The pandemic made digital and card payments essential, forcing consumers to set aside preconceptions and reservations out of necessity. While some consumers may well return to the tradition of cash, we expect that many will continue to use other payment methods due to their overwhelming convenience.
Nevertheless, cash will persist as a leading form of payment at the point of sale for at least the next decade in LATAM. Latin American consumers have historically shied away from electronic payment methods due to concerns around fraud risk and are much more drawn to the benefits of installment payments. Cash is also a much-needed payment method for many consumers since having access to traditional banking institutions can be challenging.
On the merchant side, there's a misconception that it's less expensive to accept cash because there are no fees associated. What some merchants forget is that it doesn't consider the costs of handling, storing and moving cash between retail outlets and the bank. Cash sitting in a drawer is also susceptible to theft, it isn't earning interest and isn't available for other uses by the merchant.
Digital wallets, bank transfers and the importance of installments
LATAM has lower digital wallet adoption than other regions, but that's changing. Until recently, options were limited. PayPal was only available in a few countries and Mercado Pago was limited to use within the Mercado Libre marketplace. Wallet adoption also lagged due to historical reluctance of LATAM consumers toward electronic payments, with wallets at the far end of that spectrum.
As recently as 2019, digital wallets only represented about 2% of in-store purchases. During the pandemic, market share tripled to just over 6%. Prior to COVID-19, digital wallets captured nearly 14% of online checkout but as consumers shopped online even more during the pandemic, the use of digital wallets for online checkout increased 46%.
LATAM is also seeing an increase in real-time bank-based payment transactions. This real-time payment infrastructure enables many payment scenarios. Bank transfers make it easier to load money into digital wallets, reducing the cost of processing mobile and digital wallet payment for the payee. Bank transfers also enable consumer-to-consumer and business-to-business payments at lower rates than existing alternatives.
For the banked population, bank transfers represent one of the last nails in the coffin of cash. Bank transfers have all the benefits and none of the drawbacks: transactions are inexpensive (if not free) while settlements and confirmation are immediate.
The future of LATAM payment regulation
Though their approaches differ, regulators across LATAM are pursuing common goals: to reduce the costs of acceptance, increase payment security and promote convenience for consumers.
Central banks and regulators are moving in the right direction by facilitating the adoption of digital payments and payment clearinghouses that function like ACH in the United States. Regulators from Brazil, Argentina, Mexico and other countries are seeking to break monopolies or duopolies to promote competition to ensure an even more competitive acquiring landscape.
Considerations for international merchants
Offering installment payments are essential for merchants to get any traction in the region. Installments will drive sales, or on the other side of the coin, failing to offer installments will depress sales. Offering installment payments requires that merchants acquire domestically or to use a domestic hosted solution. Another deterrent to online sales is failing to consider cross-border implications.
Consumers shopping online expect merchants to be fluent in their local language, to show prices in the local currency and accept the payment options consumers use most often. Businesses need to understand that cross-border purchasing is complex. Many credit cards in LATAM are dual currency so when a consumer purchases in any other currency, they don't know the cost until their credit card statement arrives at the end of the month. When you consider currency exchange and surcharges, offering the correct payment mix to consumers can be complex, so it requires a knowledgeable partner to navigate the right payment processing package.
Taking the time to adequately research the local landscape prior to entering the market will help boost authorization rates, increase sales and establish a foundation for long-term success in this growing, dynamic and vital region.
The Worldpay from FIS Global Payments Report 2021 dives deep into payments in LATAM with detailed breakdown of regional payment methods, provocative thought leadership and extensive country analysis of payments in Argentina, Brazil, Chile, Colombia, Mexico and Peru.
Let's Talk
Together, we can work to solve your business goals. Please provide your email address below and a representative will reach out to you soon.