Fintech Insights
Why prebots are the future of automation
Jaspreet Kondal | Senior Vice President, Back Office Services and Anant Keskar, Vice President, Back Office Services
March 15, 2021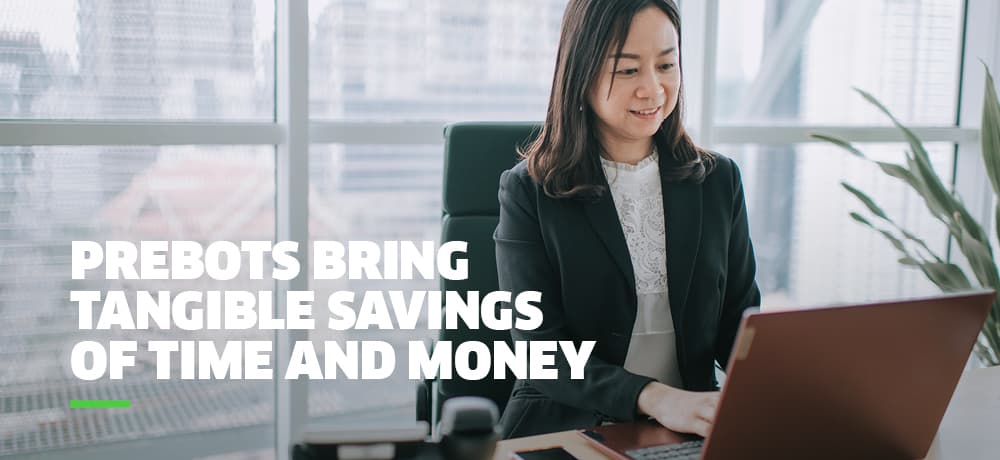 Businesses today are continually looking to scale their automation strategies. Organizations are striving to drive the human workforce towards more productive work and engage the digital workforce to automate repetitive tasks. Today, premier banking organizations are compelled to look within as they search for ways to reduce operational costs. The emphasis is towards modernizing back-office processes and reducing the clutter of legacy solutions. In the pursuit of re-engineering their processes, organizations are spending heavily on consulting, licensing, and implementation and yet, the returns are underwhelming.
Currently, the RPA market is valued at USD 2715.75 million and is expected to reach USD 18339.95 million by 2027, growing at a CAGR of 31.07 percent. According to Gartner, by 2023 organizations will be running 25 percent more of their tasks autonomously.
Pre-built automation solutions have tremendous potential to improve banking processes and boost ROI. Prebots, prebuilt automation bots, offer shorter timelines to implement and are more cost effective when compared to standard RPA solutions.
The solutions available in the market are homogeneous and vendor specific. Realizing the growing potential, banking organizations are focusing on quick productivity gains. However, there are certain constraints that hamper expectations to deliver end-to-end automation, in terms of budget, process complexity and lack of expertise.
Key challenges in adopting RPA
Lack of clear insights on what to change, how to change and why to change
Irrelevant technology adoption and lack of decisive action
Opacity with respect to service and vendor selection
Prioritizing streamlining of processes over customer needs
Relative lack of domain expertise and diminishing luxury of time
Prebots bring tangible savings of time and money
Gartner estimates that almost 69 percent of the routine work done by the managers will be completely automated by 2024.
The aim is to bolster organizations in identifying automation gaps and induce business-relevant changes with automation. Our FIS PREBOT is a solution that delivers tangible benefits and eliminates the need to build something from scratch. PREBOT is an online BOT marketplace comprising business-relevant pre-built bots across multiple FIS Core banking products.
The pre-built solution can ensure a minimum of 60 percent faster automation with use cases across different banking functions such as AML, deposits, lending, fraud chargeback and more. The operational excellence suite seamlessly integrates with existing processes and can help banking institutions achieve 20-30 percent savings in terms of operational expenditure.
What makes FIS automation different
Online process assessment and scoring
Businesses can provide responses to standard assessment queries to get a high-level perspective on automation feasibility. This reduces the upfront cost for organizations and saves a lot of time.
Domain expertise and secured environment
Everyone is jumping on the automation bandwagon but very few manage precise execution. Expert consulting, a secured automation environment and post-implementation support are critical for improving business processes.
Flexible pricing
For all the uproar around automation, cost remains a critical factor for many enterprises. A flexible pricing model, depending on the per-hour usage, goes a long way in boosting ROI. Commitment to delivering consistent growth at optimal pricing is a key enabler for banking and financial institutions.
Variety of use case scenarios
PREBOT can meet requirements across a variety of complex use case scenarios which includes rule-based processes, document-based processes and decision-making processes.
Thrive in a digital world
Traditional ways of banking are long gone. In the post Covid-19 era, business continuity and customer satisfaction are the most important touchpoints. It is futile to be a mere spectator while the game unfolds in front of you. A resilient automation framework comprising of a bot monitoring and control solution and scalable automation is required to thrive in this ever-expanding digital world.
Let's Talk
Together, we can work to solve your business goals. Please provide your email address below and a representative will reach out to you soon.