Payments Leader
Merchants Can Now Deliver Faster CLO Payback to Customers
Bob Woodbury | SVP and division executive, Payment Networks and Loyalty Solutions at FIS
September 10, 2019
Today's merchants are pressured to meet consumer expectations for convenience, digital access and immediacy, not just for delivery of their goods and services, but also for loyalty programs.
Card-linked offers (CLOs) – usually in the form of discounts or rebates – have become a popular vehicle for merchants to promote trial and encourage repeat patronage especially for debit cardholders, often not offered as robust benefits as credit card users. How can merchants enable their debit cardholders to derive more meaningful benefits from CLOs, thereby providing a compelling reason to patronize their business over competition?
Debit Still the Popular Payment Choice
According to a 2018 survey, debit remains the preferred payment method, especially among consumers under 35 years of age.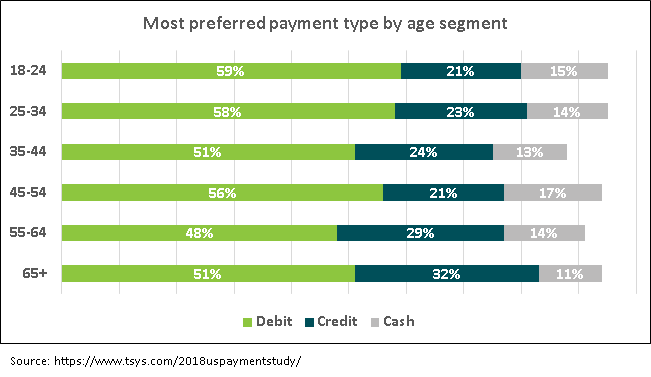 Younger generations have raised the bar for merchants to deliver convenience, digital access and immediacy regarding their transactions, including loyalty programs attached to card usage. Older generations are now expressing similar sentiment and heightened expectations. Successful merchants are addressing rising cardholder expectations by evolving and advancing their loyalty programs, as detailed in a recent FIS RISE article.
Faster benefits now possible
Until now, cardholders who enroll their debit cards in merchants' CLO programs have been forced to wait one or two billing cycles to receive their discounts or rebates. That's 30 to 60 days in a world where two-day delivery for online orders has become routine. Few merchants would survive if they made consumers wait weeks for their goods to be delivered as they did at the height of the printed catalog era. So, why would consumers be willing to wait that long for discounts and rebates? Waiting too long for a reward makes it less valuable and decreases participation.
Now, merchants that process their debit payments through the NYCE network can enable their customers to collect their benefits much sooner than in the past – before their next billing cycles. As a result, all stakeholders – not just merchants and their customers, but also financial institutions – win.
Financial institutions benefit from faster debit rewards in multiple ways:
Foremost, they can offer an additional benefit to their debit cardholders, which gives users a reason to pull out their financial institution's card instead of using another form of payment.
Participating consumers have a reason to visit their financial institution's website frequently to check the list of participating merchants in their CLO program. Debit cardholders can select as many or as few as they like, whether or not they follow through with a transaction. Giving customers a compelling, positive reason to visit their banking website further binds them to their bank or credit union.
CLOs that include both national and local brands tap the best of both worlds. Desirable, well-known brands elevate brands with which they are associated. Local brands afford financial institutions the opportunity to build relationships with retailers in their communities.
Debit cardholders now have a more compelling reason to participate in a rewards program, merchants now have a way to better meet their customers' expectations and financial institutions now have an opportunity to advance their relationships with consumers and retail customers in their communities.
Let's Talk
Together, we can work to solve your business goals. Please provide your email address below and a representative will reach out to you soon.