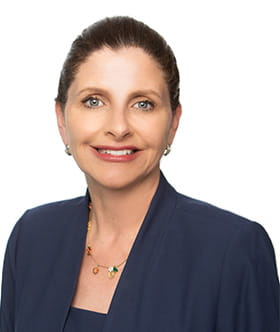 Kara Hill
Chief Risk Officer
Kara Hill serves as chief risk officer at FIS, where she leads the strategy and execution of the company's enterprise risk management and information security programs.

During her tenure at FIS, Kara has served as corporate chief information officer, chief compliance and customer advocacy officer, chief information security officer and deputy chief risk officer for the company's Capital Markets and International Banking segments.

Kara has over 20 years of financial technology industry experience and joined FIS in 2015, via the acquisition of SunGard. At SunGard, Kara served as the chief risk officer and led the integration of SunGard's risk, information security and compliance programs into FIS.

Prior to joining FIS, Kara worked for the Depository Trust and Clearing Corporation, where she held the position of deputy general auditor, and she also served as the chief compliance officer for Omgeo, LLC, a DTCC/Thomson Reuters Company.

Kara earned a Bachelor of Science degree from the Carroll School of Management at Boston College, magna cum laude. She has held the Certified Information Systems Security Professional (CISSP) from ISC2 designation since 2012.
Let's Talk
Together, we can work to solve your business goals. Please provide your email address below and a representative will reach out to you soon.