Payments Leader
Enable a New Launch Mode for Product Adoption – by Dondi Black
May 24, 2018
Dondi Black, FIS | Vice President of Payment Strategy
Gone are the days when a new product or service was enough to grow bottom-line revenue, improve efficiency and move you ahead of the competition. The pace of today's industry – a result of technology and data, changing consumer expectations and mounting regulatory pressures – requires a revolution in how financial institutions launch new products and services.

Here's how FIS is driving that revolution. A special thank you to John Thomas and Mike Tostrud for sharing their expertise on why and how we are leading this effort.
So Many Decisions, So Little Time
For much of the latter half of the last century, the pace of change within the financial services industry progressed at a slow, but steady pace. The move from analog to digital, from physical to virtual, has made the old methodology of releasing single products in an isolated fashion mostly ineffective.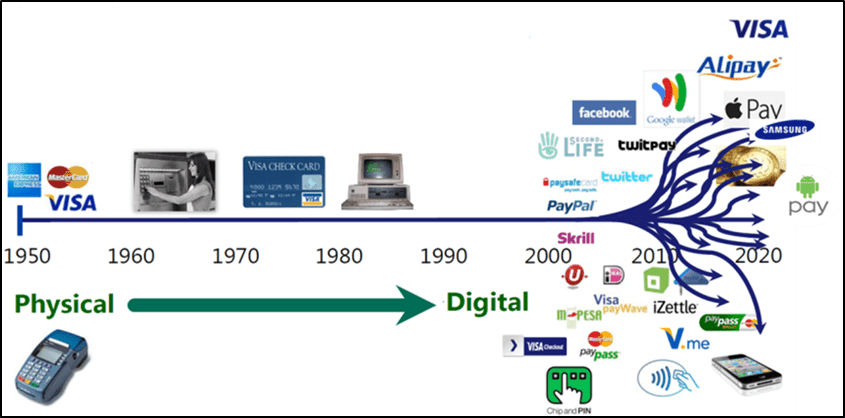 Source: Edgar, Dunn & Company (Oct. 2014). Trends in Digital Commerce
Where once new technology took many decades to reach critical mass acceptance rates in the population, i.e., cars, PCs and mobile phones, the adoption rates of new web-based technology today is measured in years or even months. The pace and volume of change show no signs of slowing down, so the way new products enter the market must be adapted.
Any delays in launching products and services expose issuers, acquirers and service providers to the risk of becoming irrelevant. As the complexity of the financial ecosystem increases and becomes more interdependent, institutions must resolve multiple decision factors for all product releases, across their entire enterprise. Any delay or inconsistency damages their ability to grow organically, as well as to differentiate from the competition on uniqueness and agility of service.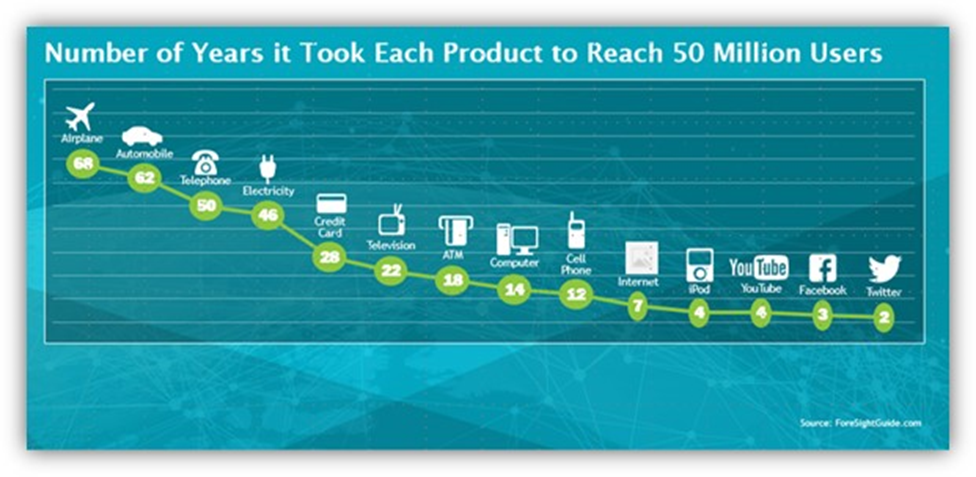 Source: foresightguide.com
A New Path is Being Forged
Fintech's like FIS are on a mission to reinvent the release strategy by streamlining product adoption and solution onboarding. The imperative is to deliver revenue growth, increase operating efficiency and encourage customer and member engagement.
In place of many single, isolated product releases or upgrades, this new product adoption strategy promotes a many-to-many approach that bundles and then releases multiple products/solutions at the same time.
Future-forward is all about speed and performance from fully integrated solutions. Couple this with the increased use of cloud-based solutions, we see an expanding industry ecosystem that is equipped with software solutions that ensure optimal responsiveness and unparalleled performance. To address this new reality, it is necessary to launch new products across all service offerings in parallel and to bundle releases to ensure product adoption across business lines.
Bundle, Scale and Accelerate
A scaled approach to product adoption reduces implementation costs and setup resourcing. It also offers issuers and payment providers additional flexibility to deliver innovation by requiring fewer resources. Partners like FIS are working internally to create streamlined and standardized processes that save time, improve consistency and make it easier for clients to onboard and enable new solutions.
A renovated product adoption approach reduces the complexity and decision points clients must face when releasing new and in-market solutions. This improves the process and results in an earlier realization of revenue, in addition to the cost-saving benefits.
The aim is to encourage scalability and efficiency, thus creating:
Quicker gratification – faster rollout means clients see earlier benefit from resulting differentiation.
Accelerated time to market – introducing products with scale and mass helps institutions leapfrog any infrastructure issues.
Re-imagining Rollout
Consumer expectations and behaviors will continue to change. The rational response is to release product iterations and enhancements as part of bundled solutions. Successful product adoption necessitates support and engagement well after the launch day. All partner service and support teams must be engaged and responsive to create an environment where new and enhanced solutions can thrive.
Toward that end, the new product adoption strategy at FIS is being driven by a dedicated team with a mission to be forward thinking, forward acting and to move forward together.
Financial institutions that survive and thrive in this changing ecosystem will be those that think and act differently. Success will mean creating a new path and translating it into actionable strategies that move the business forward.
Let's Talk
Together, we can work to solve your business goals. Please provide your email address below and a representative will reach out to you soon.