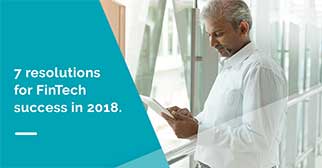 As we jumpstart 2018 with new business goals and priorities, establishing a clear line to growth and success in the FinTech industry remains a top priority.
Here are seven resolutions that can help you stay ahead of the curve and have a successful 2018.
Double down on security investments in digital
From digital wallets and online banking to data repositories and trade investments, the more pervasive digital technology becomes, it's critical for companies to ensure client and transaction information stays safe and secure.
Don't fear the digital age
There's no denying we're in a digital-first world. Digital innovation and technology is driving fundamental change, from a frictionless payments ecosystem to hyper-efficient transaction life cycles. Technological change will be critical to your ability to differentiate yourself.
Maximize your line of defense
More sophisticated analytics tools and models improve firms' ability to identify, predict and mitigate the full spectrum of risk. And a more connected and agile enterprise can strengthen risk controls, make it easier to achieve regulatory compliance and give firms' the agility to quickly tap into new sources of growth.
Join the technology revolution
The robots are coming and we couldn't be more excited. Emerging technologies such as AI, machine learning and blockchain are being adopted more quickly than many may realize. Combining emerging technologies with new business models could create a compelling new value proposition for financial institutions.
Run, don't walk towards big data
Big data is a game-changer. It delivers insights into customer behavior, providing the opportunity to better understand and predict customers' needs and how to best meet them. Leveraging big data can be a significant competitive advantage.
Look through the lens of your customers
The surge of technology innovations and digital capabilities has raised the bar when it comes to user-experience. The digital experience and journey is becoming just as important to customers and clients as matching their needs with compelling solutions.
Don't go it alone
Engaging with FinTech providers to develop a cohesive and connected ecosystem is going to be a key component to growth in 2018.solutions.
Tags: Digital Innovation, Payments, Technology
Let's Talk
Together, we can work to solve your business goals. Please provide your email address below and a representative will reach out to you soon.