The sudden onset of COVID-19 shocked both consumers and industry. Shuttered retailers struggle to remain afloat while essential and e-commerce institutions scramble to meet demand from consumers who are changing the way they shop.
The recent FIS Performance Against Consumer Expectations survey shows significant behavioral shifts occurring among younger consumers – precisely the generations that have the most long-term impact on shopping and payments.
Younger consumers shopping behaviors malleable and mobile
Ordering ahead, picking up curbside, and using delivery services to put food on the table are fast becoming de rigueur, mostly driven by younger consumers with tech-savviness and malleability to navigate change. Nearly three in 10 Gen Zers and millennials are ordering their food via mobile or online more often during the pandemic.
In contrast, the oldest consumers are most resistant to changing their shopping habits. Only 10 percent of Silent Generation members are buying groceries online to pick up at curbside more often, even though its members are among the most vulnerable.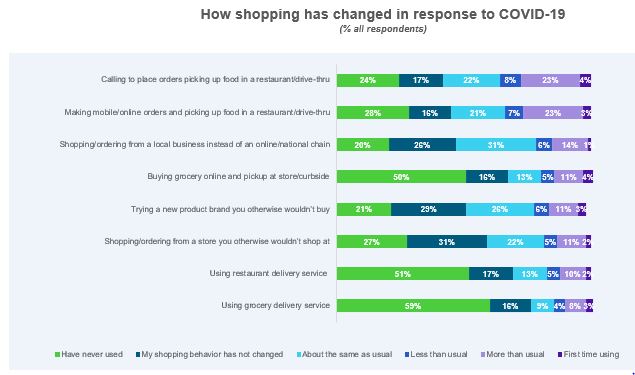 More payments going mobile and contactless
Digital transformation is speeding up amid the need to socially distance. Both mobile and contactless payments are gaining while paper continues to dwindle.
Overall, 45 percent of consumers have a mobile payment wallet. Millennials are most likely to have adopted a mobile wallet. Still, preferences vary between young millennials who favor Venmo and senior millennials who are most likely to use its parent PayPal. Gen Zers are most eager to embrace Apple Pay.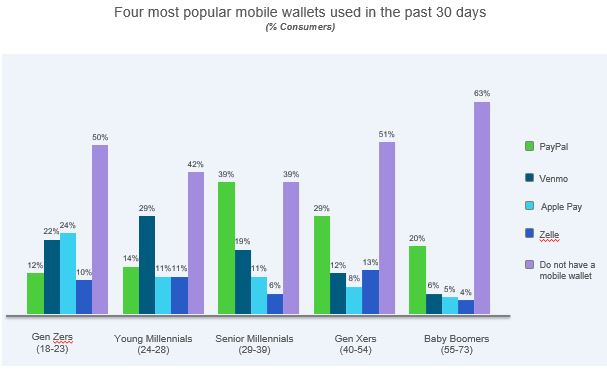 Anticipate that contactless payments in the U.S. will finally gain more than a foothold while the death of cash and checks is drawing nearer as germaphobia grips the nation. Sixteen percent of consumers are using cash or checks less often, and that percentage nearly doubles among senior millennials.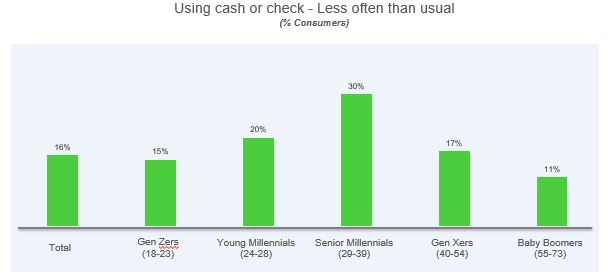 What short-term changes in shopping have long-term effects?
New habits form during crises. Some of us remember eccentric relatives who couldn't bring themselves to throw anything away long after the economic effects of the Great Depression disappeared.
While the pandemic was far from peaking when FIS conducted its survey, many consumers indicated their intentions to continue recently-adopted shopping and payment patterns in the aftermath of COVID-19. As a result, retail businesses must adjust their models to reflect this new reality to survive.
Nearly one in five (18 percent) of grocery stores shoppers plan to continue to use delivery services or curbside pickup short-term, another 11 percent indicate intensions to maintain the habit long-term.
Expect the long-term pattern of e-commerce growth at the expense of in-store shopping to continue.
In the aftermath of COVID-19, 28 percent of consumers plan to continue to use takeout or restaurant delivery services in the short-term instead of dining in restaurants. Another 10 percent indicate that they will steer clear of in-person service long term.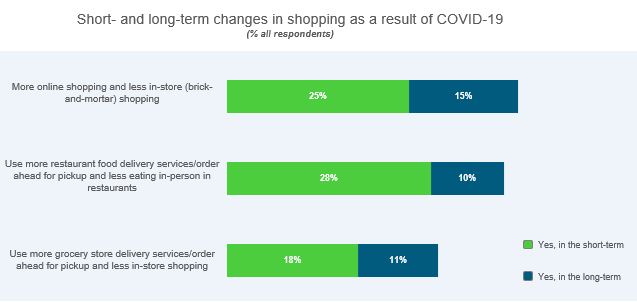 The way consumers pay is changing significantly with contactless payments in the United States poised to catch up with the rest of the developed nations. Most consumers who are currently using more in-store digital payments instead of cash or checks plan to continue in the future. As retailers open their doors again, expect more of them to facilitate contactless payments to help reduce the spread of COVID-19.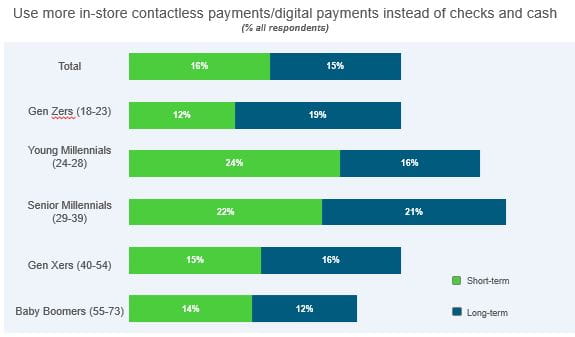 Let's Talk
Together, we can work to solve your business goals. Please provide your email address below and a representative will reach out to you soon.