Fintech Insights
How to do business with Zelle® for business
Heather Bronenkant | Product Manager, Retail & Commercial Payments, FIS
April 11, 2022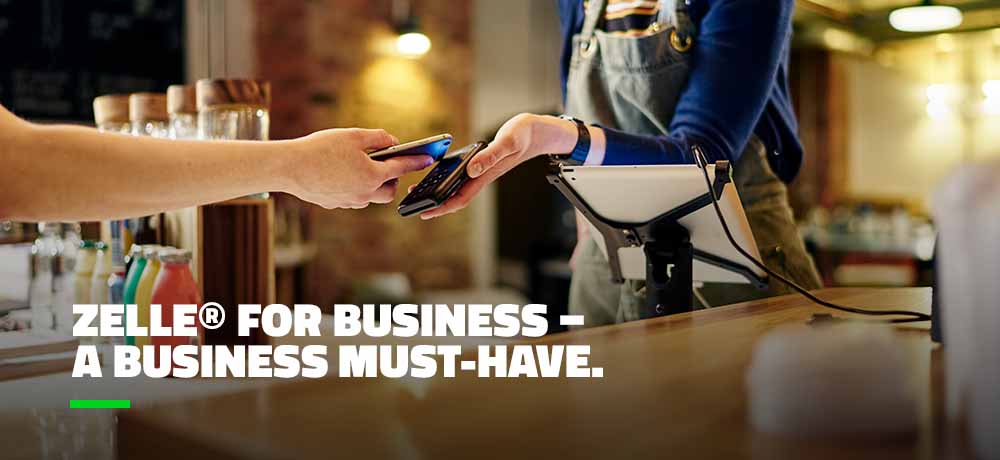 Peer-to-peer (P2P) mobile payment apps are making it faster and easier for people to send money to their friends and family. Its popularity has many wondering if Zelle® can be used for business? The answer is yes.
P2P payments for business are making the same services available for small businesses. By enabling Zelle® for business, financial institutions can empower their small business clients with a faster, more convenient way to accept and remit payments.
Small business challenges
Comprising 99.9% of all private sector businesses in the US and the UK and accounting for 44% of the total private-sector output of the economy, small businesses have a large role to play. Yet many fail – 50% go out of business within five years – making it even more important for the entities that support small business to understand the challenges they face.
It's no surprise that managing cashflow is one of the biggest challenges for small businesses – 61% struggle with cash flow and 32% are unable to pay bills, vendors, employees and themselves due to cash flow issues. But for many, the issue is not that they don't have the funds; it's that they don't have access to the funds for real-time expenses.
Cash and check payments are two of the biggest culprits causing delays in cash flow. In addition to requiring more time to collect and deposit, cash and checks are less secure and harder to track and reconcile in accounting systems. Forty-two percent of FIs cite invoice reconciliation complexity as an important source of friction for their business clients paying suppliers.
In addition to cash flow issues, many small businesses struggle with providing the digital and mobile-first payment options today's consumers expect. While cash was the second most used POS payment method globally in 2019, the 2021 Global Payments Report reports that cash has fallen to fourth place with 18% share of all POS value of transactions and is expected to fall below 10% by 2025.
While many small businesses want to offer digital payment options to their customers, they often have difficulty accessing and supporting the digital and real-time payments capabilities that larger enterprises utilize. Many also struggle with managing payment processing fees.
Can business bank accounts use Zelle®?
Consumer use of P2P payments has taken off over the past several years and now providers like Zelle® are making the service available to small businesses. With Zelle®, small businesses can address their biggest challenges with cash flow and digital engagement while gaining the same benefits consumers enjoy of payment speed, convenience and ease of use.
Zelle® for business allows small businesses to quickly and securely send, request and receive money directly between eligible bank accounts. It also enables small businesses to engage their customers on the digital platforms they use most. Facilitating real-time payments via a mobile banking application gives small businesses the opportunity to further build their brand presence and cultivate customer relationships online.
And small businesses are getting on board. Transaction volume for P2P business payments increased in 2021 to
162% over the previous year's totals for payments received. During the third quarter of 2021, small businesses using Zelle® received more than $
11 billion in payments
and sent
$17 billion
in payments.
P2P payments for business
Like P2P payments for consumers, one of the biggest benefits of P2P payments for business through Zelle® is that it's easy to use. Businesses simply sign up for Zelle® using the phone number or email address associated with their small business account.
To make or request a payment, the business uses the Zelle® payment option on the bank's mobile app or website to request and receive money from customers and vendors who also provide an email address or phone number to sign up. Transactions do not require a routing number and occur automatically once initiated. And Zelle® even works after business hours.
Zelle® for small business
In order to use Zelle®, businesses must have a qualified business checking account with a financial institution that offers Zelle® for small businesses customers. Some may wonder, what banks use Zelle® for business and which banks offer Zelle® for business accounts? Zelle® is already in over a thousand banking apps and many financial institutions offer the service to business customers.
Suitable businesses are those that primarily accept check and cash as forms of payment, employ 1-10 people, and are not solely point-of-sale or e-commerce-based. Good candidates include property management agencies, landscape companies, contractors and tradesman- (electricians, plumbers, handyman services), hair stylists and estheticians, personal trainers, pet sitters, childcare providers, tax specialists, tutors, coaches, private music teachers and more.
Is Zelle® good for business?
As one of the best P2P payment systems for small business, Zelle® is definitely good for business – for both financial institutions and their small business clients. With small businesses playing such an integral role in local economies, it's become even more important for financial institutions to provide offerings that small businesses are looking for. P2P payments for business gives institutions another differentiating value add to attract and retain small business clients – 82% of whom report increased use of digital payments since the onset of the pandemic.
In addition to helping small business clients improve cash flow by replacing cash and check payments with a faster, more streamlined and convenient way to pay or get paid, P2P payments for business give institutions a way to help their small business clients improve digital engagement with their customers with mobile-first initiatives like instant rebates and refunds.
To learn more about how Zelle® for small business and other digital payment technologies are helping FIs improve the user experience for their business clients, download The New User Experience: Tracking The Consumerization Of B2B Payments. Or contact us directly.

Let's Talk
Together, we can work to solve your business goals. Please provide your email address below and a representative will reach out to you soon.