Payments Leader
Managing Change in 2018 – It's Not a Spectator Sport – by Maria Schuld
January 23, 2018
Maria Schuld, Group Executive – Financial Services Group
With so many competing technology trends – and so many competing predictions about them coming out this time of year – it's tempting to give in to the status quo and wait until one form of technology proves to be the leader. Unfortunately, remaining on the sidelines in the midst of rapid change is unsustainable.
Change is inevitable. Only 71 companies of the original Fortune 500 list from 1955 have survived.
Here's why: If you hang back and wait for competitors to act first, you put your company in the position of reacting to and being defined by others' strategies instead of taking charge of your own outcome. Think about how many companies have allowed Amazon – a paragon for managing continual change – to define their destinies. Managers cannot afford to be spectators anymore.
Methodology for managing change
Successful change begins with defining the company's core competencies – those differentiated strengths that customers find valuable and that can be leveraged to grow the organization.
In some cases, competencies built within organizations can be applied externally. For instance, SunTrust Bank and First Republic Bank have found ways to extend aspects of their internal HR programs to customer advisory services for corporate clients.
SunTrust Bank's financial wellness program, Momentum onUp, was originally conceived to help SunTrust employees achieve their financial goals. Results showed reductions in financial stress and employee turnover. With goals of acquiring and retaining corporate clients, the bank began to offer coaching sessions and online tools last year.
First Republic Bank in San Francisco extended its popular employee benefits program for student debt assistance to corporate clients. The program originated as a way to cultivate loyalty and promote retention among millennial employees and is doing the same for corporate clients.
Managing change requires a detailed strategy. You must not only determine what markets and products growth will come from, but also define the company's competitive position for achieving its goals. Is your organization willing to take on risks associated with being the innovative first mover? If not, is it prepared to be a fast follower? Both positions demand well-defined strategies. In this climate, without a well-crafted plan, fast followers quickly lapse into also-rans, which can doom your business.
A successful plan for reaching goals must include a feedback mechanism. This enables you to make modifications in response to shifts in market forces. It also must allow for pivot points. No one signs up for an initiative with the expectation of failure. But, management must know at what point the organization would pivot based on criteria such as spending overages, the need to deploy resources elsewhere, customer feedback and market dynamics.
Perhaps the most daunting challenge of managing change is helping employees transition to an agile-company mindset. Resisters often believe that change is not in their best interest, so managers must be able to effectively sell the company's goals.
Combatting resistance to change begins with presenting a solid, fact-based business plan to the doubters. It also entails recruiting influencers to highlight successes and reinforce goals. Successes – even small ones involving internal pilot programs – can jumpstart momentum among employees.
Developing an ongoing pipeline for capturing new ideas from all levels and rewarding contributions also helps break down barriers to change within organizations.
Compressed company lifecycles demand action
Given the number of companies that have fallen by the wayside through the years, being a spectator has never been sustainable. There's even more pressure today, however, because company lifecycles have become compressed. Companies – particularly those that have reached maturity – must act quickly to identify and introduce new growth vehicles to stave off declines in market reputation, revenue, and profitability.

Research on 25,000 companies over the span of 45 years by Deloitte concluded:
"Better before cheaper" [wins]
[Focus on] "Revenue [growth] before cost"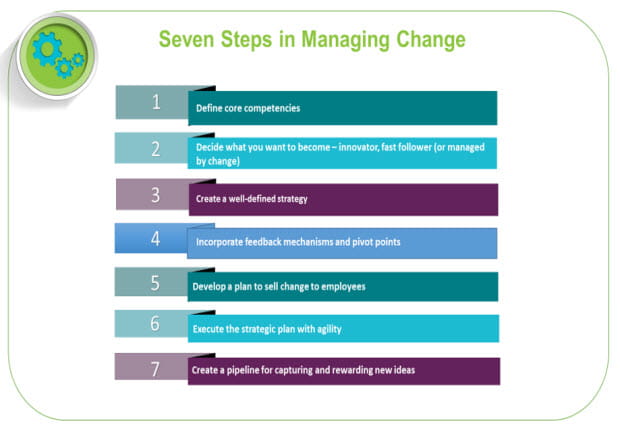 Let's Talk
Together, we can work to solve your business goals. Please provide your email address below and a representative will reach out to you soon.