Payments Leader
Are You Ready for Contactless Payments?
July 17, 2018
Jim Johnson, FIS | Head of Financial Institution Payments
"Get ready, get set for the contactless reboot" was the essence of a recent Payments Leader blog advising all issuers to prepare for enabling contactless payments.
Market leaders are already beginning to issue dual interface cards, like EMV and contactless. Remaining issuers should begin planning for contactless readiness with their processors and card vendors if they haven't yet done so.
Mandates Drove Momentum Elsewhere
Mandates outside of the United States by Visa, MasterCard, and American Express gave contactless payments momentum for rapid adoption elsewhere. As a result, more than half of face-to-face payment transactions are contactless in several countries, and half of all European cards will be contactless-enabled by 2021, according to the RBR forecast.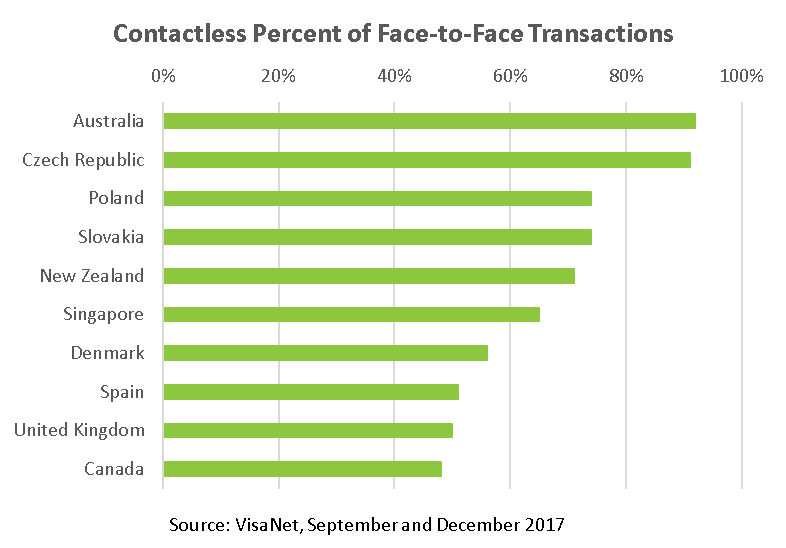 Without a mandate, adoption depends upon benefits outweighing resistance to market penetration by key stakeholders – consumers, merchants and issuers. For contactless payments, major benefits are clear: less friction in payments yielding a better customer experience (CX) at the point-of-sale (POS), safer and more secure payments, and proven transaction lift.
Strongest Use Cases So Far Are Where Lines Are Longest
The strongest use cases for contactless payments initially are among mass transit systems. Launched on buses in 2012, Transport of London's contactless payments account for half of all pay-as-you-go fares on subways and rail lines and nearly as much on buses and trams, according to Digitaltransaction.net. Now, London's mass transit system is licensing its ticketless technology to other transit systems in New York, Boston, Miami and Sydney, Australia. Additional U.S. cities already on board with contactless payments include Portland with Hop Fastpass and Chicago with a similar system called Ventra.
With roots in the Canadian market where contactless payments account for half of all face-to-face transactions, BMO Harris is already issuing contactless cards to its U.S. customer base. The bank is strategically prioritizing issuance to customers who reside in large transit markets, not waiting until their cards expire.
While the biggest benefit to mass transit is increasing system efficiencies, a secondary benefit is the cost reduction of handling cash. Visa found in its Cashless Cities study that transit agencies spend an average of 4.2 cents for per digital dollar collected – less than one-third of the 14.5 cents per physical dollar collected.
Outside of mass transit, contactless payments also provide a better CX to customers of high volume merchants – critical as brick & mortar retailers try to remain afloat in the face of e-commerce rivals. And, like mass transit systems, retailers also reduce their expense of handling cash when payments shift to digital.
Most Merchants Are Already Contactless Capable
When merchants converted their POS systems to enable EMV, most of their terminals also became capable of accepting contactless payments. Seventy percent of U.S. merchant locations already have POS terminals that are hardware-capable for contactless payments according to Security Technology Alliance and Visa reports. Although just 30 percent of merchant locations are enabled from both hardware and software perspectives, these retailers account for 49 percent of POS transactions.
Issuers Are Coming on Board Quickly
Transaction lift, better customer retention and tighter security represent the major reasons why market leaders are already converting to dual interface cards as customers' cards expire. ABI Research projects contactless card growth to balloon during the next three years in the U.S. as expired EMV cards are replaced with dual interface cards.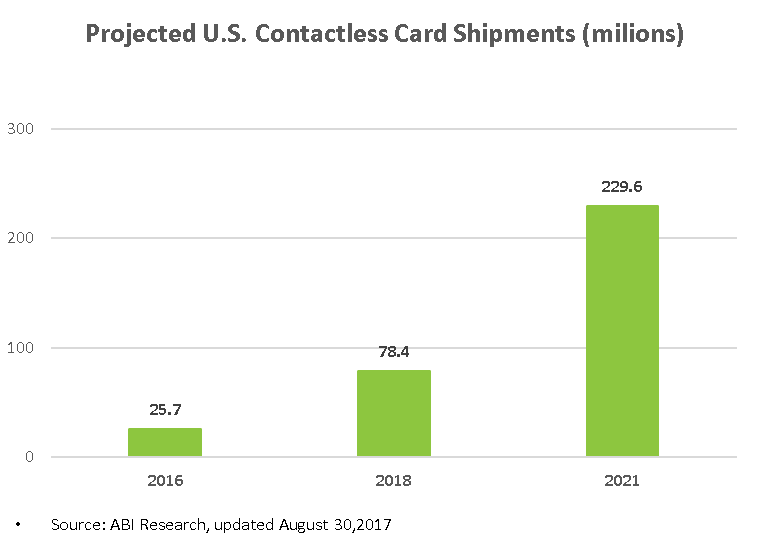 Research based on Visa Europe data from 2014 to 2015 shows an 18 percent lift in contactless transaction volume post-mandate. What drives the lift in volume for contactless card issuers? Much of it is created by the displacement of cash by contactless payments, particularly at high-volume merchants. Visa estimates that contactless payments will displace $275 billion in cash payments in the U.S. during the next five years.
Contactless card issuers also improve their chances of obtaining top-of-wallet status, indicated by users transacting more often and across a wider range of merchants, according to Visa.
Processors Speed Readiness for Issuers
The goal of processors this year is to ensure support for issuers so that when they are ready to act they can roll out contactless payments efficiently. Processors such as FIS have already invested in readying platforms and enabling issuers' bank identification numbers (BINS) for contactless payments.
If you are an issuer of debit or credit cards and you have yet to discuss contactless payments with your processor, now is the time to make the call.
Let's Talk
Together, we can work to solve your business goals. Please provide your email address below and a representative will reach out to you soon.