Fintech Insights
The benefits of implementing B2B real-time payments
Meghan Oakes | GM, Head of ACH, RTP, and XAA at FIS
January 03, 2022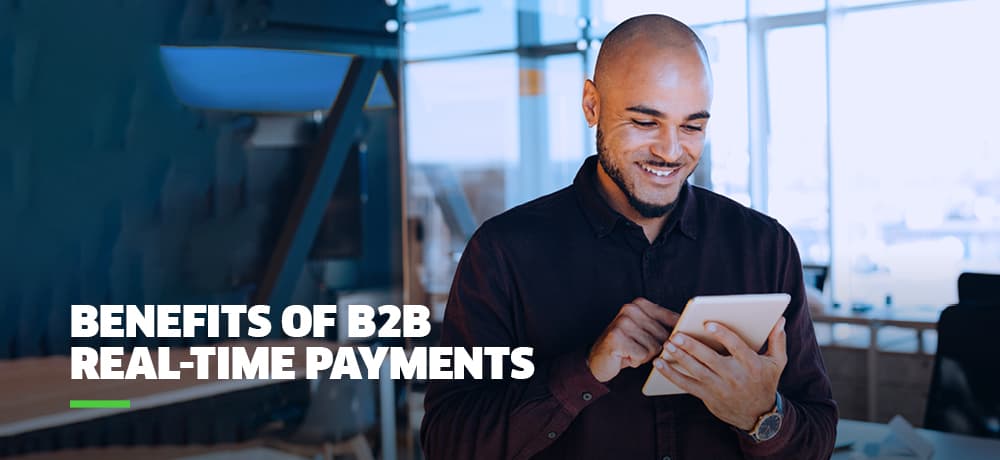 Real-time payments technology has dominated the conversations of financial institutions and their payments providers for years. These conversations, while at first focused on directly impacting consumers, has now broadened to include B2B real-time payments. In fact, according to a recent report from PYMNTS.com, more than half (56%) of SMBs believe that using immediate payment platforms would boost revenues. In addition, FIS' SVP of Digital Payments Ginny Chappell said in a recent interview that by 2025, 30% to 50% of B2B payments will not only be done digitally, but they will also be done in real time.
These stats show that organizations are looking to enhance their B2B payments, regardless of the payment rails, with real-time payments.
How is B2B real-time payments technology affecting how organizations make their B2B payments?
Time and stress saver: Real-time payments is truly a product of its environment. With today's technology, nearly anything can be accessed instantaneously and on any channel. This same rule needs to be a part of the B2B payments process. This technology is especially beneficial to small-medium sized businesses where time may be even more valuable than money in some cases. With B2B real-time payments, the data that is included with each transaction will be instant meaning that a business owner no longer has to worry about when a check will clear. This fosters an incredible sense of trust between the vendor and business owner who wants to focus on value added growth activity.
Reduced costs: Real-time payments is essential for businesses that want to keep their costs down. The current process not only is extremely manual and hampered by friction but also typically costs businesses $25+ a transaction. That is significant when one looks at the thousands of payments that were made at the end of each year. Real-time payments transact at a fraction of that cost and lead to savings for everyone involved.
B2B payments becoming as streamlined as consumer payments
Real-time is quickly establishing itself as the standard for all payments, both on the consumer and business side. For business payments specifically, it is an enabler for transforming the back-office tasks. The back-office tasks of organizations are always changing, and real-time solutions ultimately reduces overhead, which in turn improves operational flexibility for business leaders. Human capital can then focus on value-add activities instead of transactional activities. AR and AP departments can now function as an actual growth engine instead of a traditional risk mitigator. This, again, is an absolute game changer for small-medium sized businesses.
How can FIS help?
FIS Business Payments support what's now and next in B2B payments with leading AP/AR services and an expanding ecosystem and connected network of modular solutions synchronized with ERP/Accounting and Banking Systems. Enabling more dynamic communication, controls, and flexibility over the treasury ecosystem – this secure and efficient platform improves working capital, reduces operational expenses, mitigates risk and has the ability to convert outgoing payments from paper to electronic while automatically posting incoming payments against open invoices. This technology allows corporate digitalization efforts to be fully supported. Our RTP managed services group allows banks to lean on their tech provider as their partner for 24/7 support of their activity. This allows financial institutions to not have to build an entire staff to manage this and allows them to focus on value added activities.
Let's Talk
Together, we can work to solve your business goals. Please provide your email address below and a representative will reach out to you soon.