Fintech Insights
Using the Dark Web to Your (Cyber) Advantage

Michael Kirby II, Head of Managed Risk and Security Services, FIS
March 25, 2019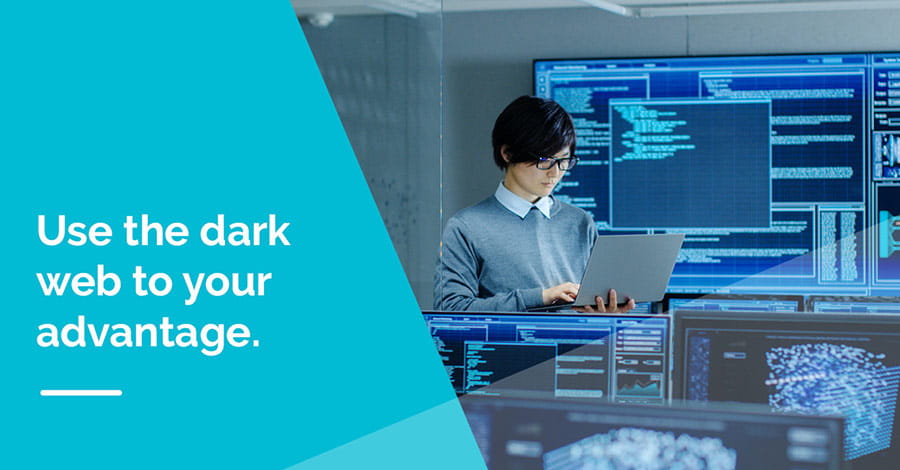 The dark web is the part of the World Wide Web that is only accessible by means of special software, allowing users and website operators to remain anonymous or untraceable, so they can't be found by search engines or using traditional browsers. It's estimated to be about 400 to 500 times larger than the common internet. Due to its elusiveness, however, it's known to be a source of criminal activity. In fact, researchers found that 57% of the live dark web sites illicit illegal behavior.
And that's exactly what can make it a resourceful tool for financial institutions. If a cybercriminal hacks into your firm to steal valuable data or funds, there's a good chance they have turned to the dark web to do it. This portion of the web is a breeding ground for hackers to meet, network and research. That's why monitoring the dark web is a key tool for effective risk management.
Web monitoring can help protect your organization against:
p class="fis-body-1">
Reputation risks
An often- ignored risk from an attack is the damage that can be done to a financial institution's brand. Bad press regarding an event can cause clients to take their business elsewhere.
Fraud
Ranging from social engineering and insider trading to phishing, credential harvesting, and identity theft, threat actors are constantly developing new exploits for financial gain. By understanding these tactics, companies can train their employees to identify and block fraud attempts.
Insider threats
Insider threats arise when rogue employees exploit access to their organization's sensitive internal information for personal or political gain. While enterprise security teams often focus on mitigating external attacks, many organizations lack the visibility into the potential threat of insiders secretly profiting from confidential corporate knowledge or intellectual property.
Emergent malware
Malware developers continually adapt their malware to bypass detection and controls. These new malware strains are often developed by actors operating the dark web and then released without warning leaving companies vulnerable. By understanding these risks in advance, preventative measures can be taken to protect systems and data.
It takes an average of 191 days for an organization to identify a data breach. With a estimations that cybercrime will cost the world $6 trillion annually by 2021, can you risk not being one step ahead? Dark web monitoring is key to keep data secure and avoid the far-reaching ramifications of a cyber event.
Jumpstart your day in a matter of seconds with quick snapshots of industry trends and leading perspectives delivered straight to you. Sign up for RISE here.
Tags: Investments, Risk & Compliance, Technology
Let's Talk
Together, we can work to solve your business goals. Please provide your email address below and a representative will reach out to you soon.