Banking Leader
Realizing the AI Opportunity within the Bank's Back Office
Tom McBride | Senior Vice President, Group Executive North America Banking Solutions, FIS
October 23, 2019
Tremendous opportunity exists to automate the activities and workflows within a financial institution's back office. Many processes are filled with repetitive, routine and clerical tasks and often have many individuals processing a single customer request.
This high degree of manual processing is slow and costly and can lead to inconsistent results and high error rates. Artificial intelligence (AI) offers solutions that can rescue these back-office procedures from needless expense and errors.
Aite defines AI as the use of computing technology to emulate human cognition and learning with magnitudes of speed, scope, scale, accuracy and objectivity that are unattainable by human beings. Importantly, "AI technology" is, in fact, the umbrella term for many underlying techniques that can be used to emulate human cognitive behavior.
Improving the customer experience, a top issue of bank CEOs, depends on a speedy, error-free back office. Financial institutions are beginning to understand the impact AI can have on both customer-facing and operational activity.
A survey from Business Insider Intelligence indicates global finance firms include these in their top priorities for AI investments: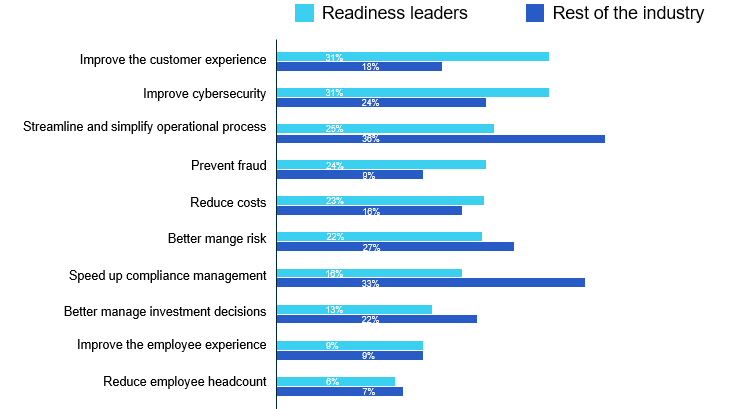 Given finance firms' top priorities, how can bank executives move forward with transformative AI initiatives? As a first step, they must take a hard look at current environments and assess current back-office business processes. Second, they need to address any issues on the quality of the data feeding any AI systems. With those bases covered, the bank should proceed with select AI technology pilots in specific back-office areas that will receive the maximum benefit from automation.
Assess your current environment
When reviewing business processes, financial institutions can often benefit from an outside eye to help them thoroughly examine the current processes and workflows in the operating units and their use of existing technology (and possibly AI that may be appropriate for process improvement).
In this assessment, four questions must be addressed:
Does the process add value to the product or service being offered to the bank's customers and the revenues it is expected to produce?
Does the process take advantage of any technology – instead of relying on manual and sometimes redundant processes?
Is any recommended change cost-effective, in terms of its value to the product or service?
Is the process necessary for the product or service as well as the safety and soundness of the bank?
Overcome data challenges
One of the biggest hurdles to adopting AI technology is having a data environment that's not ready for it. A prediction or pattern recognition engine that is applied to out-of-date information, for example, could lead to disastrous consequences: an investor being given bad advice, a borrower being approved for a loan who clearly shouldn't be. Again, an outside eye can assist to help understand any data quality issues and then help the bank resolve them. This team can take the following actions to address data quality issues:
Review any regulatory requests for data issues
Review third-party relationships
Establish a consistent data quality methodology
Consider data cleansing technology
Create processes to sustain data quality standards
Look for AI pilot opportunities
Armed with timely data and ideas on the business processes your bank can automate, you can now seek out an optimal AI pilot to further lay out your business case for this new automation.
The beauty of AI is that it supports data-driven decision-making over time, across an organization. It has the best impact when it is developed and deployed using cross-functional applications, as opposed to solving small challenges.
Look for AI pilot opportunities in these areas of your operations:
Responses to customer service inquiries
Customer-compliant logs in the new account opening and exceptions areas
Management reporting of long-term bank issues
Lending operations from origination to servicing
As AI systems gain traction, the question no longer is whether your bank will adopt the technology, but how you can maximize operational performance over the long term.
Let's Talk
Together, we can work to solve your business goals. Please provide your email address below and a representative will reach out to you soon.