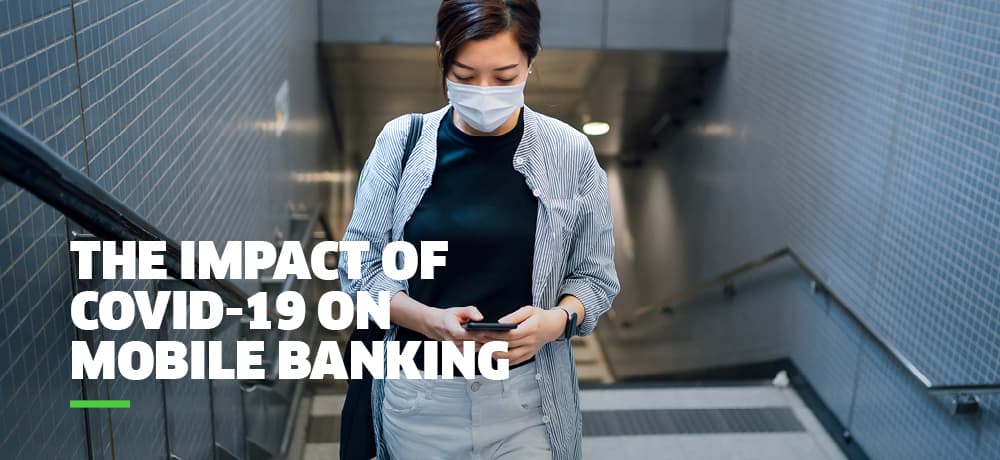 There is no denying that the COVID-19 pandemic has disrupted our lives and changed everything about how we go about our day to day business. How we work, how we play, how we educate, how we dine and so much more. But it has been particularly impactful on how we bank.
Almost from the start, the pandemic changed dramatically how we pay our bills and shop for necessities – in essence how we make, save and move money. Last year at the onset of the crisis, when COVID related stimulus payments began to make their way to consumers, FIS reported on some interesting trends concerning the pandemic and how it was affecting our banking habits.
In early April, new mobile banking registrations jumped approximately 200% over the daily average. in March. Consumers continued to sign-up for mobile banking, as the weekday average between April 6 through April 15 was over double March's daily average.
By mid-April, new mobile banking registrations peaked and were roughly 207% higher than the daily average.
And it wasn't just registrations that surged. Customers were truly using the mobile apps as well.
On April 13, logins were 85% higher than the daily average in March.
Within days those numbers doubled, peaking a few days later at 145% higher than the daily average.
And as the month ground on, the numbers remained high at 75%.
User adoption of mobile banking has been growing steadily for ten years, but as more people worked from home due to the current health crisis, we saw a surge in consumers using mobile banking apps for the first time. Requests came in for more innovative mobile features, and we accelerated our Banker on the Go feature, enabling customers to remotely connect with their financial institution through live chat, secure messaging and eventually video chat, instead of going to physical branches.
Last year, we reported that the data was clearly showing that the pandemic was hastening the shift toward use of mobile banking and mobile apps and believed the trend as structural and permanent. Once people began favoring mobile-based account access, there was no going back. In fact, we expected more U.S. consumers than ever before would be using their mobile devices to handle a wide range of their banking and payments needs.
So now that we are a year into the COVID-19 crisis, let's take a look at where mobile banking adoption stands.
In November, Statista reported that 46% of banked Baby Boomers in the United were using new channels for their banking such as online and mobile since the outbreak. This is significant because as recently as 2018, this customer segment represented the lowest usage of mobile banking adoption.
A recent Forbes article also alludes to how these changes are likely to persist even upon a return to "normalcy." Because of the pandemic, "many people are experiencing considerable financial upheaval right now. Turning to budgeting apps, for instance, may be a way to reestablish control and keep a hawk eye on precarious bank account balances."
Additionally, "according to a Boston Consulting Group (BCG) survey conducted in June, a full 44% of 18- to 34-year-olds enrolled in online or mobile banking for the first time during the Covid-19 crisis. Another study found an overwhelming number of people—69%—said fintech was a "financial lifeline" during the pandemic."
And lastly, people were feeling safer with mobile banking. Even once everything is opened again, "some customers remain uncomfortable venturing through their doors. And once customers experience the convenience of mobile, they very well may never go back to traditional banking. The BCG survey found that nearly a quarter of respondents plan to use bank branches less or stop visiting them completely moving forward."
To address the customer needs and desires for mobile banking, FIS offers Digital One Mobile. It's a leading-edge mobile banking solution that uses native smartphone applications with a compelling user experience. Digital One enables your bank to engage customers with a simplified user experience throughout their life journeys, resulting in deeper, longer lasting and more profitable customer relationships. With Digital One, you have the power to transform every customer interaction into a relationship-building opportunity while showing them how banking should be -- in every channel.
The pandemic also accelerated customers' desires to better comprehend their finances. They want access to tools that help them track and improve their financial wellness, and to receive relevant offers when they need them. The FIS Financial Wellness Suite of solutions does that and more, ensuring every customer touchpoint is meaningful and beneficial.
COVID-19 has changed banking forever. Customers have formed new habits and mobile banking has become the norm. Now is the time to assess your digital offerings and ensure you are on the right path for a modernized, mobile banking experience.
Let's Talk
Together, we can work to solve your business goals. Feel free to call +1 877.776.3706 now or provide your email address below and a representative will reach out to you soon.