Fintech Insights
Understanding and managing disputes amid COVID-19
Jackie Fusco, Operations Leader, Disputes Consulting
July 27, 2020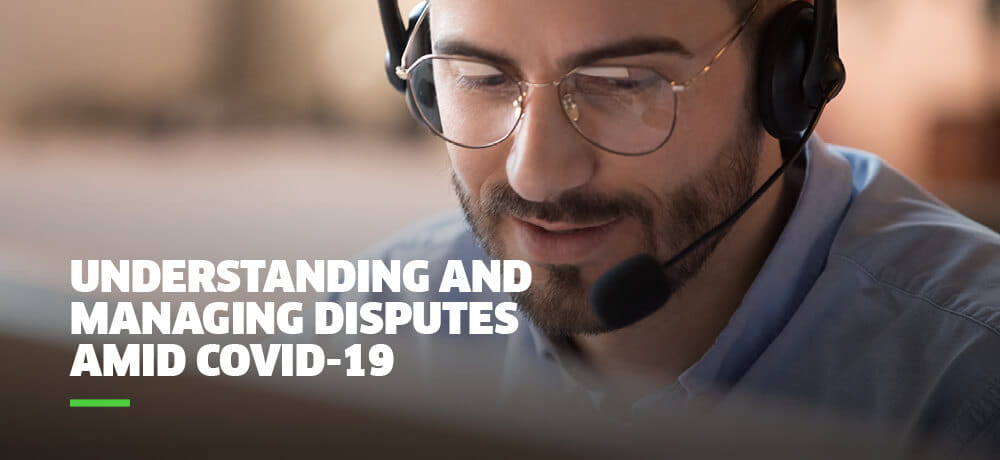 COVID-19 is changing commerce around the world. Among the impacts on businesses are delays in delivery and customer service, supply chain disruptions and labor shortages. Few sectors of the global economy are immune from the global economic shocks.
Chargebacks and disputes are an area where the economic realities of COVID-19 are manifesting. As stay-at-home orders and social distancing requirements shuttered businesses; cancellations, postponements and delays are everywhere. That's led to a spike in chargebacks and disputes.
Chargebacks impose costs far beyond the value of the transaction that is refunded to the consumer which includes cost of researching the transaction, loss of product or service, and the operational expense to respond and manage disputes. The 2019 LexisNexis "True Cost of Fraud" report found that merchants pay $3.13 per lost dollar on avg, 6.5% increase from 2018.
Customer disputes and chargebacks can be a costly, time consuming and operationally burdensome process even during optimal conditions. The scale of chargebacks related to COIVD-19 adds to the general pressures merchants are dealing with on a day to day basis.
COVID-19 chargeback trends
We've noted four major trends with chargebacks and disputes amid COVID-19:
An increase in consumer disputes and chargebacks is being seen across multiple industries, many aligned with operating restrictions on non-essential retail businesses. A sharp decline in tourism impacted airline, travel, retail and hospitality industries is generating large chargeback volumes.
Chargeback amounts are also increasing. These larger chargeback averages result from disputes related to the higher average cost of cancelled leisure activities like airline tickets and vacation packages, as well as larger domestic purchases since consumers are staying home.
Chargeback volume is migrating to eCommerce. Already ascending in a mobile-first world, eCommerce is growing even faster as stay-at-home orders and social distancing restrictions restrained face-to-face channels. Adobe Analytics reported a 67% YoY growth in U.S. Buy Online, Pickup In Store (BOPIS) volume.
Growth in eCommerce is attracting card-not present and chargeback fraud. Merchants with an online presence should remain vigilant by using best practices that link cardholder to the transaction and that you've captured the correct point of sale data. Strict authentication parameters protect your business and your customers from losses related to fraud.
Best practices to reduce chargebacks and disputes
There are several best practices to follow that will help reduce losses related to disputes. These were true before COVID-19, and today it's more important than ever to effectively manage the dispute process.
Be open in your communications strategies. Use all available communications channels to communicate to your customers the ways your company is responding to the pandemic, especially around changes in operations.
Support contactless processing and avoid key-entering transactions. As brick-and-mortar business begin to reopen, remember that EMV is the preferred method for card acceptance. Accepting mobile wallets like Apple Pay and Google Pay allow less customer contact with your point of sale terminals.
Take time to understand local and state enacted government restrictions and laws pertaining to COVID-19. If you face disputes due to your operations being restricted, be sure to reference these laws in dispute documentation. If you're able to offer alternative arrangements, be sure to reference these regulations in those communications.
Update refund and return policies and communicate any such changes to your customers. Consumers want resolution quickly. Communicating any temporary policies is especially important. Online updates, banners on websites, and clear disclosures of policies can all help reduce chargebacks and disputes. Provide as much information as possible and be responsive when customers reach out.
Let's Talk
Together, we can work to solve your business goals. Please provide your email address below and a representative will reach out to you soon.