Fintech Insights
Why real-time payments are the future of money movement
Raja Gopalakrishnan | Executive Vice President, FIS, Global Real-Time Payments
November 02, 2020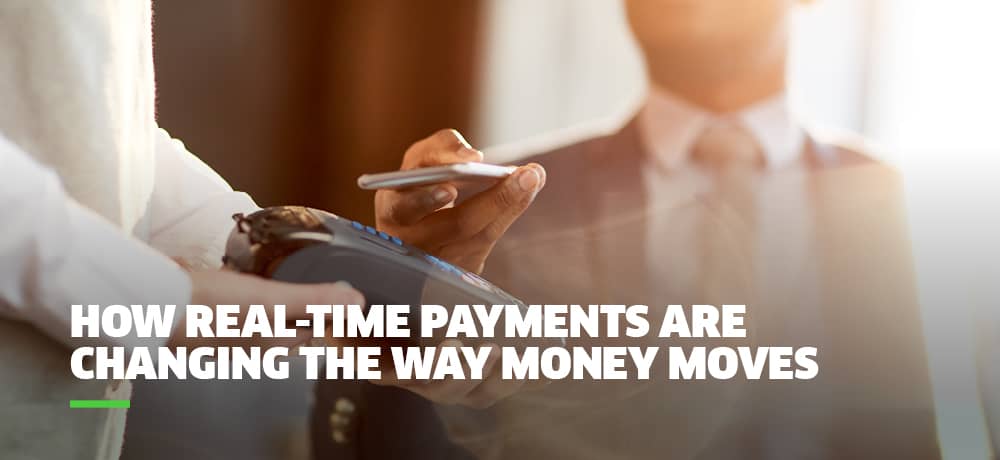 There has been a seismic shift in consumer and business behavior that has accelerated the pace of digital adoption by many years. In a world where businesses expect speed, precision, transparency, certainty and always-on capabilities, real-time payments offer the control, finality, cost-efficiency, convenience and transparency that puts them in the financial driver's seat.
There's been a lot of discussion around what's meant by real-time payments, usually centered around when funds are available and when settlement takes place.
We define real-time payments as:
Cleared to the payee's account in seconds, rather than minutes/hours/days
Able to carry more data in the payments
Confirmed with the sender and recipient immediately
So how can real-time payments benefit your organization?
By empowering you to send and receive money instantly, real-time payments replace a dated payments infrastructure that has limited your ability to manage money, cash flow and best-in-class customer experience. But there tends to be a misnomer that real-time payments are just about speed. What they must do is address the following pain points:
Timing and execution: By their very nature, real-time payments can be made exactly when needed, eliminating uncertainty around settlement and making it easier to forecast cash flow and manage liquidity, reconcilement, and record keeping.
Accuracy and timeliness: Real-time payments cut out errors and manual processes associated with paper checks, as well as the lead time required to schedule legacy payment types.
Security: 'Push' transactions make it easier for companies to monitor their accounts, with additional layers of fraud and risk management, information security and operations infrastructure creatjng further barriers to fraud.
Complexity: API-enabled real-time payments are easy to integrate and implement, which eliminates the main barrier to the adoption of new technology. By consolidating and reducing the number of payment modalities for domestic and cross-border transactions, companies can reduce costs of manpower and resources.
So, who benefits the most from real-time payments?
Consumers want speed, ease, and visibility into what's happening with their money; real-time payments allow them to pay directly from their bank account, complete transactions in seconds and provide status instantly.
Small businesses and larger companies can benefit from improved and more predictable cash flow and increased liquidity, while real-time payments also provide a new stream of revenue through open payments and real-time banking to fintech providers and financial institutions.
Payments providers have the opportunity to generate revenue from the whole ecosystem in the form of richer data, overlay services and powerful analytics.
Meanwhile, government entities who disburse critical funds to taxpayers can incorporate real-time payments into their operations, moving away from outdated processes like paper checks and postage, enabling them to get payments out in a timely manner and run more efficiently.
Finally, both payers and payees benefit from the instant connectivity of real-time payments, predictability, and 24X7 availability. Both sides have the opportunity to embed and integrate real-time payments into their payables and receivables' systems to automate and streamline posting and reconciliation. Real-time availability of funds helps with faster cash flow, real time cash positioning, enriched transaction data, convenient cross-border reach, and the ability to offer and take advantage of more favorable payment terms and optimal pricing, thereby fostering stronger relationships between payers and payees.
In Q4 2020, FIS will launch its new Real Time platform, Worldpay RealNet, the industry's first open API SaaS platform that unifies, orchestrates and executes all account to account domestic and cross border business payments instantly.
For more exclusive insights and industry insider commentary on the global trends that are driving money movement now and predictions for how faster payments will continue to evolve, download today your copy of FIS' Flavors of Fast 2020 report.
Let's Talk
Together, we can work to solve your business goals. Please provide your email address below and a representative will reach out to you soon.