Fintech Insights
The power of process mining in financial operations
Jaspreet Kondal | Senior Vice President, Back Office Services and Anant Keskar, Vice President, Back Office Services
June 28, 2021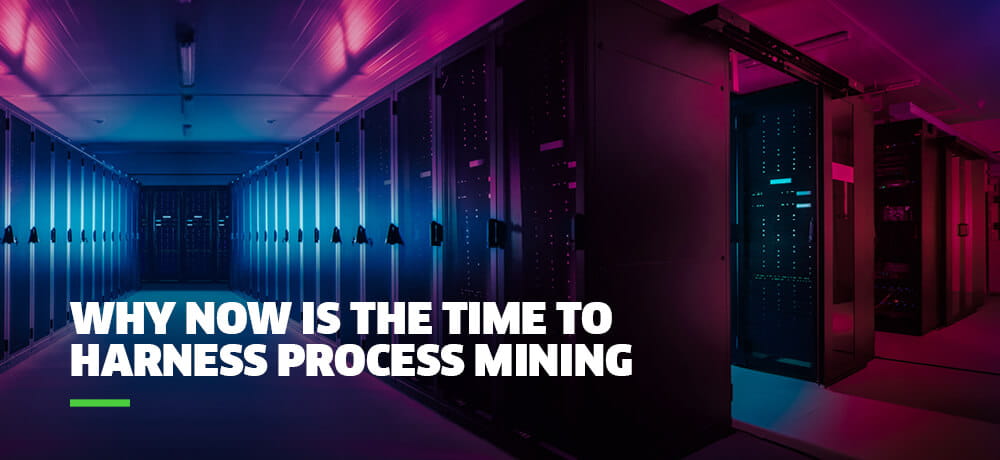 On-going, consistent improvement in operational efficiency is a top of the mind requirement for financial institutions. In the current landscape of ever-increasing demands and expectations of convenient and speedy service from customers, as well as the need to remain in touch with the evolving regulatory landscape and requirements for compliance, financial institutions are focused on digital transformation. Harnessing the power of process mining for digital transformation initiatives is the way forward, since process mining plays a vital role in not just current, but also future banking operational success. Process mining offers an in-depth look into how complex processes run and how various processes across the enterprise function, giving a bank the ability to identify opportunities to improve processes, including by identifying processes suitable for Robotic Process Automation (RPA), thereby become more efficient.
What is process mining?
The traditional way for optimizing and automating business processes involved manually drawing process maps and collating historical data and baseline assumptions. Process mining is an emerging area within business process management which utilizes advanced concepts like computer vision and AI for the purpose of automated process discovery and path mapping, construction of simulation models, identifying process bottlenecks and alerting on process deviations.
Within any organization, there are numerous stakeholders with different viewpoints, asking:
Is there variation in our processes?
Why does it take so long to process a case?
What applications and systems are being used – and in which order?
Where do the cases get stuck and what causes bottlenecks?
What can I do for continuous monitoring and improvement of process?
How to reduce case turnaround time? What are Non-value activities?
Is there variation between the agents?
How to check on Compliance for specific case types?
Are there any work types suitable for RPA?
How much time will we save by removing certain steps?
Why it is time to harness process mining
Managers and decision makers assume that processes are running in an orderly, coordinated, expected manner, whereas the truth is that there is no order and it can be quite chaotic, which leads to wasted effort, slower processes, unnecessary and higher costs. There are myriad challenges in managing details of a process: Subjectivity - each person has a different viewpoint from which they approach it.
Variations - there are differences in the actual flow of the process and how it deviates from the norm.
Bottlenecks - When processing multiple requests and high volumes, it is usually very difficult to pinpoint where the case request is currently stuck, or who it has been escalated or handed off to in case of exceptions.
Static information - The handle time, processing time and the overall cycle time as well as the time elapsed since the customer request is placed, is usually measured through static assumption through previous time and motion study.
What is needed is the ability to view the process from a vantage point where you can have a 360-degree view of how all the parts come together across the request lifecycle. Early adopters of process mining tools have achieved significant benefits including cost reduction, improved customer experience and compliance, while applying process mining in diverse use cases across business segments.
Process mining directly addresses process inefficiencies and provides a transparent look at the business process, empowering executives to view the in-depth process identifying the root causes of poorly performing processes. This reinforces an organization's focus on performance-driven decision making.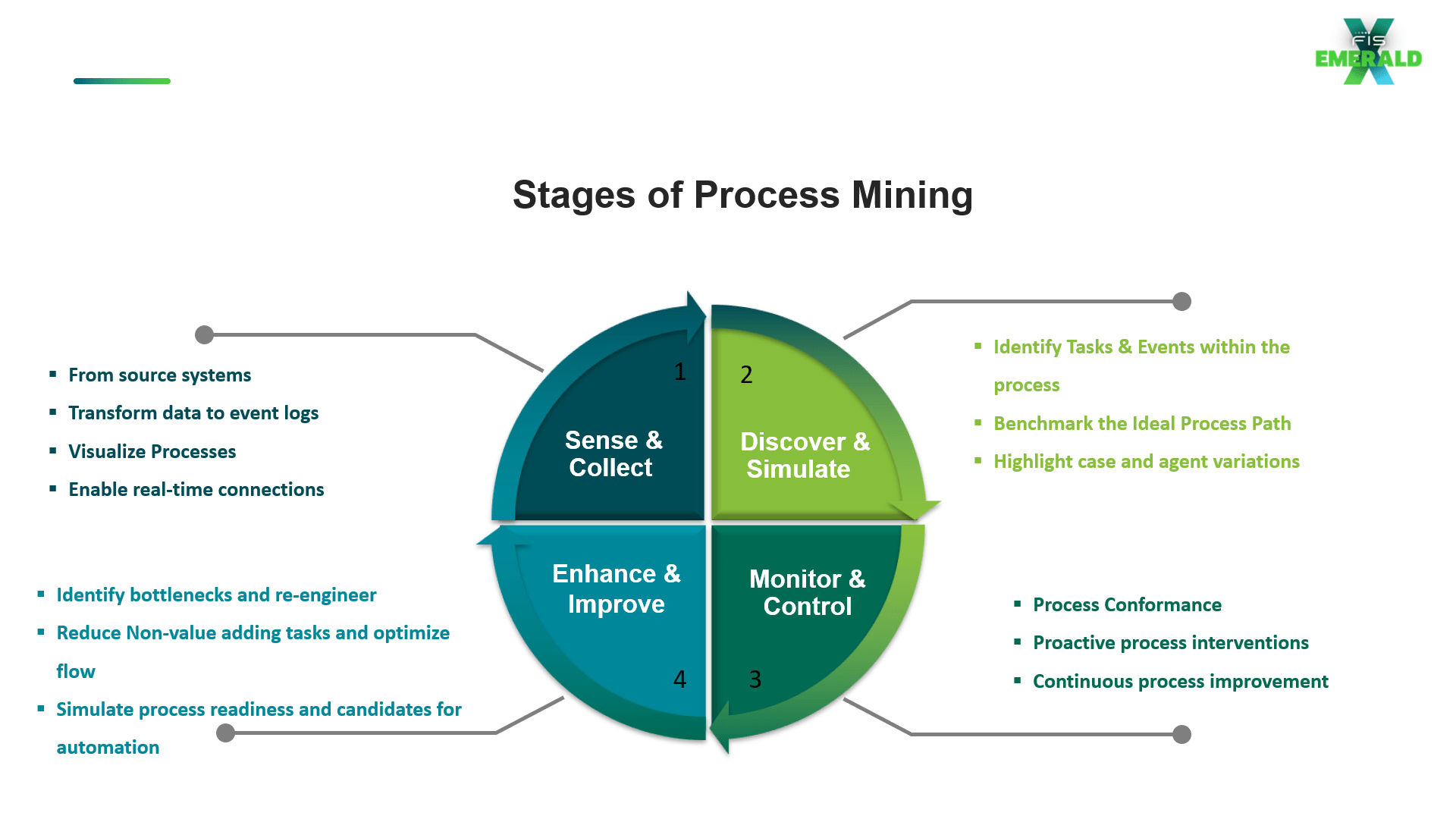 FIS EPIC's Sapience Module
The key to manage and improve a process is to be able to continually improve it. Sapience is a component of the FIS EPIC Efficiency Module, one of FIS' EPIC Operational Excellence Platform's 6 modules, which provides the tool for process mining, time and motion studies, and process discovery. Users will see an increase in speed of work and be able to re-engineer to a leaner process framework.
With Sapience, an enterprise achieves:
Deep dive into process flows and case journeys, total visualization that allows for improvements to be made, a transparent view of the customer end to end journey.
The ability to identify process deviation and bottlenecks and hidden factories wherein waste in the process can be removed. Seamless process mining on multiple dimensions like volumes and time.
Comparison between ideal and real-life processes with options like selecting specific activities, case count or connections to provide deeper insightful view.
Analysis of individual/team/enterprise working patterns to leverage best practices that can be cascaded across the organization.
RPA candidate identification, to remove any repetitive tasks that have significant impact on the process performance.
Sapience has unparalleled visual dashboards that even without the data, offer a guide to improvement. Users have a unique view into processes which gives the ability to dissect them, look for root causes and then improve on them. EPIC and Sapience bring 100% transparency to the operation to ensure that all steps of all tasks are captured across the board, helping organizations to make better, more transparent, and data-driven decisions.
By harnessing process mining to re-engineer process management, the organization will see improved customer experience thanks to shorter lead times, shorter reaction times, quicker identification and resolution of process bottlenecks; enjoy reduced costs due to the elimination of unnecessary/repetitive steps and the harmonization of interdependent steps; process standardization, data driven decision making, improved performance management; and the furthering of automation initiatives by selecting the perfect RPA candidate.
Let's Talk
Together, we can work to solve your business goals. Please provide your email address below and a representative will reach out to you soon.