Fintech Insights
Advancing financial inclusion
Maria Schuld | Senior Vice President, Division Executive, FIS
March 29, 2021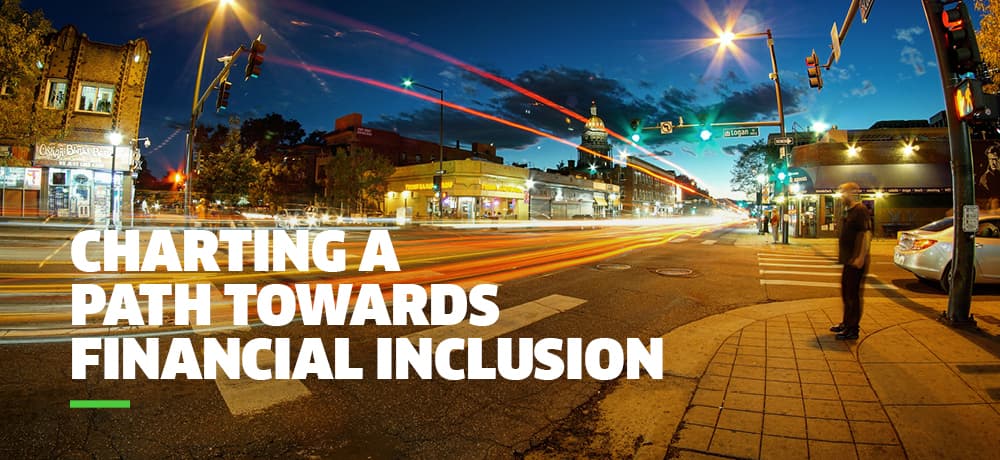 In today's times of economic stress – driven and accentuated by the effects of the Covid-19 pandemic – financial inclusion has become ever more important. Financial inclusion addresses society's need to help all global citizens obtain financial services and products at affordable prices.
From deposits and loans, to fund transfers, it's imperative we at FIS assist financial institutions in meeting the needs of the "underbanked" – those who believe they aren't able to access the traditional services of a financial institution.
Recent government action creates opportunity
In the United States, recent federal legislation has created new opportunities to reach out and help individuals and small businesses in distressed, economically challenged areas.
In passing the Omnibus Appropriations and Covid-19 Relief Bill in December 2020, the U.S. Congress included USD $3 billion of funding directed to Community Development Financial Institutions (CDFIs). CDFIs are financial institutions that strive to foster economic opportunity and revitalize neighborhoods in low-income areas.
Charting a path toward inclusion
The path to building a financially inclusive world involves a concerted effort to address many historic and systemic issues. There's no simple guidebook for this type of expansive, inclusionary change – but having the right technology available is a good first step.
Banks and fintechs should revisit their product roadmaps and re-assess their innovation strategies, to ensure they are building new technologies that can empower all Americans with access to vital financial services. For example, providing financial advice and education can extend a bank's role as a trusted advisor while helping the underbanked improve their banking aptitude and proficiency.
Whether your institution is a CDFI, or simply wants to better reach the underbanked, we want to help you – as you help advance financial inclusion. We plan to continue supporting standards, providing relevant inclusion research, and helping educate our partners on inclusion opportunities.
Support of Bank On standards
As previously announced, FIS actively supports the Bank On effort to ensure Americans have access to safe, affordable bank or credit union accounts. The Bank On program, Cities for Financial Empowerment Fund, certifies accounts that are public-private partnerships to help drive financial inclusion. Banks and fintechs should continue to join these efforts and help identify the new features and capabilities that can provide more Americans with affordable access to financial services.
Through this effort, banks can provide simplified accounts to their unbanked customers. These customers can identify and enroll in safe, low-cost transactional products that meet the following Bank On standards (as certified by the national nonprofit organization).
Understanding the needs of the underbanked
Recent research conducted by the FIS Impact Labs team highlights the extent of the challenge of financial inclusion as they seek to answer the question:
How do the underbanked engage with key components of banking and approach education around financial health?
Key findings show a significant underbanked population exists and that they require a nuanced approach to support their financial health. Financial services products for the underbanked should address the following concerns:
Time. Customers would like to decrease time spent on, or increase efficiency of, engaging with their personal finances
Trust. Consumers trust banks to secure their money, but are less inclined to trust them with their financial health
Literacy. While respondents often use their institution's digital tools, they rarely use third-party finance apps, such as Mint and Acorns
Guidance. The underbanked desire financial guidance to help them reach their financial goals
Financial institutions must address both the transactional and emotional needs of the underbanked to accommodate the distinct characteristics of these consumers.
Effective research that can help guide new product investments that promote financial inclusion – such as financial institutions surveying prepaid card users to discover those needing checking accounts and exploring merchant-offer subsidies for digital banking products – can be accelerated by banks' technology partners.
Other potential banking product categories that can help to serve the underbanked include:
Financial services education programs
Financial wellness services and apps
Digital-only banking offerings
Continuing inclusion discussions
FIS will continue to track government initiatives that drive financial inclusion to help inform clients on any new developments. Leaders in our HORIZON and IBS business units will continue to hold roundtables and information exchanges with banks wishing to collaborate on advancing financial inclusion.
Let's Talk
Together, we can work to solve your business goals. Please provide your email address below and a representative will reach out to you soon.