Fintech Insights
The future of retirement planning
Melissa Cullen | SVP, Wealth & Retirement, FIS
February 15, 2021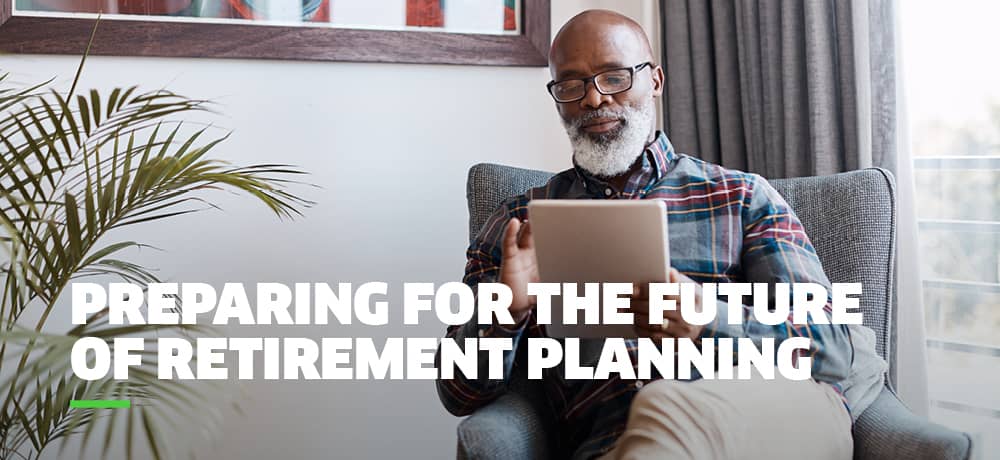 Retirement planning is changing fast, with big implications for today's retirement plan providers. Plan participants are no longer passive recipients of retirement statements of days past – they're active, sophisticated investors. They're investors that expect to be treated as such, with more adjacent financial services, improved customer experiences and the latest consumer-friendly technologies.
This evolution poses both significant challenges and opportunities for plan providers. The days of retirement plan providers as little more than transactional recordkeepers are gone. Differentiating among investor-consumers means broadening the context of engagement, shifting from being simply a transactional provider to an experience-based provider of value-added services.
The challenge for plan providers is to increase investor participation through enhanced service offerings, and to curate loyalty and investor engagement with better customer experiences. Though significant, these challenges are counter-balanced by greater revenue potential throughout the investor's lifecycle.
This evolving context is leading retirement plan providers to expand financial wellness offerings, to differentiate by being easy to do business with, to foster investor trust by emphasizing security, and to create more personalized investor experiences.
Preparing for the future with financial wellness tools
Financial wellness tools help investors manage financial risk and plan for short and long-term life events. Offering financial wellness tools in the context of retirement planning is therefore a natural fit. Longevity planning tools, in-plan annuity services and employer-sponsored loyalty programs can help plan providers strengthen investor relationships.
The biggest planning risk for many investors is retirement length. Longevity planning tools help investors manage the risk around planning for health and care costs which is the biggest unknown in retirement. By offering longevity planning, plan providers can establish stickier relationships with investors via engaging experiences that foster trust to help provide better outcomes.
Providers are increasingly looking to maintain relationships with investors beyond retirement. In-plan annuity capabilities links carriers with investors, which can be delivered through interactive retirement income programs, helping to maintain more assets in-plan while strengthening investor engagement. Ultimately connecting investors with a solution that provides a lifetime income program via their retirement plan.
Employer-sponsored loyalty programs strengthen plan sponsor relationships, increase plan health and benefit investors through reward offers. Employer-sponsored loyalty programs offered in conjunction with retirement plan services can address new dimensions of the investor experience and be a key differentiator. It provides companies the ability to tie rewards to financial wellness in a way that incentivizes investment plan contributions and strengthens investor engagement.
Stand out by being easy to do business with
Today's retirement planning services need to deliver exceptional customer experiences that keep investors engaged. The future of retirement planning starts with easy, effective digital engagement. Retirement plan providers can be easier to work with by offering conversational account opening, advanced virtual assistants and seamless digital payments.
Account opening experiences should be seamless, engaging and welcoming. Conversational account opening experiences make account opening personalized, simple and intuitive. By replacing legacy, one-way systems with intelligent two-way interactions while increasing the likelihood of process completion.
Virtual assistants (i.e. chatbots) are a vital customer service tool. Deploying responsive avatars is one more way to be available to your clients anytime, anywhere. A fully autonomous, animated agent enhances the investor experience by adapting to situations using facial expression and voice characteristics.
Digital payments help investors when they need it most by distributing funds easily, securely and in real-time. Digital payments offer a secure way to distribute funds quickly and conveniently, improving investor experiences.
Security for tomorrow – today
Today's investors expect a higher level of comprehensive security, especially when it comes to financial information. Securing long-term loyalty on the part of investors starts with offering retirement planning tools that engage users safely.
One way to build trust with investors is by providing dark web monitoring. Services that check user credentials against a database of known breached assets can mitigate account takeover risk. Proactively safeguarding investors from the negative impacts of data breaches helps earn investors' long-term trust.
The future of retirement planning means secure authentication that uses widely available consumer security services like biometrics. Digital hash tools provide immediate, low-friction, highly secure identity authentication. Digital hash tools reduce fraud while increasing goodwill among investors.
Let's Talk
Together, we can work to solve your business goals. Please provide your email address below and a representative will reach out to you soon.