Payments Leader
Long Live ATMs – by Maria Schuld
April 26, 2018
Maria Schuld, FIS | Group Executive – Financial Services Group
To paraphrase a famous Beatles conspiracy theory: the ATM is dead.
The truth, however, is much different. Unlike the hype that has some bankers questioning ATM investments due to the rise of digital payments, ATMs – and cash, for that matter – are still in high demand.

It's true that digitization has made inroads, but even in countries like India, where demonetization has minimized the impact of cash and raised the use of digital options, the impact on ATMs has been minimal. In fact, only 358 ATMs were removed during the summer last year in India – a decline of 0.16 percent. Outside of China, where digitization is projected to slow ATM growth, emerging markets across Asia – Africa, as well – are expected to increase the number of ATMs.
As further proof, the number of cash withdrawals from ATMs worldwide rose by six billion in 2016. As long as demand for cash remains high, ATMs are in no danger of becoming obsolete.
Why Cash Still Reigns in the United States
Cash usage in the United States holds a large lead – at least 19 percentage points – over other payment methods according to the Health of Cash survey. Although the percentage of consumers using digital payments gained at the expense of debit cards and, to a lesser extent, cash year-over-year (YOY), cash remains the most utilized payment method, especially for small-ticket purchases.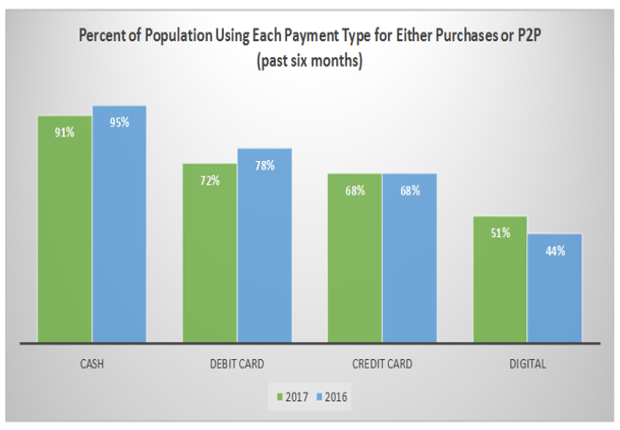 Source: Cardtronics, Health of Cash Study, 2017
The study also found that cash is the most preferred payment method by millennials and second-most preferred (after debit cards) for all consumers. Why? Because consumers rate cash as the most secure, the most convenient and the easiest-to-use payment type.
Ninety-three percent of surveyed consumers believe that cash keeps them safe from data hackers, according to Cardtronics. Even consumers who prefer card or digital payments use cash as a backup – 85 percent always try to keep some cash on hand.
After 50 Years, ATMs are still Mainly Dispensing Cash
As long as cash continues to fill consumers' needs, ATMs will dispense it most efficiently. However, consumers now expect more from their ATMs than just spitting out cash. According to the study on ATM Future Trends 2017, seven out of 10 consumers want control over the denominations they receive, and four out of 10 want deposited funds instantly credited to their accounts. One-third also want biometrics to replace PIN entry, while another third want to be able to cash checks at the ATM. The top responses underscore consumers' desires for more choice, more convenience, faster speed and better security.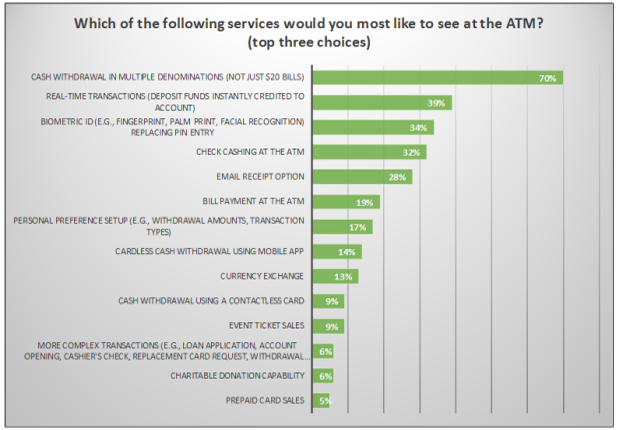 Source: ATM Marketplace, ATM Future Trends 2017
ATMs Remain a Critical Delivery Channel but Must Evolve
The latest industry forecast by Retail Banking Research predicts the global installed base of ATMs to rise to four million by 2021 – up from 3.2 million in 2015. While in no danger of disappearing, ATMs must evolve to address challenges such as record levels of fraud – principally skimming, but also growing cybercrime schemes such as jackpotting.
One-third (34 percent) of consumers worry about someone using a skimming device to steal their card information. Cardless cash not only thwarts skimmers, as do biometrics but also reduces transaction time since users preset withdrawal amounts on their mobile phones.
Pressures to improve productivity will propel installations of interactive teller machines (ITMs), which automate deposits, reduce overhead and free branch staff to conduct more complex transactions. As branches close, more financial institutions will rely on ITMs with centrally-housed video tellers to facilitate routine transactions.
Ron Shevlin of Cornerstone Advisors studied 11 ITM deployments to evaluate their viability. He drew three important conclusions:
1. Fears of consumer backlash are unfounded, according to surveyed bankers.
2. Banks and credit unions can improve branch productivity and realize a positive return on investment (ROI) on ITMs. However, reports of superior sales performance by ITMs compared with branch tellers are anecdotal and hard to substantiate.
3. Financial institutions that have been more aggressive in replacing traditional teller transactions with ITMs have had better results than those that have taken a more conservative approach.
While ATMs need to evolve, their future still looks very bright.
Hablemos
Juntos, podemos trabajar para resolver sus objetivos comerciales. Proporcione su dirección de correo electrónico a continuación y un representante se comunicará con usted pronto.