Fintech Insights
Three creepy predictions in FinTech post COVID-19
John Thuma | Data Solutions Group, FIS
October 26, 2020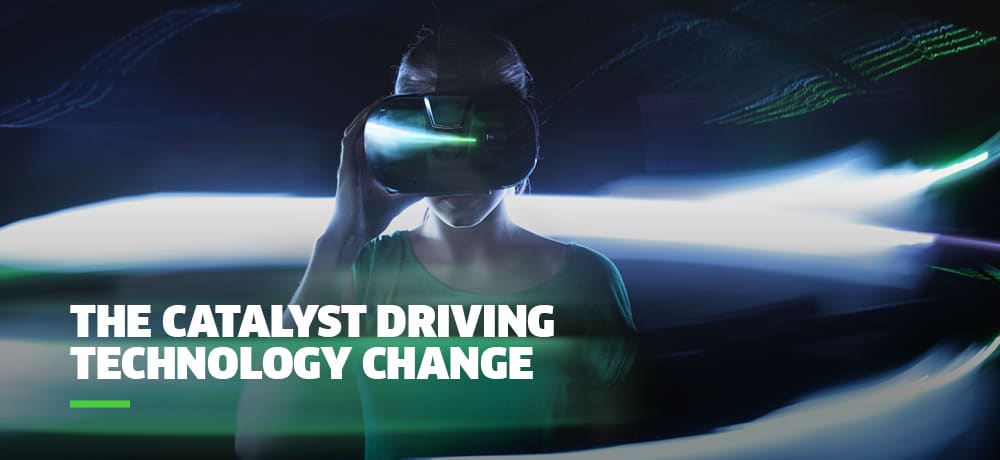 Covid-19 is not the new normal as we all long to return to our normal lives and relationships. We will return to restaurants, workplaces and airports. Don't believe me? Are you tired of virtual web meetings? Some things post Covid-19 will change forever. In this article, we will go over some bold or "CREEPY' things that will change as a result of Covid-19. From open banking, biometrics, and mixed reality, we will explore three predictions that will impact our financial lives.
PREDICTION: Mixed reality: Augmented Reality and Virtual Reality will dominate the digital experience
Do you believe in free will? I pondered this question for the past seven months while in my Covid-19 home office. In the future, you may not know what is real. Movies, TV, and rock stars may not be people but a set of data properties that inform an algorithm on what to do to better entertain you. You won't have to leave your house to do anything as mixed reality (AR and VR) will place you in the lobby of your virtual bank. Artificial people will serve you at the bank, it will be a sentient bot carefully constructed through data to better influence your banking behaviors. It will constantly evaluate your trust in that service, adjusting and evolving to better influence you. This is interesting to some and creepy to others. Either way, you will want a dial to control the amount of digital influence in your life.
PREDICTION: Uber Banking: Open banking is coming fast
One day it will be simple to move your bank accounts like you move your mobile provider from Sprint to Verizon. Just like you can keep your mobile phone number, you will be able to keep your checking, savings and payment accounts without disruption. The monolithic financial institutions of the past are going to be replaced with nimble Application Programming Interfaces or API's. Covid-19 has accelerated this phenomenon and according to Brandon Dewitt, Co-Founder and CTO of digital banking provider MX. "And so financial institutions must have more and faster digital connectivity and more data availability to serve their customers." The US currently lags behind the EU and Asia in this technology, but the gap is closing fast.
PREDICTION: You are your security
Most of you are already familiar with biometric authentication via your mobile device using fingerprints or facial recognition. Not only are these solutions more secure, but they have created a frictionless user experience. Wearing a mask for the past few months has really thrown a curveball into some of these experiences. These technologies pose serious privacy concerns but benefit in fighting financial fraud while offering cost avoidance due to reduced password management. According to NICE: "Biometrics uses distinctive and measurable human characteristics that uniquely identify an individual. Popular biometric identifiers are fingerprints, palm veins, iris, retina, face, and voice." The James Bond days of accessing your hidden lair via an iris scan are a reality and here to stay!
Fascinated or creeped out by them, many of these post Covid-19 predictions are already in flight. Check out some really fascinating new solutions coming as a result of the pandemic. From RoboCop-like helmets to voice recognition, COVID19 has been a catalyst of change with respect to technology. For example, masks have interfered with biometric authentication but according to ScienceDirect: "The Vingroup-backed VinAI research laboratory in Vietnam is offering free facial recognition technology that can accurately identify people wearing protective masks." Time will tell if these predictions will take hold, but one prediction I know for certain is that we all want to get back to a sense of normalcy post-COVID19.
Hablemos
Juntos, podemos trabajar para resolver sus objetivos comerciales. Proporcione su dirección de correo electrónico a continuación y un representante se comunicará con usted pronto.