Payments Leader
Is Zelle the Payment Platform to Keep Banking Providers in the Game? by Mike Kresse
August 30, 2018
Mike Kresse
Growth of person-to-person (P2P) payments shows no signs of slowing. But that growth has sparked debate about the merits of various solutions that support it. PayPal's popular Venmo captured a large share of the young early market adopters, but alternatives such as Zelle, Apple Pay and others are reporting strong gains.
Here's why Zelle, which was developed specifically for U.S. financial institutions to enable real-time payments, holds particular value for customer retention and as a step toward future monetization of P2P.
The Rising Tide Floats All Boats
P2P usage is soaring. Aite projects more than 300 percent growth in P2P payments between 2015 and 2020 – from US$100.3 billion to US$316.6 billion.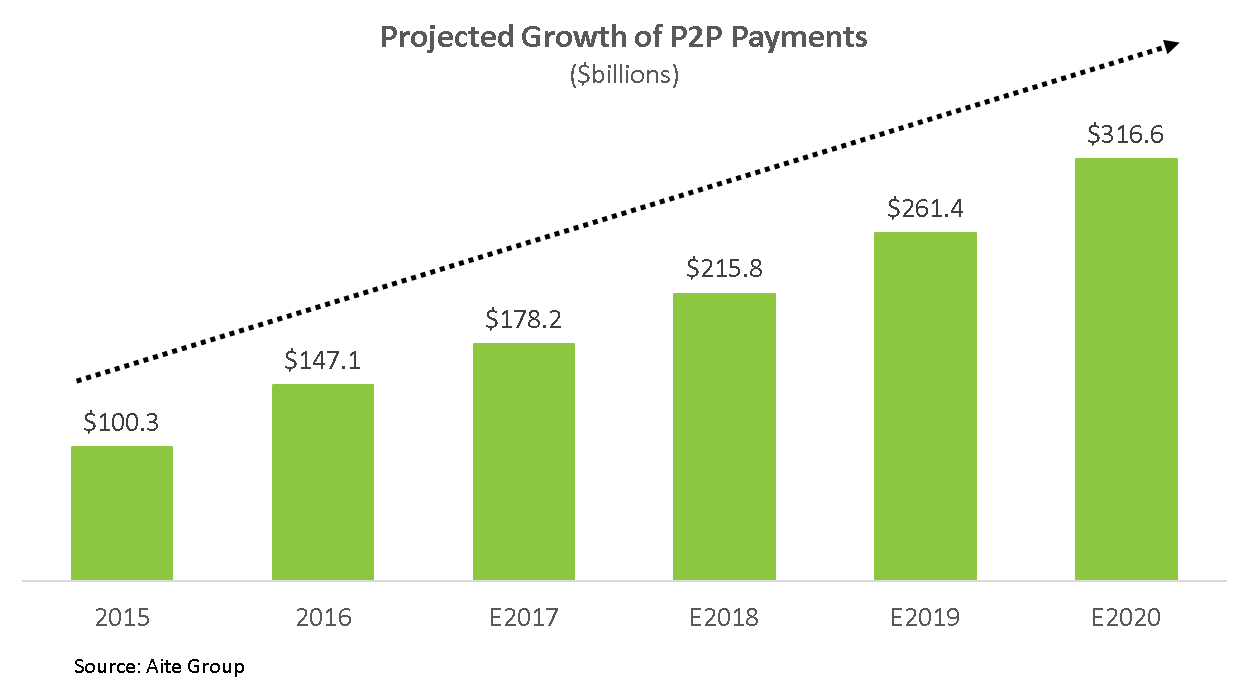 In its first official year of operation, Zelle processed more than 320 million transactions, worth $94 billion. Currently there are 148 financial institutions in the Zelle network – 29 live and 119 under contract – accounting for 56 percent of the U.S. DDA market, according to a recent Zelle press release.
Zelle's transaction value and volumes are already eclipsing Venmo as more banks integrate P2P with mobile banking. While the two competitors reported roughly the same year-over-year growth in transaction volume at the end of Q2 2018, Zelle's volume was $28 billion, double that of Venmo's $14 billion.
Statements from Bank of America and others support Zelle's reports of rapid growth. Bank of America recently reported that its P2P transaction volume with Zelle was 142 percent higher and double the value YOY at the end of the second quarter.
Zelle recently faced claims that its standalone app – the app consumers can download from Apple or Google stores, not their personal bank apps, which is how most users connect to Zelle – didn't safeguard users from accidentally sending money to the wrong person. In response, Zelle is making enhancements, including requiring confirmation of recipient information before money is sent. That said, it's critical to inform consumers that they should send P2P payments only to people they know and that P2P is like paying someone in cash, not like paying with a credit card.
The Zelle Consumer Proposition
The biggest point of differentiation between Zelle and its competitors is its ability to facilitate near real-time payment within the Zelle network of banking participants. This reduces settlement time by one to two days, providing the speed and convenience expected by today's consumers.
Zelle also supports a more holistic user experience by enabling consumers to track their spending in one place – their personal bank's app – instead of searching for payment histories in multiple locations.
Security controls among P2P competitors are essentially at parity. However, the Zelle banking mobile app outranks the safety of alternatives simply because consumers are not disclosing their personally identifiable information (PII) in yet another place, thereby reducing their exposure to information compromise.
Real-time payments enabled by Zelle require real-time fraud prevention. The signup process offers banking providers the opportunity to increase security by binding its customers to their mobile devices and updating authentication checks.
The Zelle Banking Proposition
Currently, the biggest benefit offered by Zelle to banking providers is its ability to defend against disintermediation of customer relationships. This makes it harder for non-banks to gain additional business with a bank's customers.
Taking the longer view, financial institutions that do nothing with P2P walk away from opportunities in money movement. Getting in now puts financial institutions in a position to create the footprint they will need to monetize applications for small businesses, commercial clients and government.
Disbursement use cases also hold great promise for monetizing P2P. I'll show how in a future article.
Hablemos
Juntos, podemos trabajar para resolver sus objetivos comerciales. Proporcione su dirección de correo electrónico a continuación y un representante se comunicará con usted pronto.