Payments Leader
Battling Goliath Takes More than a Slingshot – Kris Carrera
May 8, 2018
Kris Carrera, Business Line Executive, Credit
Smaller financial institutions face an uphill battle against top banks in attracting young consumers entering the market for financial products, including credit cards. Moreover, if you've read Bain's recent report about how Amazon is likely to be teaming up with a big bank for the purpose of eliminating interchange fees through direct access to checking accounts, you realize the battle has only just begun.
Why You Need to Recruit Younger Consumers
For these smaller institutions, attracting young consumers before they develop loyalty to other credit card brands is imperative for long-term health. Credit cards generate revenue, especially among young consumers who are more likely to be "revolvers" – paying interest on their credit card debt. That said, FIS' 2018 SMB Banking PACE Report reveals that smaller financial institutions continue to struggle to gain traction with the newly banked as well as older millennials. While 34 percent of the top 50 global banks' retail customers are millennials, only 28 percent of community and regional banks' customers and 23 percent of credit unions' members fall into that age range.
According to Experian, 43 percent of Americans are "revolvers." The highest average revolving credit utilization – the ratio of revolving debt to revolving credit limits – is 37 percent, found among Gen Z and Gen X segments. Gen Z is just starting out and Gen X is the generation with the highest levels of credit card balances. As consumers age, they become more financially stable, more likely to pay off their credit card balances monthly and become less profitable for the financial institution.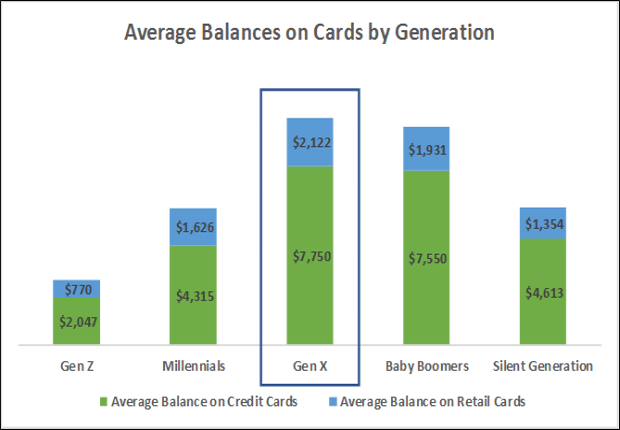 Experian (2018). State of Credit: 2017. Available from: https://www.experian.com/blogs/ask-experian/state-of-credit/
Targeted Marketing Works
Hidden defection – buying a product, most commonly credit cards, loans or investments, from a competing financial institution – accounts for 46 percent of additional product sales, according to Bain. In its survey, 42 percent of consumers reported that they bought from a competing firm because of a special offer or advertisement. What's most revealing is that if their primary financial institution had made the offer, more than half would have bought the product from that bank or credit union instead – money left on the table. The takeaway: Ask for your customers' business.
What do younger consumers want from their credit card providers? Studies show that the most effective way to capture younger consumers' credit card business is through a rewards program that enables cardholders to maximize their points
.
Aite Group (2014). [Survey of 1,242 U.S. Consumers in Q2 2013]. The Coming Credit Card Boomlet. Available from: https://aitegroup.com/report/coming-credit-card-boomlet
Communications Are Rapidly Changing
Communications are progressing from large real estate – print – to mobile devices, graphics, and voice-activated devices. In building marketing campaigns, it's critical to understand how each generation is habituated to how they receive information. Think about how:
Baby boomers are still comfortable with reading paragraphs.
Gen Xers are accustomed to receiving information digitally.
Millennials read graphic novels and watch movies on their mobile devices.
Young millennials and Gen Z talk in text and speak "emoji."
The progression to voice-activated devices with skills that handle increasing numbers of banking needs is looming around the corner. Today, we can pick up the phone and say, "I need to transfer $500 from my checking account to my son's checking account" as we walk from one room to the next. Tomorrow, we'll be asking Alexa to conduct the transfer and won't even need to pick up the phone.
What All of This Means for Credit Unions and Community Banks
Smaller financial institutions need to retain current members and customers, but also attract a greater number of new young consumers – and retain them as they move into life-stages with greater credit needs. How do you cement relationships with consumers who communicate in such diverse ways?
Foremost, the solution must span generational needs. Baby boomers may be satisfied with the current offering, but young consumers demand updated products with a focus on convenience and easy access – mobile and 24/7. Without updated products, young consumers won't stick.
Second, financial institutions cannot afford to abandon any form of communication. They must engage consumers who speak in different "generational languages" and prefer a variety of communications channels ranging from print to talk.
Finally, we are at the naissance of voice-activated banking. Already six percent of banked consumers report currently using voice assistants to conduct some banking transactions and more than one-quarter are open to using voice assistants to do their everyday banking in the future. We must get ahead of this curve and figure out how to translate everything that can be done with a mobile banking app today to a voice-activated skill for tomorrow.
Let's Talk
Together, we can work to solve your business goals. Please provide your email address below and a representative will reach out to you soon.