Fintech Insights
How organizations can alleviate fallout from the 'Great Resignation'
Stacie Johnston | SVP, Group Executive - GCS Managed Solutions and Jaspreet Kondal | Senior Vice President, Back Office Services
December 20, 2021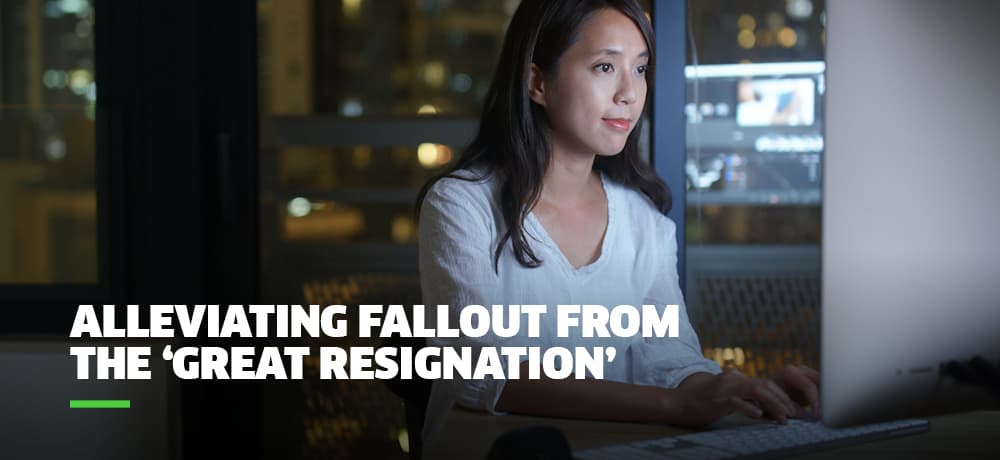 The 'Great Resignation', also known as the Big Quit, is a term that has been doing the rounds recently, coined to characterize the mass exodus - by choice - of employees from their incumbent employers to new employers or even new industries, in 2021. In the 3 months between April and June 2021 alone, close to 11.5 million workers quit their jobs in the US. Especially prevalent in the IT, risk and security fields, it reflects people's changing perceptions and needs in the wake of the pandemic – a desire for remote and flexible working. And not just salaried employees, the hourly workforce is also part of this migration. Employers, now more than ever, need to understand and learn to contend with significant employee resignations and movement out of their organization.
Geographic location is often no longer the deciding factor in the choice of employer or employee. A large, skilled talent pool is looking for new positions with companies that can meet their work life balance needs rather than just provide a paycheck, especially given a younger workforce for whom money is not necessarily the driving force. However, the always-on work from home culture has also led to burnout and employees feeling the pressure to stay logged in. So, the 'Great Resignation' is for some, a recalibration of their personal lives and priorities in the aftermath of the pandemic.
Why is the 'Great Resignation' such a huge problem for organizations in today's world?
What it comes down to is a fight for talent (with its associated costs). The market at present lacks equilibrium and is unfettered by location. Organizations must focus on employee wellness and create an attractive and inclusive company culture to keep existing employees and attract new employees. Certain adjustments are needed to acknowledge and accommodate different schedules and geographies. Nurture a sense of belonging, focus more on wellness aspects. Flexibility and work life balance are key.
The action that organizations take to combat the 'Great Resignation' today will be even more important tomorrow. It is not just hiring to meet existing skill gaps. Rather organizations need to ensure they are hiring for future needs and are developing skills accordingly. Resource planning for future knowledge gaps is critical. Given the high movement of skilled workers, it is essential to limit dependence on tribal knowledge.
Organizations must promote the opportunity for employees to contribute towards different initiatives over and above their day job so that they feel valued, heard, and remain engaged.
How FIS can help organizations combat the 'Great Resignation' and ultimately emerge stronger on the other side
Modernization, optimization and innovation are the building blocks to business growth. FIS has a global footprint and expansive fintech focus, with the breadth and expertise to help our clients move their business forward in new and exciting ways. We can help organizations combat the 'Great Resignation' by offering reliable, scalable, and flexible solutions as a trusted partner. Especially in the case of regional banks or smaller institutions, access to newer technology and/or more agile resources can be restricted, which in turn impacts their ability to scale for growth and customer success. Acquiring the right talent, having the proper amount of coverage, and keeping an adequate number of resources that can sustain and absorb incoming hits is vital. Working with a comprehensive partner to manage staffing and skill challenges is the most effective way forward, and a partnership strategy will continue to create efficiencies and innovations and bring value in the long term.
FIS has partnered with hundreds of organizations to improve operational efficiency and reduce Total Cost of Ownership (TCO) across all areas of their business both before and throughout pandemic, and we remain ready to help now. We lead with a "cloud-first" data management strategy and offer cutting-edge, end-to-end commercial services and technology solutions across the breadth of Back Office Services and Managed IT. Our solutions include Managed Infrastructure Services, Cybersecurity, Application Development & Maintenance, RPA/AI implementation, Customer Contact Centers, Lending & Collections services, and more, all of which help to fundamentally transform our clients' operations and improve resilience against future challenges. To provide the best possible experience, we work with each of our clients to develop plans that are right for their own unique situation.
One example of such a relationship is the one FIS recently expanded with Amerant Bank, based in Coral Gables, FL. In close partnership with Amerant Bank leadership and staff, FIS is assuming responsibility over a number of Amerant's support functions to help reduce the bank's efficiency ratio by ~24% by the end of 2022, support the growth of their business, and optimize/align strategic objectives across the organization to drive lower costs and higher profitability. And because a relationship with FIS is always a partnership, we will also work with the bank to create a roadmap with key recommendations for continuous process improvements and cost efficiencies moving forward.
Our ultimate goal is to deliver a better quality of service and improved experience for Amerant Bank's customers, said Bruce Lowthers, President at FIS. "This is not simply about moving people, but about bringing in modern and efficient tools and processes to reduce complexity and sustain healthy performance."
Aside from our own breadth of experience, FIS is also investing in and working closely with our own service provider partners, so we can harness their talent pool, solutions, and tools to build a strong partner ecosystem and innovative solutions that will help us, and our clients, counter the effects of the 'Great Resignation'.

Vamos conversar
Juntos, podemos trabalhar para atingir seus objetivos de negócios. Por favor forneça seu endereço de e-mail abaixo e um representante entrará em contato com você em breve.