Fintech Insights
What moving to the cloud means for financial institutions
Anita LeMaire | Product Executive, Global Cards and Payments, FIS
May 24, 2021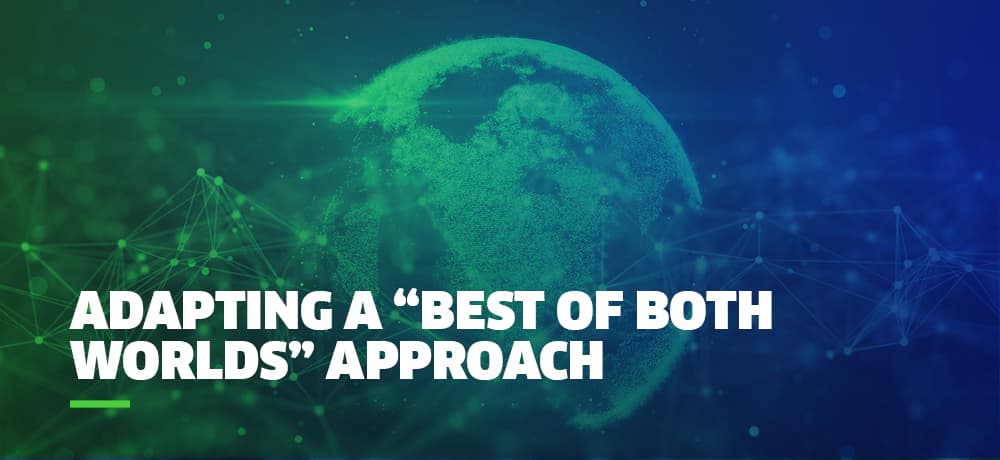 The pandemic highlighted the importance of agility and being able to scale up and down with ease. This has led many organizations to realize they'll achieve performance, always-on availability, and better security and compliance by keeping some systems on-premise or in private clouds. In fact, more than 90% of global enterprises will rely on hybrid cloud by 2022. Moving to the cloud can mean flexibility, scalability, and agility. However, a total cloud operating environment, for every business scenario is not yet a practical reality.
That's why strategic organizations like FIS have adopted a hybrid cloud approach. This "best-of-both-worlds" method consciously considers each piece of technology, and where it will serve clients best. If moving a particular function to the cloud yields true customer and client benefit, it belongs in the cloud. If a function is performing better on high performance fixed-cost infrastructure, it doesn't move just because it can.
Hybrid cloud consciously keeps costs low for FIS clients, and ensures that systems stay secure, robust, and highly available. Hybrid cloud doesn't force a massive migration. It prioritizes what is the best for the client and the end user. When operating in the cloud, technologies associated with the client experience deliver far superior user functionality and a more seamless delivery model. Likewise, the cloud ensures that FIS' services are open API-ready, so that our clients always have access to the latest technology. Hybrid cloud means moving away from fixed-cost infrastructure where they are a burden, but making sure every move is thoughtful, beneficial, and right for our clients.
How FIS helps clients achieve their hybrid cloud goals
FIS clients who have switched to these types of solutions, such as Payments One have experienced several exciting upgrades. Most notably, speed to market with new products and solutions and a lower total cost of ownership. By moving to cloud based solutions, our clients are beginning to benefit from an increased speed time to market, compliance assurance, AI-powered performance management, and much more. FIS can also quickly pivot to get products developed and in market quicker, and that means less cost internally and to our clients.
Bringing together the total cardholder view into one best-in-class user interface has also equipped our clients with the ability to service their cardholders needs quicker and more efficiently, and to have a more in-depth view of their buying behaviors and to stay on top of fraudulent activity. We are enabling an experience for our clients with Payments One that will allow them to deliver on all the technology and solutions that they need to run their business, and at the end of the day, make it easier for our clients to do business.
Vamos conversar
Juntos, podemos trabalhar para atingir seus objetivos de negócios. Por favor forneça seu endereço de e-mail abaixo e um representante entrará em contato com você em breve.