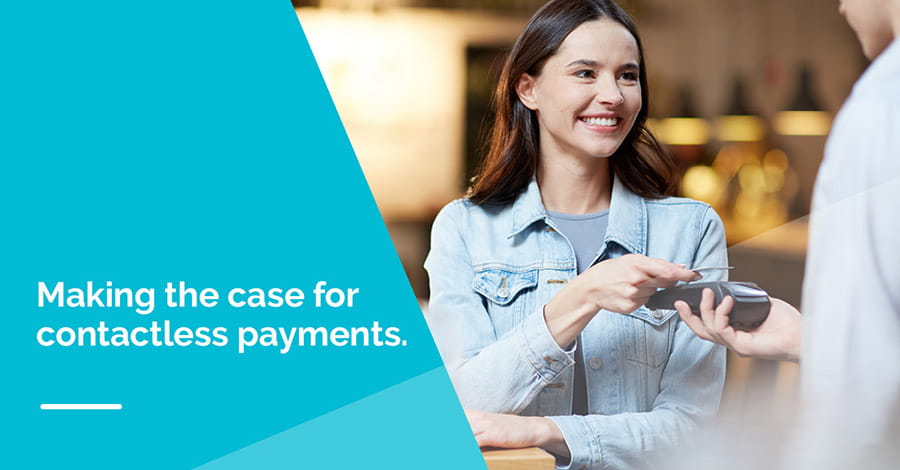 When it comes to contactless payments, research shows that consumers, issuers and merchants all benefit from their use. Consumers enjoy added convenience, speed and ease of use of "tap-to-pay,"; while issuers and merchants enjoy faster transaction times, increased spending per transaction, lower operational costs and penetration into the cash payment market. Additionally, contactless payments are secure and help to drive customer loyalty.
With 95% of new POS terminals shipping today contactless capable with either Near Field Communication (NFC) or Magnetic Secure Transmission (MST) technology and the cost of contactless cards greatly reduced, it is no longer a question of if contactless card and mobile payments will take hold in the U.S., it is a matter of when. And, the answer to when is now. Now is the time to begin preparation of your conversion plan to contactless payments. Juniper Research predicts that more than half of global transactions and one-third of U.S. transactions will be contactless by 2022. Additionally, contactless cards have also proven effective in converting cash to card-based payments. Cash is used for one-third of transactions in the U.S., representing a $2T opportunity.
According to MasterCard, more merchants are increasingly accepting contactless cards –up fourfold since 2014. In 2014, there were about 200,000 to 250,000 merchants accepting contactless payments. Today there are about 750,000.
The payments industry is making large investments to secure and speed up payments at the point of sale. FIS is investing millions of dollars to ready its card personalization and processing platforms to support the growth and opportunity around contactless card and mobile payments. This investment underscores the strong belief contactless payment cards will enable issuers to deliver better customer experiences at the point of sale, increase transaction volumes and open new opportunities to facilitate payments at new locations such as mass transit and unattended parking locations.
At FIS, we know that there are many complex factors that play into the decision to make the switch to contactless cards. Whether you are a card issuer or a merchant, our new FIS Success Guide: Making the Case for Contactless Payments will provide you with the insights, use cases and trends to support your planning process.
Jumpstart your day in a matter of seconds with quick snapshots of industry trends and leading perspectives delivered straight to you. Sign up for RISE here.
Tags: Digital Innovation, Investments, Technology
Let's Talk
Together, we can work to solve your business goals. Please provide your email address below and a representative will reach out to you soon.