Fintech Insights
The "what" and "why" of managed services
Tara Winters | Global Head of Capital Markets Managed Services, FIS
July 13, 2020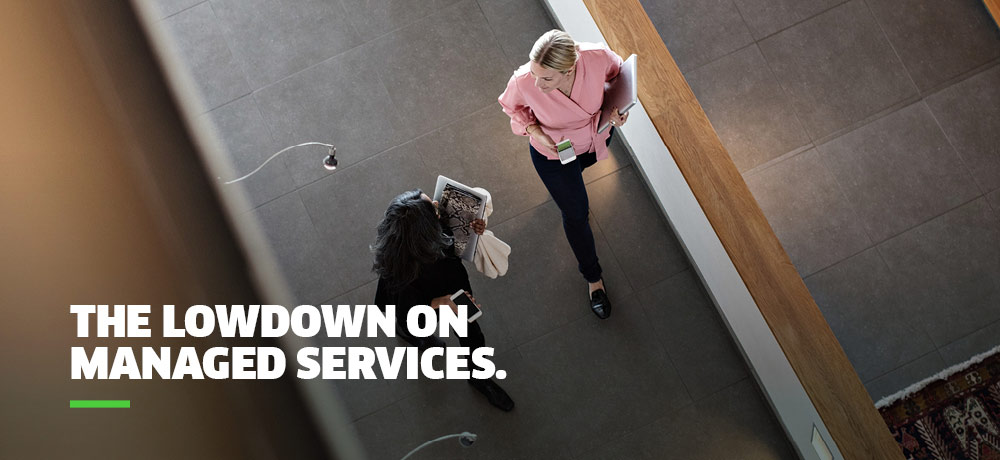 Hosting, AMS, Business Process as a Service – the terms for managed services can make your head spin. But as managed services become more and more attractive to corporations and capital markets firms alike, it's important to understand the different types of managed services to make the right decision about which one(s) are best for you.
What are managed services?
Managed services refers to a range of IT or business services for which a service provider takes responsibility on your behalf. By transferring the responsibility, you get multiple benefits: improved operational quality, reduced costs and risk, predictable pricing, a reliable service, and the ability to focus on your core business.
While other types of services are charged based on time or resources, with managed services you usually pay a fixed fee for a defined scope of activities or outputs. In addition, the engagement is governed by committed service levels and metrics.
There are many different types of managed service offerings. Here's a quick guide to the key types.
Managed hosting
With managed hosting, the provider manages infrastructure and associated applications or systems for you.
Sometimes referred to as infrastructure management services (IMS) – managed hosting encompasses an array of services, such as the management of servers, security, networks, backups, etc. Typically, the Service Level Agreements (SLAs) guarantee a level of availability or an "uptime" of the services being managed or the applications being hosted.
Today, infrastructure can be consumed as a service without investing in physical infrastructure. This is often referred to as Infrastructure as a Service (IaaS). With IaaS, a cloud vendor provides the infrastructure and related services, and you get a flexible platform footprint that is updated as the technology evolves.
Application management
Application management is also known as application management services (AMS). Here the provider monitors, supports and maintains business applications to ensure that the system is always updated and available for use.
Business Process as a Service (BPaaS)
In BPaaS, the service provider takes responsibility for tasks that would otherwise be handled by your end users – the business processes. BPaaS activities are as varied as the clients' businesses but often include:
Front-office services such as business data management and other customer-related services
Middle-office services such as security master maintenance, reconciliation and corporate actions processing
Back-office services such as payment processing, accounting, financial reporting, regulatory compliance, recordkeeping and other business services
No matter the name or the acronym used, for many firms, the value of managed services is clear. Whether choosing to use hosting, AMS or BPaaS for your organization, understanding the different types of managed services available can help decide which will fit your needs.
Let's Talk
Together, we can work to solve your business goals. Please provide your email address below and a representative will reach out to you soon.