Fintech Insights
It's more than technology: Achieve more in your digital transformation in banking
Andrew Beatty | SVP of Next Generation Banking, FIS
March 28, 2022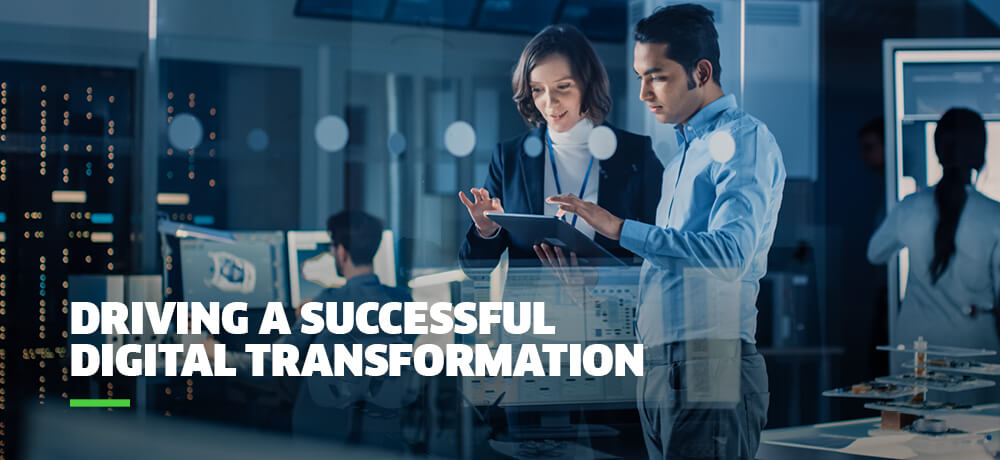 Digital transformation in banking is nothing new, but the impact of the pandemic over the past 18 months put a lens on the urgency for technology to enable better customer experiences across all financial institutions. Whether it was enabling Paycheck Protection Program (PPP) loans to keep small businesses afloat or allowing consumers to have easier access to their funds remotely, the technology powering banks and credit unions came into clear focus.
For the financial institutions that were already well on their way toward modernizing their bank infrastructure with a modern, digital strategy, that lens meant accelerating their plans to stay ahead. And for banks that were behind the curve, it meant quickly pivoting to enable vital technologies to meet consumers' evolving needs.
The scope of what is possible with technology and how we implement it has changed in the wake of the pandemic. But technology alone does not a transformation make. As financial institutions continue to modernize to stay ahead of digital adoption, here's what they need to do to drive a successful transformation:
Reinvent your processes
When a financial institution chooses to undergo a core banking transformation, one of the first questions we typically hear is "will this do the same thing as my old system?" But that's not the right mindset to begin with – replacing like for like. Instead, banks and credit unions should view a technology transformation as an opportunity to create something new.
Instead of just swapping out one system for another, these organizations should consider how they can leverage new technology to enable things that weren't possible before. Consider these questions: What processes can be introduced to make things more efficient? How can employees be enabled to do new things? What more can my bank do to quickly offer services in my time of need?
For a technology transformation to be effective, employees must be empowered to embrace new processes and do new things that they weren't able to do before. Think about how you can redeploy your workforce to leverage employees in the most impactful and value-add way to make the most out of your investment in modern technology.
Commit to the transformation
One thing that 2020 brought front and center was the needs of the customer. For customers to truly see the benefits, the bank's transformation needs to be end-to-end and seamless, from the back office through to the customer.
For example, think about customer onboarding and the process of opening a new bank account. In order for this to be a seamless, real-time and easy experience, the bank needs more than a "façade" that digitizes just the front-end touchpoint for the customer. Banks must commit to a totally seamless customer experience, from app tap to core, and this means restructuring what goes into the banking model to ensure that it is delivering on the front-end promise of convenience.
Think about what Apple did for the industry when the Apple Card was introduced. Opening an account was nearly as exciting as opening up any Apple product. This is the key takeaway for institutions undergoing a digital transformation – bring excitement, speed and efficiency to the customer experience and ensure there are no problems down the line by reimagining and transforming the entire process.
Consider culture
To truly drive transformation, a financial institution must foster a culture of innovation from the top down. If you don't bring your team along for the journey, it can hinder the process. Leadership must look at their organization structure and find ways for every employee to buy into both the benefits and the necessity of change. What is digital transformation in banking, and does this transformation mean for each of us personally, for our bank as a business and for our current and future customers? How is every participant on that journey using and/or impacted by the new technology?
One of the biggest mistakes we see is how companies measure success: many consider headcount to be a key metric and note high headcount as a large, important department with growth. The bigger the better, right? When you are looking at digital transformation, that is not necessarily the case. Part of the point of these transformations is to free up staff to support other areas of the business. Financial institutions must keep that in mind and develop a culture of understanding efficiency.
What's next?
What has made the last year such an exciting time to work in banking is this rapid acceleration of digitalization. Not just in bringing already laid plans to life but in proving how fast banks can bring solutions to market when the customer demands it. Looking at PPP loans as an example. Applying for a small business loan used to be one of the most tedious application processes. But in a time of great need we saw this stripped down, streamlined and brought to market within days. This rapid speed to market is going to stick around.
Banks, credit unions and even fintechs must continue to question what is possible even if it's tough. When modernizing your bank infrastructure, consumers are going to continue to expect to see results in real time as more industries meet the moment. As we saw with PPP, lending is ripe for disruption and we are seeing this happen in the retail sector with Buy Now Pay Later (BNPL) loans. Consumers are ready and able to get these financial products within minutes.
For financial institutions, data is the next big frontier, balanced with smart consent management and using data to drive real consumer value. Think of the intuition of an Amazon-suggested book to read, presented in a friendly manner that is not too imposing or that makes the consumer feel "watched."
These are tremendously exciting times for institutions that are willing to push their boundaries and evolve to meet changing customer demands. A successful digital transformation for banks means committing to the full scale of digital transformation. Doing so will bring not just increased customer loyalty, but the ability to deliver market-changing solutions and innovations at an unmatched pace.
To learn more about where the banking industry should focus efforts to succeed in the future, listen to Andrew Beatty's latest Banking Transformed podcast today.

Let's Talk
Together, we can work to solve your business goals. Please provide your email address below and a representative will reach out to you soon.