Payments Leader
2018 Year in Review: What Blew the Doors Off in Payment Transformation? by Jim Johnson
December 20, 2018
Jim Johnson, FIS | Head of Financial Institution Payments
As the head of financial institution payments for FIS since the beginning of 2018, Jim Johnson continues Bruce Lowthers' work in leading payment transformation based on deep understanding of the market and where it's headed.
At the beginning of the year, Bruce Lowthers reflected upon how the payments ecosystem is changing rapidly and what technologies would gain traction in "A Look Ahead to 2018: Grab the Handrail". Most of his predictions were spot on – a significant rise in technologies that make consumers' lives easier such as voice-activated smart-home devices. One area that has not yet gained widespread adoption, however, is the use of artificial intelligence to fight fraud.
Looking back at the whys of the hits and misses of 2018 helps us prepare for the look ahead in 2019.
P2P Blew the Doors Off
The competitive platforms of Zelle, PayPal and PayPal-owned Venmo recognized strong growth in 2018. Zelle, banks' response to the PayPal/Venmo threat, quickly became a dominant player this year.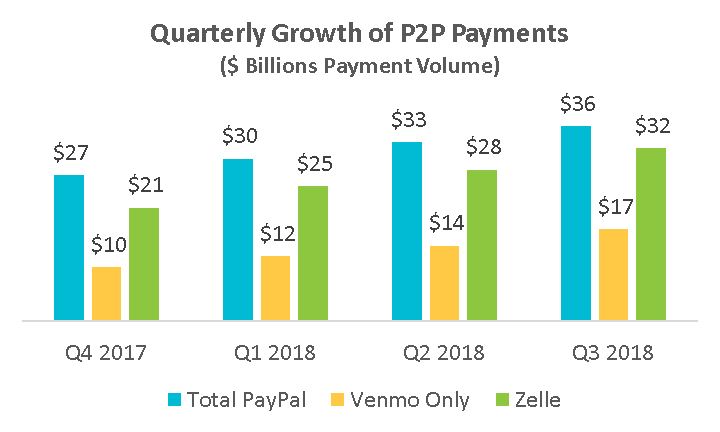 Sources: Early Warning and PayPal company financial reports
The boom in person-to-person (P2P) payments reflects the desire among consumers for a convenient way to pay their friends, pay their rent, split checks and make purchases. However, P2P payment adoption has met a few bumps in the road. Credit unions have criticized Zelle over infrastructure and IT costs associated with being part of the network, according to PaymentsSource. Also, with limited fraud protection, P2P payments are susceptible to fraudsters and phishing. Zelle, in particular, has contended with negative headlines about such attacks.
Financial institutions have a strong influence upon trial and adoption, according to a recent Early Warning study. With reputations on the line, financial institutions must assume responsibility for educating customers about protecting themselves from phishing attacks associated with P2P payments.
Fraud Is Rising but AI Fixes Still Lag
During the first half of 2018, 3.4 billion data records were compromised – a year-over-year (YOY) increase of 72 percent, according to Gemalto. Social media breaches accounted for more than half (56 percent) of the compromised records. Identity theft continues as the No. 1 type of data breach and the United States remains the No. 1 target of attacks. Dondi Black's recent Payments Leader article discusses how diminishing transactional card fraud opportunities at POS have motivated fraudsters to pursue card application fraud. As a result, the number of victims of fraudulent card accounts exploded and tarnished issuers' reputations.
AI and machine-learning tools for mitigating account takeover, new account fraud, and differentiating fraudulent from non-fraudulent transactions are receiving a lot of buzz but financial institutions remain in the early stages of adoption. What's holding them back? Multiple challenges, including complex, siloed structures, resource and budget limitations, compliance challenges associated with collecting and mining consumer data and hesitancy of management to champion new technologies, especially from startups.
Government Stalemates Lead to More Regulation Uncertainty
A split United States congress could slow deregulation for payment processing rules and, in turn, create a stalemate, according to Payments Source. More oversight from Democrats could slow advancements in areas such as identity security technology while Republican isolationism hinders an open Internet. Meanwhile, Brexit uncertainty has caused some fintech companies to leave the United Kingdom. In response, the U.K. government has sought to retain companies by offering a light-touch approach to regulation. Referred to as a "sandbox", this approach has shown progress in advancing technologies such as identity security.
Political stalemates could also slow progress in data protection. Already, political gridlock has weakened the expected impact of new European rules such as GDPR and PSD2. Overcoming gridlock will take compromise but also education of politicians who, by and large, are unfamiliar with concepts such as open banking and blockchain – the latter often conflated with cryptocurrencies. Overcoming these decision-makers' lack of understanding becomes critical for moving forward in a more regulated environment.
Continuous Reinvention is Key
What we learned during 2018 is that we must continuously reinvent what we do to keep pace in an ever-changing payments ecosystem.

We need to bring innovation, efficiency and agility to the table to meet consumers' expectations for convenient payments that are fast but put safety and security at the forefront.
Continuous reinvention requires continuous evaluation of how we spend our time, which partners best serve our needs, whether our products have built in safety, what platforms to upgrade or sunset, and how regulatory requirements affect our businesses.
2018 has proven that rapid payment transformation continues and all of us need to be prepared not to be blindsided by the next big thing.
Let's Talk
Together, we can work to solve your business goals. Please provide your email address below and a representative will reach out to you soon.