Fintech Insights
Key Customer Trends Reshaping the Payments Industry
Jim Johnson | President of Worldpay from FIS®
August 15, 2022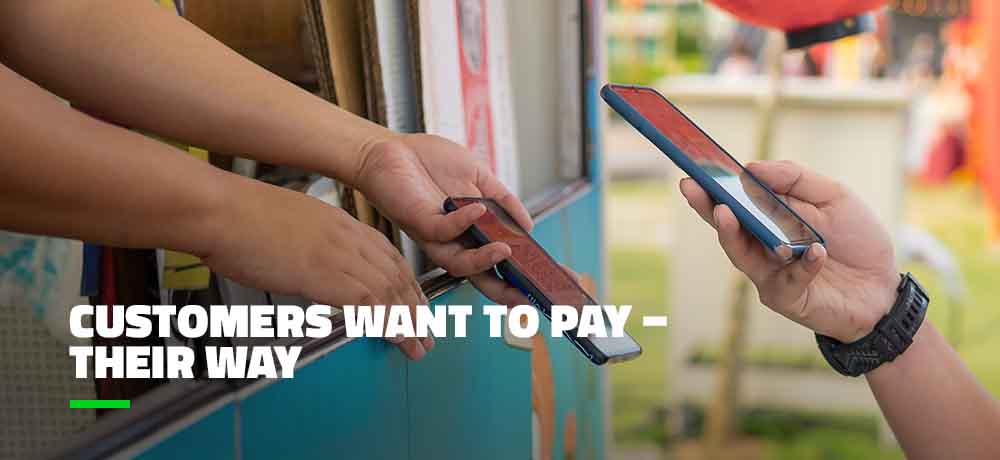 Trends in the payments industry are shifting fast. Merchants and businesses that want to grow must offer customers the payment experiences they want – convenience, quickness and security.
But technology is producing a vast array of new options. Globally, e-commerce is rapidly expanding. And consumer expectations for seamless – even flawless – payment experiences are rising. How do you keep up with how customers want to pay?
The shift to online shopping, which accelerated dramatically during COVID-19, continues its strong global trajectory. The 2022 edition of The Global Payments Report projects that e-commerce will earn an ever-larger share of global commerce. In fact, the research projects that e-commerce's global transaction value will reach US$8.3 trillion by 2025. How can merchants capture their share of that growth?
The first key trend in the payments industry is that in e-commerce, we are living in a new mobile majority. For the first time in 2021, the value of commerce transacted via mobile devices outpaced legacy desktop, accounting for 52% of global e-com transaction value.
Mobile's newfound majority is only expected to expand; The Global Payments Report projects that it will account for 59% of e-com spend by 2025.
Merchants should optimize their mobile strategy for the best consumer experience. Otherwise, you risk losing share of wallet – or even customers – to hungry competitors that offer exceptional mobile experiences and understand how customers want to pay.
The rise of digital wallets
When it comes to shopping online, digital wallets are growing in popularity. The Global Payments Report projects that they will account for a 50% share of global e-commerce transaction value in 2022 and reach nearly 53% share by 2025.
Once driven disproportionately by rapid adoption in APAC, wallet growth is now more broad-based. The report projects that digital wallets will attain at least 25% share of transaction value in every global region by 2025.
Merchants need to understand how customers want to pay and offer them the ability to pay with their preferred wallets, wherever and however they shop. And for the customer who prefers cards, turn to tokenization solutions to securely and compliantly maintain card-on-file data, improving the customer's experience by avoiding unnecessary data entry while boosting conversions.
Mobile wallets in-store
Consumers are also turning to mobile wallets when paying in-store. And that will only accelerate as retail checkout experiences continue to digitize and seamlessly merge familiar payment experiences whether online or in-store.
Also, younger consumers are more open to using their smartphones to pay in-store – and those cohorts dominate expanding markets. We saw mobile wallets jump over 21% YoY in 2021 to 29% of global POS transaction value, surpassing credit cards as the leading payment method at the POS globally.
APAC continues to lead the way. In fact, we predict that mobile wallets will outpace all other POS payment methods combined in APAC by 2023. Globally, mobile wallets are projected to rise to 39% of POS transaction value, approximately US$23 trillion, by 2025.
Mobile wallet acceptance is fast becoming a must-have for any consumer-facing business. Merchants should work with their payment partners to offer the POS checkout solutions that their customers increasingly demand, starting with the most popular mobile wallets.
The growth in wallets
There are five key factors driving the growth in wallets around the world. First is the rise of super apps, which combine diverse functionality – including payment via integrated wallets – all within one convenient app. Second, digital wallets offer a streamlined (and superior) checkout experience. Third, many wallets are part of popular marketplace ecosystems such as Amazon, Mercado Libre and Alibaba. Fourth, wallets make it easy to store and add multiple funding methods, further boosting customer experience. Finally, the growth and interest in contactless payments – driven in part by the pandemic – have also contributed to the widespread adoption of wallets at the POS.
Merchants need to keep up with the wallets their customers use most and offer them prominently to optimize checkout experiences, both online and in-store.
A true cashless society?
We may be heading towards a cashless society, but we are not there yet. Cash continues to be a vital part of the global POS mix, accounting for 18% of transaction value in 2021. The rate of cash's overall global decline slowed in 2021, and its share even increased in traditionally cash-heavy markets such as Spain, Colombia and India, though even there it remains well below pre-COVID levels.
Still, cash is clearly declining in the long term, and that's a strong contributing factor to the increasing share for wallets. As the transition to digital payments becomes more complete, the use of physical cash at the POS is projected to fall to 10% of global transaction value by 2025. The lowest share will be in North America at just 6%. The highest in the Middle East and Africa, where it will continue to account for nearly a third of all transaction value (31%).
POS merchants would be wise to continue offering the option to pay in cash. But at the same time, start preparing for a cashless future that's inevitable, even if it's not imminent.
Buy now, pay later (BNPL)
BNPL continues to gain momentum. In just a few years it has emerged from the fringes to become a mainstream payment method globally. In fact, BNPL is the fastest growing payment method in both e-commerce and POS. And it's growing in every region. The Global Payments Report projects that BNPL will account for over US$1.3 trillion in transaction value across e-commerce and POS by 2025.
BNPL is already entrenched in the early-adopting markets: Australia, Denmark, Finland, Germany, Norway, Sweden and the UK. But the biggest growth is coming in more recent markets, like the US, where its share of e-commerce transaction value has grown four-fold since 2019 (to 4% in 2021). The report projects that BNPL's share of e-commerce transaction value in the US will more than double to nearly 9% by 2025.
There are three main reasons why BNPL is so popular. First, it appeals to young consumers. A recent survey by PYMNTS found Gen Z to be almost twice as likely – and Millennials nearly five times as likely – to use BNPL services compared to older consumers. Second, merchants crave the higher conversion rates that come from offering their consumers flexible payment choices. The third factor is a trend toward strong partnerships between retail giants, POS systems manufacturers and BNPL providers – such as Amazon's tie up with Affirm and Macy's partnership with Klarna.
Merchants should offer BNPL services as part of both e-commerce and POS checkout to boost conversions and improve customer satisfaction and retention.
Super apps
One particularly interesting development is super apps, which are a major driver in the growth of wallets. Big tech, big retail and well-funded fintechs are all chasing super app status because the prize in capturing more of the entire customer across payments and finance is so great.
In the US, Apple and Walmart are likely to join PayPal, Square's Cash App, Venmo, Amazon and other super apps that are already live.
Another region to watch is the Nordics, where wallets are responding to global competition by joining forces. The merger of Norway's Vipps, Denmark's MobilePay and Finland's Pivo will offer a pan-Nordic super app that has the scale to create a payment experience that rivals global brands.
Merchants need to understand the increasing competitive threats posed by super apps and develop strategies to compete against or work with them.
Want to learn more about the latest trends in the payments industry and how your customers want to pay? Download The Global Payments Report today.
Let's Talk
Together, we can work to solve your business goals. Please provide your email address below and a representative will reach out to you soon.